If you perpetually carry a balance on your credit card, it can feel like you're running on a hamster wheel — no matter how much money you throw at it, it can seem like it'll never get paid off.
Part of the reason for this is the high daily interest that is compounded on top of the principal whenever you carry a credit card balance. Unless you pay off your balance each month before your statement's closing date and do not incur interest, you will certainly be paying more than the total amount you charged to your card.
But there is relief available if you want it.
There are types of credit cards on the market that either charge lower than average annual interest or no annual interest at all (at least for a limited time). These cards can be ideal for those who want to stop the rat race and make a huge dent in their balance without it growing. However, before you take the plunge and get one of these low-interest credit cards to pay off your balance sooner, there are factors at play you need to take into account.
How low-and zero-interest credit cards work
Instead of charging a more typical credit card Annual Percentage Rate (APR) on purchases of 19.99% or 20.99%, a low-interest credit card has an APR in the low double to single digits. This lower interest rate can either be the main feature of the credit card or an introductory promotional rate available for a couple of months when you first sign up for the card.
Zero-interest cards are rarely offered in Canada, but when they are, it's usually as a promotional rate on purchases or balance transfers for six to 10 months. For example, the CIBC Select Visa offers 0% on balance transfers for 10 months with a 1% transfer fee.
Either way, zero to low interest on purchases is always an excellent opportunity to pay down as much of your balance as you can without it ballooning too severely. The key to using these low-interest cards to your advantage is resisting the urge to charge more to your card while the low to no interest period is in effect. Make sure that the permanent interest rate that applies after the promotion ends is better than the rate you had on your previous card.
» MORE: How do credit card interest rates work?
Best Credit Cards in Canada
Compare all different credit cards side-by-side and find out the best card that will meet your need with special perks and benefits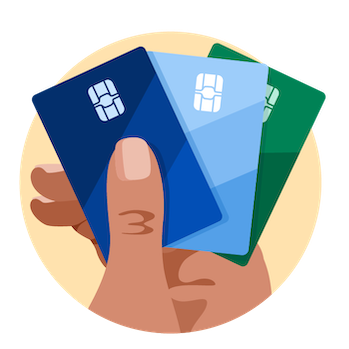 How to get a low-interest credit card
Low-interest credit cards have the same eligibility requirements as any other credit card in the Canadian market. You must be the age of majority in your province, be a Canadian resident and meet the annual income and credit score requirements for the card you're applying for.
If you're transferring a balance to a lower interest card, make sure you read the terms so you know how to transfer your credit card balance correctly. For example, your account must be in good standing and many credit card issuers do not allow you to transfer a balance to a new card from the same issuer.
When searching for a low-interest credit card, in addition to reading all terms and conditions, pay attention to how long the low-interest period lasts, if it's a promotional rate, and what the interest rate becomes once that promotional rate expires. Also, if you're dealing with a promotional rate, evaluate whether you can actually pay off your balance or put a significant dent in it within the low-interest period.
Plus, make sure you shop around. What you think is low interest may not be, and there may be an even lower interest credit card out there, or even zero per cent interest on a card for a limited time. Also, try to find a low-interest card with additional rewards, whether that be cash back or an opportunity to collect points towards travel, merchandise or a statement credit.
» MORE: How to apply for a credit card and get approved
The pros and cons of a low-interest credit card
There are many pros and very few cons to a low-interest credit card if you carry a balance, but here they are at a glance:
Pros
Pay off your balance faster while halting its growth due to compound interest
Low to no annual fees
Lower interest rates on purchases, and possibly also on cash advances and balance transfers, depending on the card
Cons
Few rewards or other benefits