Given the world we live in, peace of mind around making your credit card payments isn't a bad thing to have.
Your income could be interrupted for any reason at any time — and not everyone can qualify for or afford disability, life or critical illness insurance that could cover your credit card balance in the event of injury, death or terminal illness. That's where credit card balance protection insurance comes in.
What is balance protection insurance?
Balance protection insurance is insurance coverage used to help pay your outstanding credit card balance if one of several specified unforeseen circumstances happens to you. These include injury, job loss, hospitalization, terminal illness, death or legal strike or walkout.
Like other insurance types, balance protection insurance has exclusions, eligibility requirements, and limitations to coverage. So it's important to read the policy terms and insurance certificate carefully before purchasing balance protection insurance from your credit card issuer.
How balance protection insurance works
Let's say you're like 30 percent of Canadians who carry a credit card balance, and you are also part of the one-third of Canadians who don't have an emergency fund covering at least three months of expenses.
If something unexpected interrupts your cash flow — such as job loss, injury, disability, terminal illness, or inability to work — you'd have difficulties paying off your balance. Defaulting on these monthly credit card payments would damage your credit score and your ability to qualify for future credit.
To avoid this scenario, you can sign up for balance protection insurance through your credit card issuer. You pay monthly premiums for the coverage, which will pay off a percentage of your balance (usually between 10 and 20 per cent, up to a set maximum) if you are injured, disabled or lose your job, and will pay your balance off in full (to a maximum amount) if you die.
It's important to note that balance protection insurance is optional, unlike other types of credit card insurance that are included with the card as a perk. If you want to purchase coverage, you can do so either when you first sign up for your credit card or at any later date. Some cards also offer coverage for the primary cardholder's spouse.
Best Credit Cards in Canada
Compare all different credit cards side-by-side and find out the best card that will meet your need with special perks and benefits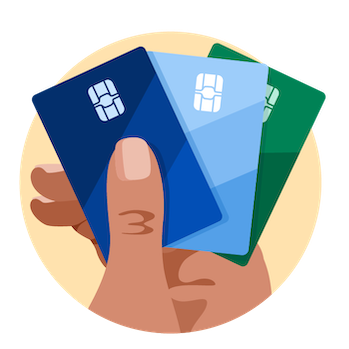 Types of credit card balance protection insurance
Generally, credit card balance protection insurance is sold two ways, either with coverage that provides basic protection against income loss from critical illness or death or sold with comprehensive coverage that also applies to job loss and disability. Each type of insurance applies to the circumstance it covers, provided you meet the eligibility criteria at the time of the event, and no exclusions apply.
The typical types of balance protection insurance coverage are as follows:
Job-Loss/Loss of Self-employment. Covers a percentage of your balance up to a specific dollar amount if you lost your job or can no longer be self-employed due to injury, illness or disability.
Credit Card Life Insurance. Your credit card balance is paid off up to a certain dollar amount in the event of your death.
Accidental Death. Your credit card balance is paid off up to a certain dollar amount in the event of your death due to a covered accident.
Critical illness. Your credit card balance is paid off up to a certain dollar amount if you are diagnosed with a covered critical illness.
Disability. If you're unable to work due to a covered disability, a percentage of your balance is paid up to a certain dollar amount for each statement period you are disabled.
The pros and cons of balance protection insurance
While balance protection insurance may be appropriate for some, it's not very effective, flexible or cheap. For example, it usually only covers the outstanding balance prior to the income-loss event. Some policies (disability, job loss, injury, hospitalization) also only cover a percentage of your balance (10 to 20 per cent), which means you'll still have a large debt to pay off.
When you look at the benefits compared to the cost of coverage, it doesn't add up. Premiums are based on your average daily balance, usually, around $1 for every $100 you spend on your card, which means your costs change from month to month. It also means balance protection insurance is often most expensive for those who can least afford it since they are already relying on credit to make ends meet.
You're much better off getting individual life, disability or critical illness insurance with a consistent monthly premium. In addition to covering other expenses, this will also protect your credit card balance with a higher payout than most credit card insurance policies — but other expenses as well. There are exclusions and eligibility requirements to these policies, but they are usually broader and fit within more circumstances than credit card balance protection insurance.