If you own or manage a business — a solo freelance firm, a small business, or a company with employees — a business credit card may come in handy when it comes to paying expenses related to your work, and keeping them separate from your personal finances.
How does a business credit card work?
A business credit card, sometimes referred to as a corporate credit card, works much like a personal credit card. It can be used to charge daily, monthly and one-time expenses related to a business. Business credit cards have credit limits, and charge interest on purchases, balance transfers and cash advances.
How to decide if you need a business credit card
The decision to apply for a business credit card will depend on a number of factors, including:
The need to separate day-to-day business expenses from your personal finances.
The number of employees who need to make business-related purchases.
The business need for additional short-term credit.
Business credit cards are often designed for small to midsize businesses — with annual business revenue under a certain amount, for example — though there are options for large corporations as well.
» MORE: Do you need a business bank account?
Best Business Credit Cards in Canada
Compare all different business credit cards side-by-side and find out the best card that will reward you with special perks and benefits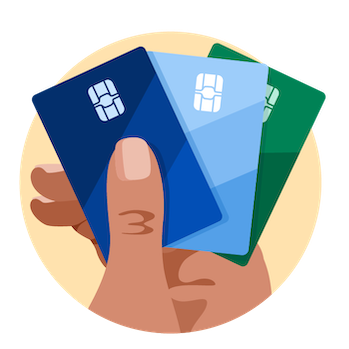 Pros and Cons of business credit cards
Pros
Business and personal expenses are kept separate. There are legal, tax and cash flow risks involved with blending personal and business finances.  Charging company-related items and events to a business credit card is a convenient way to help you separate and track expenses that are deductible when tax season arrives.
More convenient, less paperwork. If your business regularly purchases meals for clients, office supplies, gas for company vehicles or flights and hotel stays, using a business credit card may be more convenient than paying with personal accounts and requesting reimbursement.
Increased efficiency and buying power. Supplementary business credit cards give other members of your team access to the company's line of credit, so that they can charge work-related expenses to a central account, which the business tracks and controls.
Opportunity to earn rewards. Depending on the type of card, you may be able to earn cash back or points-based rewards for your purchases that you'll be able to redeploy back into your business.
» See our picks: Best rewards credit cards in Canada
Cons
Fees. Some business credit cards have an annual fee and may charge additional fees for each supplementary card you request.
Credit limits. Your corporate credit card will likely have a higher credit limit than your personal card, which is useful, but may also make it possible to overspend on business expenses.
Interest rates. Running a balance on your credit card could mean incurring significant interest charges, which may be problematic if your cash flow is unpredictable.
» MORE: When is a credit card annual fee worth it?
How to get a business credit card
To apply for a business credit card you'll generally have to provide a number of documents, including:
A Master Business License, if you're a sole proprietorship or corporation operating under a trade name.
A partnership agreement, if applicable.
Articles of Incorporation, if you are operating as a corporation.
Your most recent Notices of Assessment from the Canada Revenue Agency.
Your company's financial statements.
Your personal credit score may also be taken into account when applying for a corporate credit card — especially if you've yet to establish a business credit history. A low personal credit score could reduce your risk of getting approved.
Business credit card alternatives
If a business credit card doesn't sound like the right choice for your company at the moment, there are other options.
Prepaid cards provide the convenience of a credit card while still keeping business expenses separate. The difference is you'll be pre-loading money onto the card rather than borrowing against a revolving line of credit, which may give you greater control over how much is spent each month.
A business line of credit may be another way to fund business expenses. While they often also offer high credit limits like a business credit card, interest rates on business lines of credit are typically lower than credit cards.
FAQs
Frequently Asked Questions
Are business credit cards personally guaranteed?
In most cases, financial institutions will require you to personally guarantee a business credit card, which provides them with reassurance that you'll be responsible for repaying the businesses' debt. There are a few no-guarantee corporate credit cards in the market, however.
Are virtual credit cards legitimate?
Applying for a business credit card is a way to build credit for your business, but only if you're using it responsibly and are disciplined about paying your balance on time. Building your business' credit with a credit card may also help you qualify for other financial products at a later point, such as a small business loan.