A credit card is typically a physical card (plastic or metal) issued by a bank or other financial institution that provides access to a revolving line of credit.
Credit cards allow you to purchase goods or services both in person and online at any merchant that accepts credit card payments. All charges are expected to be paid back within a specific amount of time. If the money borrowed is not paid back by the billing date, you'll be charged interest. Credit card borrowing limits vary and may be based on the credit score or credit history of the account holder, or the security deposit provided, such as with secured credit cards.
» Need a card for your business? See our picks for Canada's best business credit cards
How do credit cards work?
Credit cards can be used for all types of transactions, such as in person at a business, over the phone and online. You can also use your credit card for a cash advance at an ATM although the fees are very high so this is not generally recommended unless it's an emergency. Although credit cards have traditionally been physical items, digital versions, such as virtual credit cards, also exist.
Your credit card will have a credit limit so you need to ensure that you stay within that amount and pay it off each billing cycle to get that room back. If you do not pay off the full balance by the due date you will be charged interest that will continue to accumulate until the balance is paid off in its entirety. Keep in mind that credit card interest rates are quite high (usually around 19.99%). Improper use of your credit card could lead to other charges and penalties as well.
Every billing cycle you will be given a credit card statement that shows what you spent and how much needs to be paid and by when. This is important not only for keeping on top of payments but also for keeping track of your spending. It's good to go over your statement every month to ensure that everything is correct and to catch any potential fraud or erroneous charges early.
A credit card's specific rules about cash advances, interest rates, late fees, billing statements and other important policies can be found in the issuer's terms and conditions. You should get a copy of these rules with your physical card, and be able to them posted on the issuer's website.
How credit cards differ from other payment cards
Here's a quick summary of charge cards, debit cards and prepaid cards and how they differ from credit cards.
Charge Card
A charge card works the same way as a credit card in that you borrow money that you need to pay off. However, unlike credit cards, charge cards do not have a set limit and the balance must be paid in full every month.
Debit Card
A debit card is tied to your bank account, so the money charged to the debit card is actually your money, not borrowed money. In order to use a debit card the funds must be available in your bank account, or it may result in an overdraft.
Prepaid Card
With a prepaid card, you need to load the card with your own money, not borrowed money. However, since it is not tied directly to your bank account the same way a debit card is so, once you've used all the money you loaded onto the prepaid card, you have no more to spend until you reload it.
Pros and cons of credit cards
Pros:
Allow you to borrow money instantly to make purchases.
May help you establish a credit history and build up a credit score.
Convenient method of payment, especially for online or phone purchases.
Many credit cards allow you to earn valuable points, rewards and other benefits.
Cons:
Can be an easy way to fall into debt if not used responsibly.
High interest charges may be incurred if balances aren't paid each month.
Some credit cards charge annual fees, cash-advance fees or foreign exchange fees.
» MORE: Common types of credit card fees and charges
Best Credit Cards in Canada
Compare all different credit cards side-by-side and find out the best card that will meet your need with special perks and benefits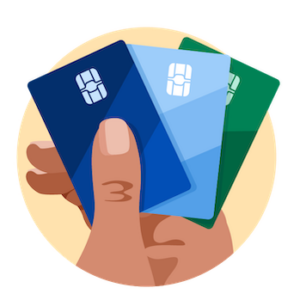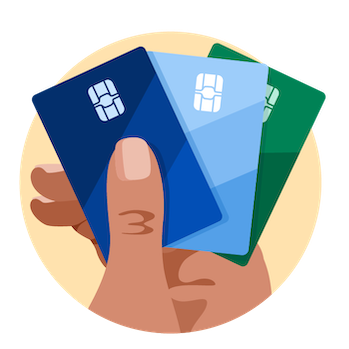 How to Get a Credit Card
If you are ready to get a credit card you need to first decide what type of credit card you want and ensure that you meet the qualifications. Some of the premium credit cards, especially travel rewards credit cards, have high minimum annual income requirements.
When you've decided what type of credit card you want, it's time to fill out an application. The easiest way to do this online and the process should only take a few minutes. When you apply, the credit card issuer will review your credit score, which is recorded as a hard inquiry on your credit report. So long as you meet the requirements and the lender doesn't see you as a credit risk, you should be approved.
Once approved, you should receive your card within 14 business days. When you get your card in the mail, you'll need  to activate it, set up a PIN number and sign-up for an online account if you want to see your statements and make payments online.