Many credit cards on the market are loaded with freebies, welcome bonuses, and extra points when you sign up and make a minimum spend. These benefits are enticing, and many people want to take advantage to rack up as many rewards as possible. But at what potential cost? What is the risk of credit card churning in Canada, and can it be done safely? Here's what you need to know.
What is credit card churning?
Credit card churning is when a person repeatedly applies for credit cards with high welcome bonuses and special offers in order to reap the rewards. The person uses the credit card just enough to get the bonus, then cancels the card and moves on to another one.
Churning is a popular habit among some financially savvy Canadians, especially those who enjoy travel, as travel rewards credit cards, tend to have the most lucrative welcome bonuses.
How does credit card churning work?
The process of credit card churning includes a few simple steps:
You apply for a credit card with a lucrative welcome bonus.
Once you receive the card, you make sure to earn that bonus. Often, this involves spending a minimum amount on the card within a specific time period. For example, the CIBC Aeroplan Visa will give you 20,000 Aeroplan points and a buddy pass when you spend $1,000 in the first four months of being a cardholder.
Once you have your welcome bonus, you can use or even transfer the points. Then you can cancel the credit card. If your card had the annual fee waived for the first year, make sure to cancel before you hit the one-year mark to avoid any fees.
Repeat the process with a new card.
Why is credit card churning so popular?
So, why all the hype about credit card churning? Well, it can be pretty lucrative. Search the internet and you will find dozens of stories about people using their points for free trips around the world or free first-class flights. If you tried to earn enough points to do this with a single credit card, it might take you a few years. But credit card churning could allow you to rack up enough points to make these types of splurges an annual event.
That said, churning is a very time-consuming hobby that you really need to stay on top of. Even then, the risks can outweigh the benefits.
How do banks prevent credit card churners?
While it may seem like credit card churning offers free money and doesn't hurt anyone, that's not entirely true.
Banks and credit card providers advertise these incentives in the hopes of attracting new, long-term clients — not people who will cancel the card as soon as they receive the bonus. That means card issuers are generally on the lookout for potential credit card churners, and some have regulations in place to help prevent the practice.
A popular tactic in the U.S. that seems to be starting in Canada is that some credit card companies include a clause in the fine print of their applications that you can only take advantage of the welcome bonus once in your lifetime. This means that if you cancel a particular card, you may be able to open another one later, but you won't qualify for the welcome bonus. Remember: Always read the fine print.
Best Credit Cards in Canada
Compare all different credit cards side-by-side and find out the best card that will meet your need with special perks and benefits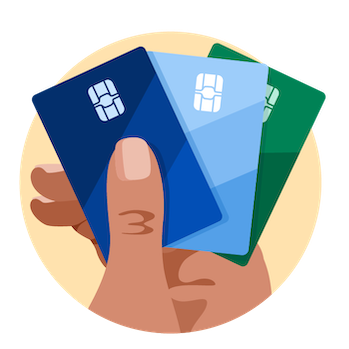 How does credit card churning affect your credit score?
Credit card churning can also have an impact on your credit score. It's crucial to understand exactly how churning could affect your credit before you get started.
Hard credit checks
When a lender reviews your credit to see if you qualify for a credit card, it conducts what's called a hard credit check. The review will stay on your credit report for three to six years. If you are constantly applying for new credit cards, those hard credit checks could add up and cause your score to decrease.
Number of applications
When banks or credit card providers perform a credit check, they can see your recent applications. Multiple applications within a short amount of time is a red flag because it suggests financial distress.
Credit history and utilization
Cancelling your credit card can also impact your credit score by affecting your credit history and utilization. The longer you hold onto a credit card, the better it looks on your credit report. Applying for too many new cards could bring down the average age of your accounts.
Additionally, part of your credit score is based on your credit utilization ratio: how much credit you have versus how much you use. Cancelling cards and applying for new ones will cause this ratio to change rapidly, and could mean that your ratio increases to above the recommended threshold of 30%.
While cancelling a credit card can be done safely and properly, doing this repeatedly could backfire on you over time. Plus, you'll need to keep track of when to cancel each card so you don't pay annual fees, which would eat into your rewards earnings.
Credit card debt
Some people get so excited at the prospect of points that they actually end up in financial trouble when it comes time to pay back the bills they racked up to get the bonuses. You should never spend beyond your means for the sake of credit card churning or points.
Credit card churning is perfectly legal, but it's still risky. If you're going to try it, be smart about your strategy. Be aware of the potential risks, keep track of your cards and important dates, and always keep an eye on your credit score.