The cost to build a home in Canada keeps rising. According to Statistics Canada, residential building costs increased by 2.5% in the third quarter of 2022 and by another 1% in the fourth.
Surging material and equipment prices and a shortage of skilled labour will likely continue to drive building costs higher. But if you plan on breaking ground on your dream home in a major Canadian city soon, these are the prices you may encounter.
Get your lowest mortgage rate from nesto
Stay on the bright side of mortgages with Canada's leading digital mortgage lender. Secure your commission-free, low rate guarantee mortgage with nesto today.

Average cost to build a house
Using price-per-square-foot figures from the 2023 Canadian Cost Guide published by Altus Group[1], a Canadian real estate software company, we've estimated the cost of building homes of various sizes in several major Canadian cities.
Note that the estimated ranges in the table below are for single-family homes with unfinished basements and, importantly, do not include the cost of acquiring land.
City
Average cost to build a
1,000 sq. ft. home
Average cost to build a
2,000 sq. ft. home

Average cost to build a
3,000 sq. ft. home

Vancouver
$185,000-$315,000
$370,000-$630,000
$555,000-$945,000
Calgary
$150,000-$240,000
$300,000-$480,000
$450,000-$720,000
Edmonton
$150,000-$240,000
$300,000-$480,000
$450,000-$720,000
Winnipeg
$145,000-$230,000
$290,000-$460,000
$435,000-$690,000
Toronto
$205,000-$280,000
$410,000-$560,000
$615,000-$840,000
Ottawa
$140,000-$225,000
$280,000-$450,000
$420,000-$675,000
Montreal
$140,000-$205,000
$280,000-$410,000
$420,000-$615,000
Halifax
$105,000-$165,000
$210,000-$330,000
$315,000-$495,000
St. John's
$130,000-$165,000
$260,000-$330,000
$390,000-$495,000
Factors that affect the cost of building a house
While it's a good idea to understand how much things will cost generally, getting a more accurate view of how much a new build will set you back means knowing how your costs break down. The following are the major factors that affect the cost of building a home.
Land
Purchasing land is arguably the most significant cost you'll encounter when constructing your own home. A small lot in a city like Regina, Saskatchewan, might cost you less than $15,000, but a lot in the Greater Toronto Area is likely to cost hundreds of thousands.
If you're buying a lot that already has a home on it, a common practice when building in a densely populated city, you'll first need to pay for the removal of the old house. Various estimates peg this cost between $4,000 and $44,000, but the actual figure will depend on the square footage of the home being torn down. If the home contains hazardous materials like asbestos, removing it safely could push the home demolition to the higher end of that price range.
If you're building on a vacant lot, its condition could mean hiring professionals to level it out, remove boulders or trees or do additional landscaping to complement your new creation — each one resulting in additional costs.
Location
Where you plan to build can also greatly impact price. Higher labour and material costs in major centres typically mean you'll pay more to build in big cities than in the suburbs or rural areas, although a lack of tradespeople or contractors in a remote area could lead to higher prices there, too.
Housing type
The size and type of house you intend to build are also significant factors in the overall cost.
Building a two-story home, for example, will cost more than a single story since additional materials and labour will be required. Same goes if you want extra bedrooms and bathrooms.
And don't forget about the exterior. For amenities like a pool, veranda or deck, be prepared to spend even more.
Contractors
When building a home, you'll likely deal with multiple professionals: architects, plumbers, electricians, general contractors and roofers, just to name a few.
Some estimates peg the cost of a general contractor at around 10% to 20% of a build's overall cost. You'll likely have to pay a deposit to secure your contractor's services. Expect to pay at least 10% of your contractor's fee up front.
You'll need to pay each contractor you use for both their expertise and any labour costs they incur while building your home. The amount they charge for labour will vary based on how many workers are needed to complete the job and if forces like worker shortages or inflation are driving wages higher.
Materials
When building a home, you'll have to select materials at every step of the process. Every material you choose has a cost. The higher the quality, the more you can expect to pay.
Copper pipes or polyvinyl chloride for the plumbing? Granite or laminate for the kitchen counter? Brick or vinyl for the exterior?
Each of those decisions could add hundreds, maybe even thousands of dollars to the cost of your home.
Fees and permits
Constructing a home requires you to meet the building regulations set by your municipal and provincial governments.
That means applying — and paying — for building permits, the cost of which will vary by city. If you want to see just how many different permitting costs there can be, check out this 2023 schedule of permit fees for builders in Vancouver.
And just because your housing plans have been approved doesn't mean the charges will stop. Once the building starts, there will likely be additional inspections to ensure everything is up to code. They won't be free.
Getting a mortgage to build a house
Unless you have the cash available, you're going to need financing to build your new home.
Most financial institutions offer new construction loans or construction mortgages. They're similar to traditional mortgages but usually involve a higher interest rate. Another significant difference is how the money is delivered.
Rather than receiving a lump sum like you would with a traditional mortgage, your construction loan will be paid out in stages. This is known as a "progress draw mortgage."
At each stage, an inspector visits the construction site to assess the progress you're making. If the inspector is satisfied with the safety, schedule and budget of your building project, a positive progress report will be sent to your lender, who should then approve your next tranche of funding.
To get a construction mortgage, you may be required to have a down payment equivalent to at least 20% of the total build cost. It's a good idea to speak to a lender or mortgage broker early to find out what you might qualify for.
How to save money when building a house
Despite all the costs involved with building a home, it is possible to reduce your expenses if you consider the following:
Get multiple quotes. Talk to different contractors and find out what their pricing is. Make sure you research anyone you plan on hiring. Hitching your wagon to a cheap contractor that's known for shoddy work could wind up costing you more in the long run.
Go pre-designed. Although a custom-designed house is appealing, it can be exponentially more expensive than one that's already been designed. Choosing a pre-designed home could save you a lot.
Think smaller. Instead of building a giant dream home, consider the minimum square footage that will meet your needs. The smaller the house, the less you'll pay. And a three-bedroom home may be easier to sell than a six-bedroom behemoth if that's what you ultimately decide to do with it.
Opt for modest finishes. You may not need top-of-the-line materials in every room. Focus on the aspects of the home that are most important to you and concentrate your spending there.
Save some things for later. It's not necessary for your new home to be perfect in order to be livable. You can always install a pool or finish the basement later.
How long does it take to build a new home?
The length of time required to build a new house will vary based on how much house you plan on building. But it can also depend on whether you opt for a conventional, pre-designed home or a custom build.
Assuming the land is clear and ready for construction, a conventional home generally takes about seven to 9 months to design and build. A custom home can take much longer, sometimes up to two years.
Of course, with so many variables, delays are to be expected. Weather, a lack of materials, financing and the availability of contractors can all lead to delays — some short, some significant.
Should you buy or build your next house?
To answer this question, you'll have to look at it from two angles.
First, what do your finances say? Will building a home save you money, or cost the same as an attractive property available for resale? That could be a difficult comparison to make on your own, especially if you don't know local land, contractor and labour costs. Expect to sit down with a builder, and maybe a real estate agent, if you want to get an accurate idea of how much building a home will cost you.
Second, what does your life say? Building a house is not exactly a stress-free endeavour. You'll want to ensure that you have the mental and emotional bandwidth to handle issues like growing timelines, expanding budgets or a sudden need to change your building plans. It's not for everybody.
But living in a house you helped bring into being can be an incredible feeling. If you're confident that it fits your lifestyle, your temperament and your budget, building can be an exciting way to get the exact home you want.
Frequently asked questions about how much it costs to build a house in Canada
Is it cheaper to buy or build a house?
It depends on the cost of the land involved. A 2,000-square foot home in Toronto, for example, might "only" cost $560,000 to build, but you'll also have to purchase a lot large enough to build on, which could run you $1 million or more. And if you purchase a lot that has a home on it, you'll have to pay thousands of dollars to have it demolished. In this case, buying a home might be cheaper.
How much does it cost to build a house in Toronto?
Based on recent data, the cost of building a house in Toronto can range from $205,000 for a 1,000-square foot home to $840,000 for a 3,000-square foot home. Costs will depend on the amount of labour required and the quality of the materials used.
DIVE EVEN DEEPER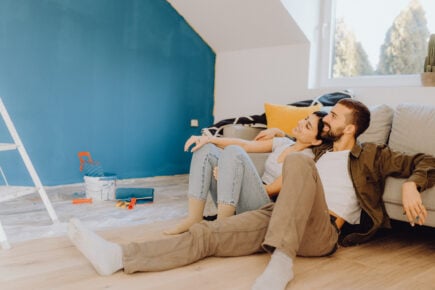 Desperate for a bigger bathroom? Hungry for a kitchen that actually makes you want to cook dinner from scratch? Home improvements can increase the value of your home and your quality of life, but often come with price tags in the tens of thousands — more than many people have in their savings account.  Twenty-seven […]