The idea of buying a new home is appealing for many house hunters. Since you're the first owner, you can customize many details. You also don't need to worry about any bidding wars that come with buying on the resale market. While purchasing directly from a builder can be beneficial, some pain points could come up during the process. Here's what you need to know about how to buy a new build house.
What is a new-build or pre-construction home?
A new-build home, often referred to as pre-construction, is available when builders release lots/homes that you can purchase. The developers will usually have a master plan for a community, but there are times where they may only have a few new homes for sale.
Most builders will set up a model home so you can get an idea of how the new home will look. There will also be detailed floor plans and renderings available to visualize your potential space. Since this is a new build, you'll usually be able to choose specific items, such as the colour of your cabinets and your kitchen countertops. You might even be able to make changes to the layout. What you're able to customize depends on what the builder is offering.
New construction homes are typically bought directly from the builder, but you can sometimes purchase the contract on a new build from the original buyer before they move in. This is known as an assignment sale. Depending on when you buy the contract, you may still be able to customize the home.
» MORE: Types of homes in Canada to know
How to find a builder or community
Finding a new-build home in Canada is easy since various websites list all communities that are in development. Even though you can view these developments online, hiring a real estate agent is still a good idea. They often have inside information or early access to some new communities.
Go over your budget, wants and needs with your realtor. Once they understand what you're looking for, they can make recommendations about what's available. You'll then want to visit multiple showrooms to see what you like. Keep in mind that the community and neighbourhood are just as important as the home itself. The last thing you want is a beautiful home in an area you don't enjoy.
» FIND OUT: How much mortgage you can afford
While researching developments and communities, you'll also want to look into the builder's reputation. Ask your realtor if they've heard anything negative about the builder. For example, have their past projects been well received or were there quality issues? A quick Google search will likely yield lots of information on the builder. Although a reputable builder may charge more, it might be worth it if it saves you massive headaches later.
Best Mortgage Rates in Canada
Compare Canada's top mortgage lenders and brokers side-by-side and find out the best mortgage rates that will meet your need
How the payment schedule works
One of the most significant differences between new-build homes compared to resale is the payment schedule. Generally speaking, pre-construction properties require you to have a deposit of 20% of the purchase price.
» MORE: What's the difference between a deposit and a down payment?
This deposit is required before you get a mortgage, so it's a healthy sum to save. All builders have different payment schedules, but a typical one would look something like this:
$5,000 on signing the contract
5% (minus $5,000) after 30 days of signing
5% after 60 days of signing
5% after 120 days of signing
5% on occupancy
Some builders have a longer payment schedule which gives you more time to get your funds together. Some will even have set amounts instead of percentages.
When buying a new house, your deposit should be insured by Tarion Warranty Corp. This will protect you if your builder goes bankrupt, there's a breach in the purchase agreement, or you have the right to terminate the contract. If you're buying a pre-construction condo, your deposit is covered by the Condominium Act.
While this insurance may give you peace of mind, it can work against you. For example, let's say you purchased a pre-construction unit, and the project gets cancelled after three years of delays. You'd get your initial deposit back, but if there were any gains in the real estate market, you might not be able to afford a similar new home at current prices.
» LEARN: What does a New Home Warranty cover?
Additional fees to consider
When purchasing a new home, the advertised price is usually for the base model. If you want anything extra, additional charges will apply. While it's possible to negotiate the purchase price, builders will likely give you "free" upgrades instead of a lower price.
Even though you can make upgrades, the builder will likely limit your choices. In addition, going for anything extra can become expensive since builders profit from the upgrades. While getting everything upgraded directly from your builder can be more convenient, it might be cheaper to do the upgrades after you move in.
It's worth asking if you can change the layout or add different things such as more electrical sockets or pot lights. Even if it's not included on their price list, it may still be available at a cost.
» PREFER TO DIY?: Find out how much it costs to build a house
When buying a new construction home, you need to pay land transfer tax (if applicable) and sales tax. You'll also need to pay a real estate lawyer to help you with the closing of the property. They'll cover things such as conducting a title search and ensuring the home is registered in your name.
You might be eligible to recover some of these taxes by claiming the GST/HST New Housing Rebate, or exploring tax credits for first-time home buyers in Canada.
» DON'T FORGET: About closing costs
Pros and cons of buying a new home
There's no doubt that buying a new home is appealing, but you need to consider the following before deciding if buying new is right for you.
Pros of buying a new home
You're the first owner. Some people love the idea of being the only owner of the home.
It can be customized. When buying pre-construction, you get a say in the finishes and potentially even the layout.
Minimal maintenance at the start. Since everything is new, it's unlikely you'll need to replace anything for a few years.
Potential for appreciation. Your home may have gone up in value by the time you take possession.
No bidding wars. There are no blind bids when purchasing a new build.
Cons of buying a new home
Large down payment required. You'll likely need to come up with 20% of the purchase price to meet the conditions of your purchase agreement.
Potential delays. There are often delays with new-build homes that will affect your move-in date. There's also a possibility that the house never gets built.
You don't see what you're getting. Although there may be a model home available, you won't see exactly what you get until the house is complete.
Upgrades can be expensive. The extras available can have a significant markup.
Limited character. New houses built in subdivisions have similar looks and may lack charm. They may also be located far from amenities.
Now that you know how to buy a new-build house, you can decide if it's the right decision for you. The process might take a while, but there's nothing like stepping into your brand new home for the first time after closing.
DIVE EVEN DEEPER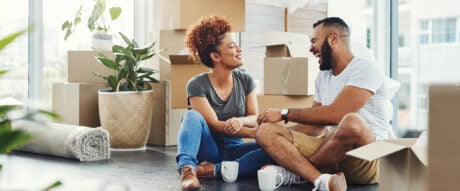 The Home Buyers' Plan, or HBP, is a government-run program that allows Canadians to withdraw up to $35,000 from their RRSPs. The funds can be used by HBP applicants to buy or build a home for themselves or for a relative with a disability. An added benefit of the HBP is that accessing your RRSP […]