Home insurance — also known as house insurance, homeowners' insurance or property and casualty insurance — is an insurance policy that provides financial protection in the event your home is robbed, damaged or the scene of an accident.
Canadian homeowners aren't legally required to purchase home insurance, but most mortgage lenders will expect borrowers to have a home insurance policy in place before approving a home loan.
It's a good idea to understand how house insurance works so you can get a policy that makes sense for you.
» MORE: What to look for when buying a house
How much does home insurance cost?
Home insurance premiums vary from household to household, and from province to province.
In 2019, for example, the median cost of home insurance was 22% lower in Quebec, where homeowners paid $984 a year, than it was in Ontario, where premiums cost around $1,260, according to J.D. Power's most recent Canada Home Insurance Satisfaction Study [1]. 
How much you ultimately pay for home insurance will depend on many factors, including the insurance provider and:
Your credit score.
Whether you've had home insurance in the past, and for how long.
The market value (i.e. replacement cost) of your home.
The location of your home.
The size of your home.
The age and construction of your home.
Security and fire alarms in your home.
Required coverage.
Chosen deductible.
Every insurance provider has its own calculations when determining premium rates. Quotes can range significantly between providers, so it's always worthwhile to shop around.
If you're looking to save, you could also bundle multiple insurance policies, such as home and car, together with the same provider, as they may give you a discount.
Best Mortgage Rates in Canada
Compare Canada's top mortgage lenders and brokers to fine the mortgage rate that will meet your needs.
What does home insurance typically cover?
Home insurance policy coverage can vary quite a bit since every piece of real estate and insurance provider is different. Generally speaking, there are standard and additional home insurance policies available.
Standard coverage
Personal belongings. Basically, anything inside your house counts a personal belonging and can be covered by home insurance. That would include electronics, furniture and clothing, as well as vehicles. Special or especially expensive items like jewelry and art may not be covered or may require additional insurance.
Personal liability. If a person is injured while inside your home or on your property and decides to sue, your home insurance policy's personal liability coverage may cover the costs of hiring a lawyer and any costs associated with the case.
Dwelling and detached structures. If your home, which includes detached elements such as your garage, suffers damage and needs to be repaired or rebuilt, your house insurance will cover some or all of the cost. Repairs necessitated by normal wear and tear aren't typically covered.
Identity fraud. Victims of identity theft may be able to claim legal fees and expenses for replacing their documents under their home insurance.
Living expenses. If you need to vacate your home while it's being repaired, your additional living expenses may be covered by your insurance.
Home insurance in action: Let's say there's a fire in your home. As a result, parts of your house and some of your personal items are destroyed, and you need to move out until the interior and exterior are fixed. A home insurance policy may cover the repair and replacement costs, and pay for your stay in a hotel or apartment while the repairs are being made.
Additional coverage you may need
In some cases, you may want to add supplementary coverage to your standard house policy. This extra coverage may include:
Sewer backup. If water backs up into your home through a sewer, floor drain, septic tank or sump, your damages will be covered.
Overland water. Any damage or flooding that occurs from excessive rain or melting snow could be covered.
Extreme weather. Hail and earthquakes could cause major damage to your home, so this type of additional coverage will appeal to some homeowners.
It's best to consider all possible outcomes when assembling your insurance policy. A condo owner living on the 20th floor may not think they need coverage for extended water damage, for example, but it could come in handy if there's a chance your storage area could flood.
» MORE: Home inspection checklist for buyers and sellers
How to buy home insurance
Your real estate agent can help you decide the right time to buy a policy, but generally, insurance can be purchased before you formally own the home if you set the policy to begin on the date you plan to take possession.
Here are the typical steps for purchasing a house insurance policy:
Call or go online to check out different insurance providers. You can also speak to an insurance broker.
Provide all the relevant information about your home, such as type of home, address, coverage start date, etc.
Disclose additional information, including high-value items , security systems and your claim history.
Choose your group (if any) for discounts. For example, you may get a discount as a graduate of a specific university.
Provide your personal and contact information.
Once that's all been completed, a quote containing the policy details will be sent to you. You may be contacted to complete your policy, but some companies will allow you to purchase your policy online immediately. The entire process is relatively quick and hassle-free.
Frequently asked questions about home insurance
Do I need to purchase home insurance?

Since most mortgage providers require home insurance before they'll release the funds for closing, anyone who plans to own a home should get home insurance.
Does home insurance cover theft outside the home?

Yes. There are policies that cover items that are, for example, stolen from your car or taken while you're on vacation. Be sure to check with your insurance provider if you're looking for any specific kinds of insurance coverage.
DIVE EVEN DEEPER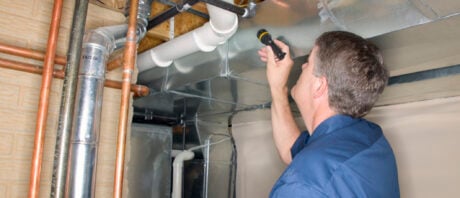 Getting a home inspection is an integral part of the house-hunting process. Though not legally required, a thorough, professional inspection of a home you're thinking of buying can reveal potential issues and save you from making a costly mistake. » MORE: What to look for when buying a house What is a home inspection? A […]