With pandemic-related travel restrictions easing, many Canadians are eager to get out and explore.
Seventy-one percent of Canadians plan to travel in 2022, according to a March 2022 NerdWallet survey conducted by The Harris Poll online among 1,018 Canadians.
Of course, just as Canada and the world begin to embrace travel again, inflation rates have soared to their highest level in decades, making a budget-friendly trip harder to come by.
If you want to take the family on a vacation without breaking the bank, these tips — and some creative thinking — are among the essentials you'll need to pack.
1. Redeem credit card points when possible
If you have a stash of points sitting on your travel credit card, now is the time to redeem them for vacation savings.
Travel credit card points can be used for discounted flights, hotel rooms, car rentals, entertainment experiences and more. Keep in mind, however, that each credit card has its own point conversion rate and you'll want to ensure you get a good redemption value. Sometimes you might get a better value by paying for a flight and saving your points to put towards the cost of a hotel or rental car, for example.
As much as you might want to hoard your credit card points, it's usually recommended that you use them as soon as it makes sense to do so. After all, some travel rewards points have an expiration date.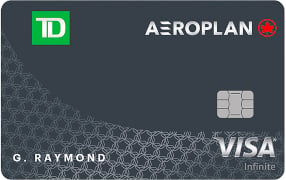 TD® Aeroplan® Visa Infinite* Card
Intro offer details: Earn up to $1,400 in value†, including up to 50,000 Aeroplan points†, no Annual Fee for the first year† and additional travel benefits. Account must be approved by January 3, 2024.
†Terms and conditions apply.
2. Pack light to avoid baggage fees
One thing that can really accelerate the cost of travelling by plane these days is baggage fees. Air Canada, for example, charges up to $70 per checked bag each way on some international routes, adding a pretty hefty chunk of change to the price of a ticket.
Avoid these fees by travelling only with a carry on. It might seem tricky but it is doable, especially if it's a shorter trip.
Choose a capsule wardrobe; clothes that can all mix and max and be worn together. As for shoes, limit yourself to two pairs that are comfortable and versatile.
Compression bags and packing cubes can also be useful and you may want to rethink the well-stocked toiletries bag. It may actually be more economical to buy toiletries on arrival rather than carrying them with you.
3. Cook your own food
The cost of eating out adds up really quickly when you travel, even if you're lucky enough to find accommodations that include breakfast.
To save, consider a vacation rental or hotel suite that includes a kitchenette so that you can store groceries and prepare simple meals.
Even if you don't have a full kitchen, a microwave and mini fridge can come in handy. Grab fruits, yoghourt and cold drinks. Oatmeal and soup are also always good to have on hand in case you get hungry for something hot.
4. Take the road less travelled
The world is full of beautiful places, but oftentimes it's the same few that fall on everyone's must-see list. Travelling to known attractions during peak travel seasons could mean paying a premium for lodging and food, and constant crowds cramping your style.
When planning an international vacation, consider less-popular destinations that a similar experience to popular spots. Lisbon, Portugal instead of Barcelona, Spain; Naxos, Greece instead of Santorini; Warsaw, Poland instead of London, England; or Portland, Oregon instead of Seattle, Washington, for example.
The same goes for the types of destinations and the time of year you choose to travel. If everyone heads to the ocean to cool off during the summer, set your sights on an inland lake instead. Celebrations in New Orleans are in full swing from February to May, so consider visiting the Big Easy in the Fall or Winter for a calmer, more affordable experience, for example.
5. Consider a "staycation"
While 31% of Canadians are planning to travel abroad in 2022, according to NerdWallet's survey, 57% are planning to travel domestically.
A staycation — a vacation that happens close to home — may not seem like the most exciting trip, but it can be a huge money saver and be a fun opportunity to play tourist in your own backyard.
You might spend all day wandering around local attractions or museums you haven't been to before. Take a local bus or boat tour, and get reacquainted with the history of your city. And don't forget about dining out! Since you won't have to pay for a flight or hotel, splurge by trying a new restaurant or type of cuisine on each day of your staycation.
6. Book early
However or wherever you're planning to travel this year, book tickets and reservations as early as you can.
Last-minute deals are hard to come by right now, thanks to high demand and rising fuel prices. Hotels, car rentals and flights are all booking up quickly.
Waiting too long can mean paying premium rates or missing out entirely, so book as early as you can to secure the destination you want at a price that fits your budget.
If booking months in advance stresses you out, consider protecting your purchase with travel insurance. It is an added cost, but it could be worth it for the peace of mind if something unexpected foils your plans.
METHODOLOGY
This survey was conducted online by The Harris Poll on behalf of NerdWallet from March 22-25, 2022 among 1,018 Canadian adults ages 18 and older. The sampling precision of Harris online polls is measured by using a Bayesian credible interval. For this study, the sample data is accurate to within + 2.8 percentage points using a 95% confidence level. For complete survey methodology, including weighting variables and subgroup sample sizes, please contact Marcelo Vilela at [email protected].