700 Credit Score: Is It Good or Bad?
A 700 credit score falls into the good range. You can expect low rates on credit cards and loans.
Many or all of the products featured here are from our partners who compensate us. This influences which products we write about and where and how the product appears on a page. However, this does not influence our evaluations. Our opinions are our own. Here is a list of our partners and here's how we make money.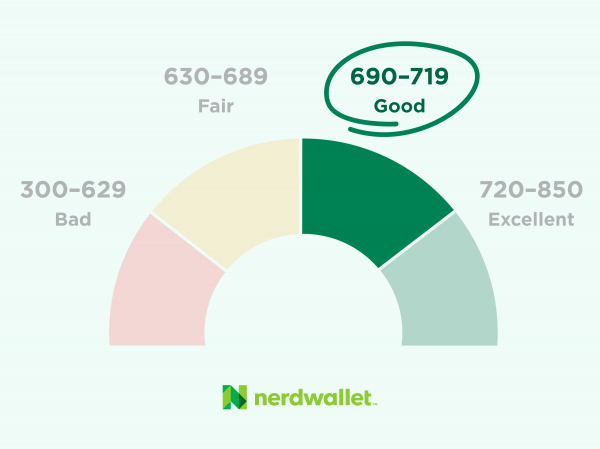 A 700 credit score is considered a good score on the most common
credit score range
, which runs from 300 to 850.
How does your score compare with others?
Your 700 score is better than 37.2% of consumers, according to credit scoring company FICO.

FICO says 16.4% of consumers had scores from 700 to 749 in 2021.
Strategies to build your 700 credit score
You likely already practice good credit habits to earn your 700 score, but there are ways to take it higher.
An excellent score (720 and above) can get you the best rates. The good news is that it doesn't take much to improve your credit when you're already in the good range.
A single late payment can be devastating to your score. Consider setting up autopay on your credit cards and other bills to avoid the risk of a late payment.
Aim to use 30% or less of any card's credit limit, and lower is better. Utilization below 10% is a hallmark of consumers with the highest scores, according to VantageScore, the main competitor to FICO.
You could ask your credit card issuer for a higher limit or consider opening a new credit card. In either case, don't increase your spending or you'll lose the benefit of a higher overall limit bringing down your utilization.
The longer you've been using credit — and the longer your average age of accounts — the better it tends to be for your score. Remember, credit scores are meant to estimate your risk as a customer, and a longer history gives more data to estimate with.
Avoid closing credit cards unless there's a pressing reason, like a high annual fee. You can also look into doing a product switch to a more suitable card from the same issuer.
Each time you apply for credit, there's likely to be a hard inquiry on your credit. Each of those can take a few points off your score temporarily, so space out applications by about six months.
Having a mix of installment loans, with fixed payments for a set time, and revolving credit like credit cards is better for your score.
What a 700 credit score can get you
Your credit score is used by lenders to see if you qualify for financial products and to set the interest rate you'll pay.
With a 700 credit score, you've crossed over into the "good" credit range, where you can get cheaper rates on financial products like loans and credit cards.
According to a 2022 report released by credit bureau Experian, nearly 65% of cars financed were for borrowers with scores of 661 or higher. The average interest rate on a new car was 4.03% and the average rate for a used car was 5.53% for buyers in the 661-780 range.
A 700 credit score is also good enough to buy a house. You can even find lenders that will consider you for higher-value homes requiring "jumbo" mortgages. Your credit score is one of many factors that determine mortgage interest rates. Getting a good rate can save you many thousands of dollars over the life of your loan.
As you research the best credit card for your needs, pay attention to the score required. Since each application can temporarily nip a few points off your score, you want to make sure you're likely to be approved. But you should find plenty of choices of credit cards for a 700 score.
As with other loans, a better credit score will help you get a better interest rate. Check out the minimum credit score for any personal loan you're considering.
What happens to a 700 score with a late payment?
It's important to note that paying a day or two late — past the due date — is not a disaster. It may cost you a late fee, or your credit card issuer could raise your interest rate.
However, letting a bill go 30 days past due or more can send your score plummeting: A single missed payment can take 100 points off a credit score, especially a good one.
The exact score loss you might suffer depends on many factors in your credit profile — but it's likely to hurt, so pay attention to this crucial scoring factor.
Frequently asked questions
How much can I borrow with a 700 credit score?
How do I get my score above 700?
Learn more about the good credit range