How to Get a Car Loan
To get the best rate, check your credit, and shop and compare loan offers before going to the dealership.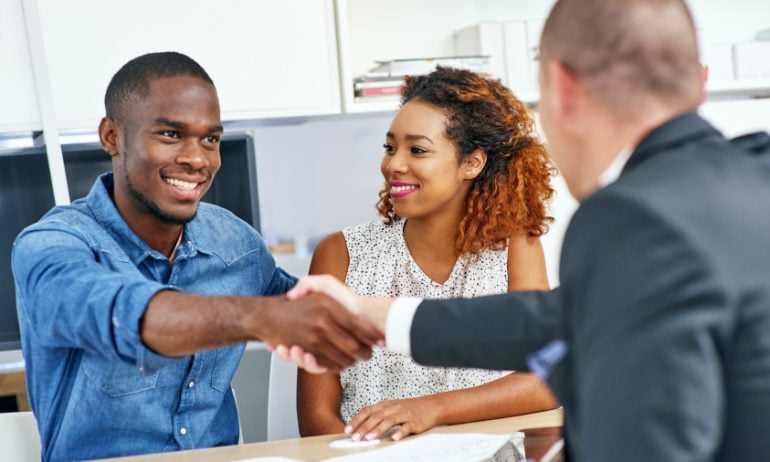 Many or all of the products featured here are from our partners who compensate us. This may influence which products we write about and where and how the product appears on a page. However, this does not influence our evaluations. Our opinions are our own. Here is a list of our partners and here's how we make money.
To get the best interest rate on an auto loan it's essential to shop around for the best lenders and get a preapproved loan before you go to the dealership.
1. Check your credit report
Your credit score and your income will determine how much you qualify to borrow — and at what interest rate.
So definitely don't apply for an auto loan without checking your credit report first. If there are any errors or incorrect information on your report, such as fraudulent activity, you could be turned down for a loan or offered only a very high interest rate.
Get score change notifications
See your free score anytime, get notified when it changes, and build it with personalized insights.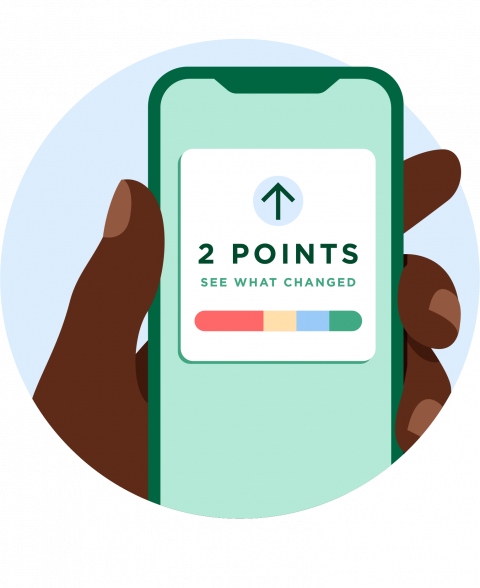 You're entitled to at least one free copy of your report every 12 months from each of the major reporting bureaus (Equifax, Experian and TransUnion). Many banks, credit card issuers and personal finance services — including NerdWallet — also provide free online credit scores and report information.
"

Get any errors on your credit report fixed before you apply for a car loan.

"
If you find errors or evidence of fraud when you check your credit report, get them fixed before you apply for a car loan.
If your credit is subprime or poor — typically a score of 600 or lower — and you don't absolutely require a car right away, consider spending six months to a year improving your credit before you apply. Making payments on time and paying down credit card balances can help bolster your credit so you can qualify for a better loan.
You can see the average interest rates for used and new cars by credit score below.
Source: Experian Information Solutions
2. Apply for auto loans from multiple lenders
Once you've checked your credit, it's time to look at auto loans and lenders, which can be categorized as:
Large national banks, such as Bank of America or Capital One.

Local community banks or credit unions.

Online lenders that only provide auto loans.

Dealership financing, or "captive" lenders.
You'll want to compare quotes from the first three types of lenders first, even if you plan to take dealership financing eventually. Your own bank or credit union may give you a preferred rate for being a customer, so check with it too. You can also compare auto lenders online.
If you want to buy your car from a private party, rather than a dealer or broker, make sure that's allowed by each lender you consider seriously. Some restrict where you can buy your car from.
Here are some important financial terms you might encounter as you shop:
Annual percentage rate (APR): Interest and lender fees you pay to borrow money.

Loan term: The length of time you have to pay off the loan. NerdWallet recommends no longer than 60 months for new cars and 36 for used cars.

Down payment: The amount you can pay now toward the car's price, lowering the amount of your loan.

Taxes and fees: When you buy a car, additional costs will be rolled into the total price such as state sales tax, a documentation fee and possibly other dealer charges.
Trading in and trading up?
Check your car's trade-in value to make sure you get the best deal.
3. Get preapproved for an auto loan
Once you've narrowed your search to a few lenders, it's time to request interest rate quotes and compare offers. Getting lenders to compete for your business gets you the best rate because each one weighs factors in your credit report differently. This means car loan interest rate offers can differ wildly.
Applying to lenders can be confusing because some offer pre-qualification, which requires only a "soft" credit pull, and others provide preapproval, requiring a "hard" credit pull, temporarily lowering your credit score. Pre-qualification gives an estimate of the rate you might expect, but preapproval gives you a more specific interest rate offer. In that way, preapproval protects you from interest rate markups you might otherwise fall victim to at the dealership.
"

Apply to all preapproval lenders within 14 days to reduce the impact on your credit score.

"
To get preapproval for a loan, you need to provide some personal details to lenders, including your Social Security number, salary and summary of other debts. It's important to apply to all preapproval lenders you're considering within two weeks, because multiple hard credit inquiries within a short time are grouped together and counted as just one inquiry.
Remember the differences between preapproval and pre-qualification. If you're really ready to buy your car, getting preapproved for an auto loan offers several advantages. It strengthens and simplifies your negotiating power at the dealership by allowing you to only haggle about the price of the car, not the monthly payment.
On the other hand, with pre-qualification, the results will only be as accurate as the personal information you provide. This means your final rate may be significantly higher than the initial offer. And in both cases, preapproval and pre-qualification, your final rate will change slightly depending on which car you choose.
Shopping auto loans: preapproval vs. pre-qualification

Preapproval means a lender has reviewed your credit report (not just the score) and other information to determine a loan amount and rate you're likely to receive.

You'll likely get the offered rate (your car must also meet the lender's criteria).

Makes you a "cash buyer" at the dealership.

Pre-qualification means you're likely to receive a loan at a given rate (or within a wide range) based on limited personal and financial information. It's not an offer to fund you.

Pre-qualification quick facts:

Offered rate may change based on full credit check.

Often has a wide range of interest rates you could qualify for but doesn't guarantee any.
Once you apply, you'll be contacted by multiple lenders, or even dealers. If you don't like being bombarded with phone calls and multiple emails, set up a separate email account and Google voicemail number. Then you can check messages at your leisure.
4. Use your loan offer to set your budget
Your preapproval offers will state the maximum amount you can borrow, but that's not the price of the car you can buy. You will need an additional 10% to cover taxes and fees. Use an auto loan calculator to design your loan. Put in your down payment, trade-in value of your current vehicle and lending terms to find the right monthly payment that fits in your budget.
If that payment is too much for your comfort, remember that the preapproval offer is just a limit — you can borrow much less if you choose. It's far more important to be able to make your loan payments comfortably, even if the bank says you can afford more.
Now that you've got financing offers and have figured the maximum cost of your car, it's time for the fun part: picking out your new ride.
To avoid disappointment once you have your heart set on a car, be sure to check the loan offers for:
Excluded brands. Some lenders exclude certain car manufacturers or types of cars, such as electric cars, from funding.

Dealership requirements. Some lenders, such as Capital One, require you to shop through a specific network of dealers.

How the lender will send the money if you're planning to buy from a private seller.

Time restrictions. Most lenders give you 30 days to use the loan. If you run out of time, call the lender to extend the offer.
6. Review the dealer's loan offer
"

With a preapproved offer in hand, you can see if the dealer can beat that rate.

"
Once you've taken a test drive and have found a car that meets your needs, you may still have a shot at an even better interest rate — from the dealer.
Carmakers set up their own banks exclusively for auto purchases through dealerships, and they sometimes offer below-market interest rates. Once the finance manager finds out you're preapproved for a set rate, he'll likely try to beat that rate to get your business. There's no harm in applying to see how low your interest rate can go.
And if you don't want to play that game, still be sure to tell the salesperson you're already preapproved. Tell the salesperson you are a "cash buyer," so you can haggle on just the price of the car, not the monthly payment.
7. Choose and finalize your loan
If the dealership beats your preapproved rate (and the other terms are the same), congratulations — you can rest assured you got a great financing rate. You can take that loan and disregard your other offers. Just be sure to read the contract before signing, to confirm there's nothing sneaky in the contract, like:
Hidden fees. In addition to the cost of the car, you will pay sales tax, a documentation fee and registration costs. Question any additional fees.

A longer loan term. Depending on the APR, adding even 12 months to your loan term can cost hundreds more. Watch out for a better dealership rate at the expense of a longer loan.

Add-ons you didn't ask for, like gap insurance, which you can usually get cheaper elsewhere.

An early payoff penalty. Most auto lending contracts don't have this, but it's best to check.
If you do use your preapproved offer, follow the lender's instructions to complete your loan application and finalize funding. In some cases a representative from the dealer may contact the lender to initiate funding and in others you follow up with the lender yourself.
If you're buying a car from a private seller, they're likely to request cash or a cashier's check. Once you've selected the car, you'll need to go back to the lender and ask how to finalize the transaction. Then, you'll sign the paperwork. It's still a good idea to check the contract for the items above, but you're much safer from these add-ons when you avoid a dealership.
After your auto loan is locked in, you're ready to drive off into the sunset. But don't forget to make payments on your car loan. A history of on-time payments is one of the most beneficial factors on your credit report, so you may see your score trend up after you've made loan payments for six months or more.
You can expect to receive a login for a web portal where you can manage your personal information and make payments or sign up for automatic payments. If you sign up to autopay, you might even get a small break on the interest rates on your loan.
Get more smart money moves – straight to your inbox
Sign up and we'll send you Nerdy articles about the money topics that matter most to you along with other ways to help you get more from your money.