Buying a Car Online vs. In Person: What's the Difference?
Buying a car online offers the flexibility and convenience that in-person car shopping does not. But you may lose your ability to negotiate.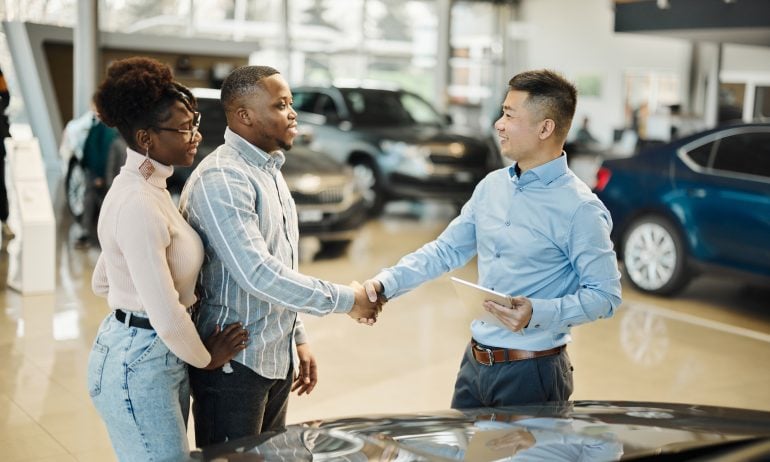 Many or all of the products featured here are from our partners who compensate us. This influences which products we write about and where and how the product appears on a page. However, this does not influence our evaluations. Our opinions are our own. Here is a list of our partners and here's how we make money.
These days, more Americans are opting to buy their cars online — from researching vehicles to making final purchases and having the cars delivered, all from the comfort of their homes. With the surge of car-buying apps, online car marketplaces and more dealerships that offer online options, it has become increasingly easy and accessible to trade in traditional dealership shopping with online car-buying.
A 2022 Cox Automotive Car Buyer Journey survey found that 68% of car shoppers plan to complete most of the car-buying process online in the future, while 80% of respondents agreed that it's a good or great idea to buy a car entirely online.
Indeed, buying a car online can be more convenient for many: Buyers can complete the entire process from their couches and have a variety of options at their fingertips. However, there are advantages to in-person car-buying, namely the ability to negotiate, that online car purchases might not offer. Consider these advantages and disadvantages when deciding which option is right for you.
Consumers who want to purchase a car online have several options. Top car-buying platforms like Autotrader and Carfax offer car listings from dealerships and private sellers and let shoppers search by make, model and price. Online auto dealers like CarMax and Carvana also have apps where buyers can complete the entire buying process and have a car delivered, while traditional marketplaces like Facebook Marketplace and Craigslist allow shoppers to find options in their local areas.
Advantages of buying a car online
Buying a car online offers shoppers the ability to complete the car-buying process at their own pace and without the pressure or hassle of going to a physical dealership. Additional benefits of purchasing a vehicle this way include:
You don't have to leave your house
The clear benefit of choosing to complete the car-buying process online is the convenience it provides. Shopping through an app can save you time if you're too busy to visit a dealership and is a useful alternative for those who are unable to visit a lot in person due to accessibility reasons. Most vehicles available through these platforms can even be shipped and delivered to you, meaning you truly do not need to leave your home.
There are more options available
Car apps and online marketplaces allow shoppers to expand their shopping radius and view more options than would typically be available from strictly going to a local dealer. Shopping from a larger pool can make it easier to find the car you're looking for, which is particularly useful in the current market where supply-chain issues and a shortage of semiconductor chips continue to limit available options.
It's easy to compare vehicles
Even when you do extensive research online before going to a dealer, it's hard to keep track of and compare all your car options on the lot. Although some carmakers offer comparison tools on their websites, you can only compare vehicles from that maker — you can compare different cars made by Honda, for example. Many online platforms offer tools that make it easy to compare cars from different makers, side by side.
For example, the online car-shopping platform Edmunds has a car comparison tool that lets you view up to four cars side by side, with information like pricing, consumer ratings, standard features and other specifications like engine power.
Edmunds, and other apps like TrueCar, also offer built-in tools like buying and leasing loan calculators that can help buyers determine how much they can afford to pay monthly.
Disadvantages of buying a car online
Although buying a car online can be convenient, there are also some disadvantages to shopping this way. Here's what you can expect.
You can't see the physical condition of the car
One of the most important steps in the used-car buying process is test-driving the vehicle to see how it actually runs on the road. While you can get a general sense of how reliable a car might be online or through a vehicle history report, driving the car in person makes it easier to spot any potential problems, and it helps to ensure you don't pay for a damaged vehicle.
Note that some online car services like Carvana and Vroom have return policies that allow buyers to return vehicles they've purchased, within a certain time frame.
There's less room for negotiation
When buying a car from an in-person seller or dealer, there's typically room to bargain down the sticker price. However, some online auto retailers like Carvana do not negotiate on pricing, which means that the price a vehicle is listed at is always the price you'll pay.
Despite the rise of online car-buying, most Americans still buy their cars in person or at least complete the bulk of the car-buying process in person.
Advantages of buying a car in person
Physical car shopping means that buyers can see the cars they're interested in, in person, and test drive their options. Some additional pros to buying a car in person include:
You can negotiate the price
It's typical for buyers to negotiate a vehicle's price down, whether they're buying from a private seller or from a dealer. And doing so can often save them a lot of money off a car's sticker price. Note that the recent car market has given dealerships the flexibility to add market adjustments to a vehicle's manufacturer's suggested retail price, or MSRP. These adjustments can sometimes be negotiated.
In contrast, as noted above, there's typically no room to negotiate when buying a car entirely online, which means the price you see is the price you pay.
Potentially more incentives
The number of deals and incentives available to buyers in the current market continues to be limited. However, traditionally, it's common for manufacturers and dealers to offer incentives and discounts in the form of lower financing rates, lease deals or cash rebates on the lot.
While you can browse new car incentives and rebates offered by make on platforms like Edmunds, incentives are typically not offered or readily available through online car retailers like Carvana, for example.
Disadvantages of buying a car in person
In addition to the inconvenience of visiting a dealer, often limited car options and how hard it can be to compare vehicles side by side, downsides to physical car shopping also include:
Pressure to make a purchase
Online car shopping apps allow you to go at your own pace. If no car piques your interest, you can take a break. However, on the lot, salespeople often have quotas and get paid based on how much they sell. This means they can be pushy and pressure buyers to make a purchase when they're not ready to, or to buy a car that may not be right for them. Know that you can always walk out at any point during a sale.
Less financing flexibility
Dealerships make money off of financing your car with their lender or loans. This means they want you to finance through them, giving you less flexibility with what financial institution you can use to finance your car. On the bright side, if you enter a dealership with a preapproved loan offer, show the dealer you're prepared and require it to match your preapproved interest rate, you can save money in the long run.
The important thing to know about how you choose to purchase a car is that it doesn't have to be all or nothing. You can choose to start your car-buying process online by researching and seeing what cars are in your area, and then visiting the dealership to complete the purchase in person. Regardless of which option you chose, make sure you do your research and purchase through a reliable app, marketplace, seller or dealer.
Get more smart money moves – straight to your inbox
Sign up and we'll send you Nerdy articles about the money topics that matter most to you along with other ways to help you get more from your money.