Vehicle History Reports: The Key to a Car's Past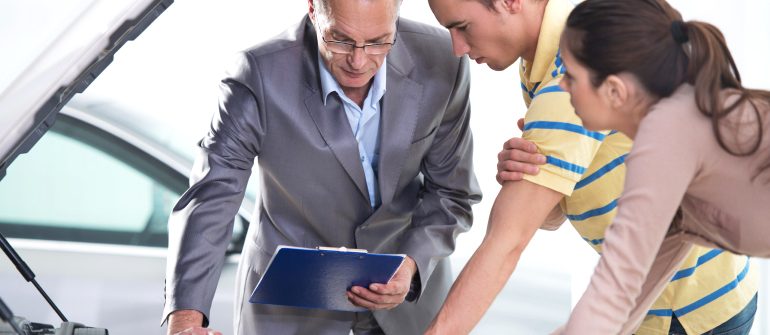 Many or all of the products featured here are from our partners who compensate us. This may influence which products we write about and where and how the product appears on a page. However, this does not influence our evaluations. Our opinions are our own. Here is a list of our partners and here's how we make money.
If you were thinking about buying a house, wouldn't you want to know if it had a damaged foundation, had problems that were badly repaired or was much older than the owner claimed?  A vehicle history report serves a similar purpose for buying a used car — exposing past problems — and it's a must for smart shoppers.
The best-known vehicle history reports are sold by Carfax and AutoCheck, but you can get some limited background information for free from several sources. These reports are tied to a car's vehicle identification number, and the data are collected over the life of the car. So each time the car is smog tested, for example, a record of the date and car's mileage is made and stored in a database. The vehicle history report pulls all the various records together in a single document.
A vehicle history report tells you everything a prospective buyer needs to know about a car's past. Keep in mind, though, that the report doesn't tell you the current mechanical condition of the car. However, since it tells you how it's been treated, you get a pretty good idea of the current condition and the value of the car. All this information indicates — without even going to physically inspect the car — whether you should buy it.
Here's a quick breakdown of some of the information that vehicle history report provides:
Salvage title: If a car's been in a serious accident, fire or flood and was "totaled" by the insurance company (declared a total loss), it still might be drivable. However, the insurance company will issue a "salvage title" to alert future buyers. In most cases, you want to steer clear of vehicles with salvage titles because they kill the resale value and the cars might still have hidden problems.

Accidents: Serious accidents are reported to the insurance company and will probably be on the vehicle history report. Occasionally, minor accidents are also listed. So don't assume every accident is a reason to rule out an otherwise solid used car.

Odometer rollbacks: Shady car lots might spin the odometer back to increase the vehicle's selling price. History reports alert you to this scam.

Number of owners and how it was used: It's nice to think the car you're interested in was driven only to church on Sunday by a little old lady. But maybe it was a leased car or even used as a taxi. If you order the report, you'll know for sure each time it changed hands.

Maintenance records: Sometimes service visits are listed on the vehicle history report, showing the routine maintenance or repairs performed by a mechanic. This is most likely if the car was serviced at a car dealership rather than an independent garage.

Recall information: This is useful information, but it can be checked for free on other sites.
You can buy individual vehicle history reports or a subscription for a limited time, usually the number of weeks it takes to shop for and buy a used car. Carfax charges $39.99 for a single report, or you get an unlimited number of reports for 60 days for $54.99. AutoCheck is $24.99 for one report or 25 reports for 21 days for $49.99.
Free information about used cars
A free way to get very basic information about a used car is to visit the National Insurance Crime Bureau. If you type in the identification number of the car you want to buy, you will at least be able to see if it has been issued a salvage title or if it was stolen.
Another way to get free vehicle history reports is through online classified car ads. Often, a link is provided to either the vehicle's Carfax or AutoCheck, so you don't even have to type in the unwieldy VIN.
If you are used car shopping in person, either at an independent used car lot or a car dealership, simply ask the salesperson for the vehicle history report. Nearly all dealers have an ongoing subscription to one of the vehicle history report services and should provide the report for free. It's a red flag if the salesperson refuses to show you the report or presents an outdated report.
How accurate are vehicle history reports?
Computer experts sometimes say, "Garbage in, garbage out." The same is true of vehicle history reports. With so many reporting sources — insurance agencies, vehicle registries, mechanics, etc. — mistakes occasionally occur, or important information is left out. Both AutoCheck and Carfax include "buyback" guarantees, so if you bought a car based on flawed information, these companies will buy the car from you. But only some errors are covered, so read the fine print carefully.
Think of the vehicle history report as the first step in deciding if you want to buy a used car you've found in an online classified ad. Before you call the owner or drive across town to inspect it, peer into the vehicle's past. What you see will help you rule out that car — or move forward with confidence.
Get more smart money moves – straight to your inbox
Sign up and we'll send you Nerdy articles about the money topics that matter most to you along with other ways to help you get more from your money.