Why You Shouldn't (Usually) Buy a Salvage Title Car
Salvage title cars may be cheap, but buyers risk purchasing an unsafe vehicle that will be difficult to insure and resell.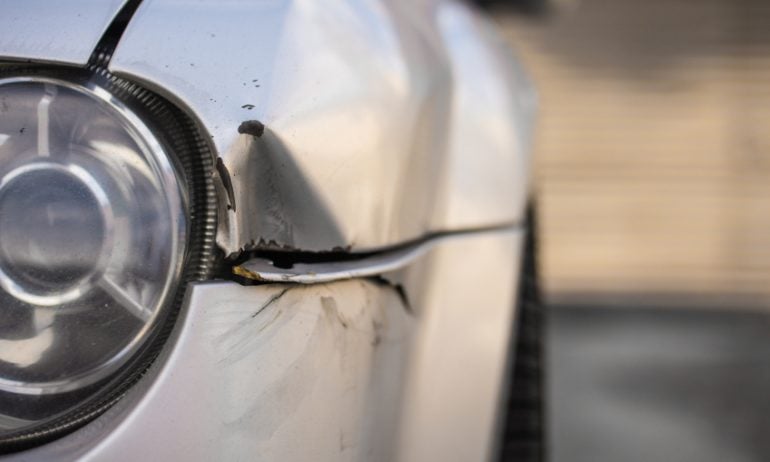 Many or all of the products featured here are from our partners who compensate us. This may influence which products we write about and where and how the product appears on a page. However, this does not influence our evaluations. Our opinions are our own. Here is a list of our partners and here's how we make money.
If the term "salvage title" stops you in your tracks, you're not off base.
Salvage title cars attract some buyers because they're priced significantly below market. They might seem like a bargain, but ultimately they have a lot of risks. We suggest getting a safer deal by buying a cheap used vehicle and being preapproved for financing.
Salvage title cars might represent opportunities for a select group of buyers, but even then, the cars should be viewed with caution — and most buyers should avoid them altogether. Here's everything you need to know.
A vehicle receives a salvage title when it's damaged so severely that the insurance company declares it a total loss. Depending on your state's laws, this occurs when the car's repairs would cost 50% to 90% of its pre-crash value.
"The reasons for the salvage title vary. It could be the result of flood damage — which, even though cosmetically repaired, could lead to mold issues later — a repair after being totaled in an accident, hail damage, smoke damage from a fire. … The reasons are many," says Matt DeLorenzo, managing editor at Kelley Blue Book.
Before putting the totaled car back on the market, the insurance company takes ownership, issues a salvage title and sells it to a repair facility.  Even after being rebuilt, the car will retain its salvage title, which substantially lowers its market value — by 20% to 40%, according to Kelley Blue Book. But the company emphasizes that it doesn't assign value to any salvage title vehicles because it assumes the vehicles are in poor condition.
There are many drawbacks to buying a salvage title car. The biggest is that you might not know the extent of the damage that caused it to be declared a total loss. There are also other factors to consider:
Safety: There are reports of salvage car rebuilders using money-saving tactics that cut safety corners, such as installing faulty transmissions or seat belts. For example, in a case settled in 2009, the family of Bobby Ellsworth was awarded millions after the California teen lost his life in a crash because a body-shop owner had faked the installation of airbags.
Fraud: Many people selling salvage title cars claim the damage was minor and cosmetic, but it can be hard to know who's telling the truth. And there's little the buyer can do if the car turns out to be in poor condition. "The seller may provide documentation that there have been repairs. However, the salvage title also implies an as-is sale," DeLorenzo says. "There are no warranties or guarantees on the condition and no legal recourse if the seller has disclosed the salvage title."
Difficulty insuring or financing: Most car insurance companies offer only limited coverage for salvage title cars — or refuse to cover them at all — since it's so hard to assign them accurate values. Banks also look at salvage cars as a risk and rarely provide financing for them.
No resale value: Dealerships almost never accept salvage vehicles as trade-ins, and private sales can be just as difficult. Salvage cars can't be valued accurately by online pricing guides such as Edmunds or Kelley Blue Book, making it hard to convince buyers of a reasonable price.
Saving money: Arguably, the main draw of buying a salvage title car is that such cars are priced significantly below market, typically 20% to 40% less than the same car with a clean title. Cars that are inexpensive to begin with experience a much larger drop in value. Even a 50% dip is "easy to imagine" says Matt Jones, senior consumer advice editor for Edmunds.
"But when you're talking about a car that would normally be worth, say, $100,000, being a salvaged title won't necessarily make it worth only $50,000," Jones cautions.
Finding a diamond in the rough: There are times when a salvage title car is only slightly damaged but still being sold for a low price. A hailstorm might damage the body but leave the engine and interior untouched. Older model vehicles might have lost market value to the point that they're totaled even if they require only small repairs. Cars recovered after being stolen might receive a salvage title without ever having been in an accident.
"When cars are stolen, the bad guys are often only looking for parts. If a car is stripped of its seats, airbags and electronics, replacement costs of the items can exceed the vehicle's actual value," Jones says. "But if the vehicle is made 'whole' again, that can certainly be a lucky find."
Getting a source for parts: Some people buy salvage title cars to use as a "donor car" for parts. Others enjoy fixing up the salvage title car themselves.
Given the pros and cons of buying a salvage title car, the pool of ideal buyers is small. It includes buyers who:
Have enough mechanical knowledge to inspect the car and possibly fix repair issues.

Know the seller and have complete knowledge of what caused the salvage title.

Plan to keep the car so long it fully depreciates, making resale a non-issue.

Need a second car that's rarely used, perhaps for a vacation home.

Can't get a loan and have to pay cash for a car. Buying the right salvage title car will allow them to drive more car for less money.
If you're determined to buy a salvage title car despite the risks, take these steps to ensure a safer purchase:
Ask a mechanic you trust to perform a full inspection: Don't rely on the current owner's description of the mechanical condition.
Get a vehicle history report: It might have additional information about the incident that led to the salvage title.
Learn as much as you can about its damage: Ask the seller for repair records and estimates or speak with an employee of the body shop that did the repairs.
Consider an unsecured personal loan: Paying upfront with cash can be daunting. You might be able to qualify for an unsecured personal loan based on your payment history and credit score. Remember to compare rates and find the best personal loan for your credit.
Find out how long ago the salvage title was issued: If it was issued years ago and the car's been driven consistently since, the repairs apparently were adequate. If the accident or damage occurred recently, there's greater uncertainty.
Get more smart money moves – straight to your inbox
Sign up and we'll send you Nerdy articles about the money topics that matter most to you along with other ways to help you get more from your money.