Refinancing a Car Loan in 6 Steps
Refinancing a car loan doesn't take long from application to approval. Here's how to refinance a car and possibly save money.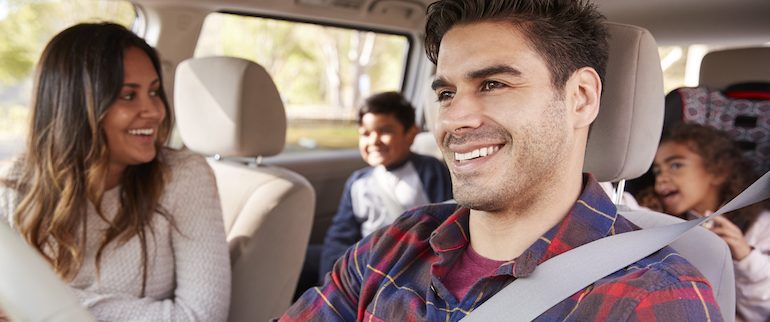 Many or all of the products featured here are from our partners who compensate us. This influences which products we write about and where and how the product appears on a page. However, this does not influence our evaluations. Our opinions are our own. Here is a list of our partners and here's how we make money.
Refinancing a car loan involves getting a new loan to pay off and replace your current one. You begin making payments on the new loan, which usually has a lower interest rate or different repayment period. Completing an application for refinancing a car often takes less than an hour, and many lenders return a loan decision immediately.
The reasons for refinancing a car vary. If your credit has improved since you took out the original loan, or a dealership stuck you with a too-high interest rate, refinancing may lower your rate and reduce the total amount of interest you pay. If you're struggling to make monthly car payments, refinancing can also decrease your payments.
Our guide to refinancing a car loan walks you through each step.
Want to refinance your auto loan? See if you pre-qualify.
Just answer a few questions to get personalized results from our lending partners.
1. Review your existing auto loan
Find the contract for your current auto loan and gather the following information:
Amount of your current monthly payment.

APR for your current loan.

Number of months left to repay your current loan.

Amount to pay off your existing loan. (Payoff amount is not always the same as the remaining loan balance.)
Payment amount and APR should be in your contract. Remaining months on the loan and payoff amount are available from your lender's customer service department. With some lenders, this information can also be found when you log in to your online loan account.
2. Determine the value of your car
With car prices rising to record highs in the past few years, it's important to know the current value of your car. In 2023, new-car prices have started to decline, and some car owners are finding their vehicle is worth less than the loan balance they still owe. This is called having negative equity or being upside-down on your car loan.
Refinancing a car loan with negative equity can be difficult, unless you have good credit. If you find you owe more than your car is worth, you most likely can't refinance until you get into a positive equity position. The best way to do this is to keep making on-time car payments, and paying extra — even if it's a small amount — each month. Just make sure your lender is applying any extra to your loan's principal and not to interest.
To estimate what your car is worth, you can use resources like Kelley Blue Book and Edmunds.com. Also, online car retailers like CarMax, Vroom and Carvana provide cash offers that you can use as a baseline.
Knowing where your credit stands can help you guage how easy it might be to get loan approval, the general interest rate you might expect and whether it makes sense to refinance your car loan right now.
You can pull your own credit report — that's a history of your credit activity — or check your credit score for free to see where you stand. Because you're checking your own credit, this kind of research will not lower your score. 
If you've made all your car loan payments on time for six to 12 months, and kept other credit accounts up to date, your credit may have improved. If so, there's a better chance you can benefit from refinancing your car loan to a lower interest rate.
Keep in mind that lenders consider criteria beyond credit score when approving loans. Even if you have a low credit score, you're likely to find a lender willing to approve refinancing, but the new loan may not be an improvement over your current one.
4. Gather information for your application
The information you need for refinancing a car loan varies by lender and where you are in the application process. The majority of lenders will request the following information at some point, so you can prepare by gathering everything ahead of time.
The vehicle identification number, or VIN, of your car.

Pay stubs from your current employer or proof of employment.

Your Social Security number.

A statement of loan payoff amount from your current lender.
5. Compare lenders and rates
When possible, apply to several lenders that offer pre-qualification with a soft credit check. You'll receive pre-qualified loan offers with rate and payment estimates, so you get an idea whether refinancing to a new loan will be an improvement. A soft credit check will not affect your credit score.
An auto loan refinance calculator can help you compare pre-qualified loan offers to your existing loan. First enter information about your current loan: the original loan amount, interest rate and the length of the loan in months. Then enter the amount you want to refinance (usually your loan payoff amount) and the loan term and rates from your pre-qualified offers.
This will show you the amount you could potentially save on your monthly car payment and help you narrow down where you want to apply.
Pay attention to the loan term when you compare loans. You can leave the length of your loan unchanged, but some loan offers may be for a longer term than you currently have.
Often, lenders suggest a longer term to lower your monthly payment. If your budget is stretched, a longer term can give you a little financial breathing room, but it also means you will pay more interest in the loan run. Still, that's better than missing payments and damaging your credit history.
Shortening the length of the loan is also an option. If your financial situation has improved, you could refinance to a shorter term, keep your monthly payment about the same and pay off the loan sooner. This saves you money because you'll pay less interest over the life of the loan.
6. Apply to refinance your car loan
Pre-qualification provides estimated offers and is not loan approval, so your last step is to get final loan approval from one or more lenders. Depending on what information the lender requested when you pre-qualified, you may need to provide more information for approval.
If you decide to move to the approval phase with more than one lender in order to compare firm loan offers, do so within a 14-day period. Similar queries in this time period are typically grouped together and treated as one, which lessens the impact on your credit score.
Some lenders have time restrictions for how soon you can refinance a car loan. Lenders may also require that a certain number of months remain on a loan in order to refinance it. So make sure you meet any lender restrictions before applying.
Once you choose a lender and let it know you want to finalize refinancing your car, you'll receive new loan documents to sign. Refinancing does start your auto loan over, so the lender will create a new loan with the new rate and term length you agreed on.
Your new lender will either pay off your old loan or provide the funds for you to do so. If your new lender says it will pay off the old loan, it's still a good idea to follow up and make sure it did.
Your final step? Watch for information from your new lender about when and how to start making payments on your auto refinance loan.
Frequently asked questions
How much can I save by refinancing my car?
Does refinancing a car hurt my credit?
Want to refinance your auto loan? See if you pre-qualify.
Just answer a few questions to get personalized results from our lending partners.
Get more smart money moves – straight to your inbox
Sign up and we'll send you Nerdy articles about the money topics that matter most to you along with other ways to help you get more from your money.