What Is a Clean Title?
A clean title tells you a vehicle has never been declared a total loss.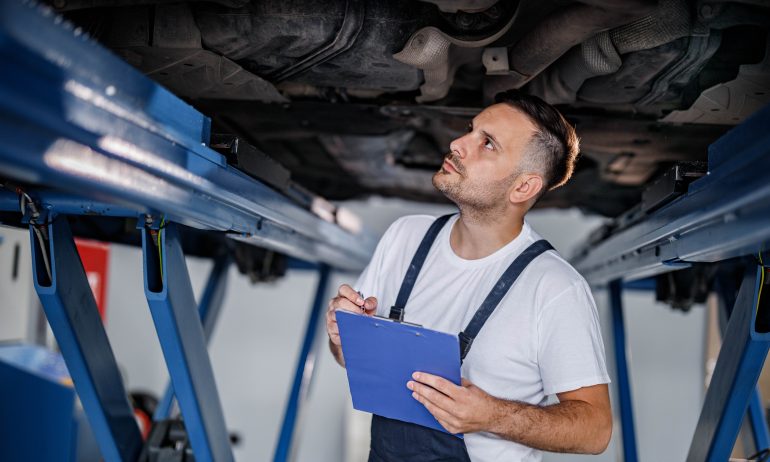 Many or all of the products featured here are from our partners who compensate us. This influences which products we write about and where and how the product appears on a page. However, this does not influence our evaluations. Our opinions are our own. Here is a list of our partners and here's how we make money.
A car with a clean title means an insurance company has never determined the vehicle to be a total loss.
Typically, insurance companies will declare a vehicle to be a total loss if it can't be safely repaired or if repair costs are too high relative to the vehicle's estimated value. Then, the title — a legal document used to establish ownership — will be branded by the state's department of motor vehicles as a salvage vehicle.
Car titles can also be branded for other reasons, such as sustaining water damage to the engine.
If you're buying a used car, look for vehicles with clean titles. However, still do your due diligence and check the vehicle history report: A clean title doesn't mean the vehicle has never been damaged or in an accident.
By default, all new cars come with a clean title. Title brand categories vary by state, but some of the more common ones are:
Salvage title. An insurance company has declared the vehicle as a total loss, usually because the cost of repairs has been deemed too high.

Flood title. The car has sustained water damage from being immersed in enough water to fill the engine compartment. Water damage can have long-lasting consequences on a vehicle, even if it hasn't been designated a total loss.

Junk title. The car is non-repairable and has no resale value beyond being sold for parts.

Rebuilt title. A car with a salvage title can get a rebuilt title once it's been repaired and deemed fit to be back on the road following a safety inspection. Rebuilt titles can also be called revived or reconstructed titles.
Some types of damage leave a car intact mechanically but still may lead to a salvage or rebuilt title. For example, hail damage is costly to repair.
In other cases, there may not even have been damage: Insurance companies sometimes issue salvage titles for stolen vehicles that were recovered after the owner's claim has been paid.
Auto loans from our partners

Should I buy a car with a rebuilt title?
Unlike cars with salvage titles, cars that have rebuilt titles can be insured and driven again. You can often find cars with rebuilt titles for sale at heavily discounted prices; however, be very careful before making a purchase.
You may have trouble financing and insuring a car with a rebuilt title. Without insurance, you likely won't be able to register the car or drive it legally. Without financing, expect to pay cash, and if you do find a willing lender, don't expect a low interest rate.
Before buying a car with a rebuilt title, find out as much as you can about the vehicle, such as:
Reason for being marked as totaled.

Types of repairs that were done.

Age of the vehicle when it was declared totaled.
Sometimes, cars are declared a total loss because of the high cost to repair cosmetic damage, even if everything else is running smoothly.
Also, a newer car with a rebuilt title likely sustained much more significant damage than an older one, because the current value of the vehicle comes into play. For example, light damage on a 1999 Honda could cause the car to be marked totaled, while the same damage on a 2019 model would be worth repairing.
That's why it's a good idea to get a pre-purchase inspection once you've identified the vehicle you want. If there was more extensive repair work done, you'll want to be on guard. Even though these cars have passed an inspection, it's possible that some issue went undetected or the repair work was done shoddily.

Find your next new or used car with ease
Compare prices, models, and more from over 1,000,000 cars nationwide. Shop and compare before visiting the dealer, and get a trade-in offer for your current car in minutes
Watch out for title washing
It's legally impossible to turn a rebuilt title into a clean title — a designation reserved only for cars that have never been totaled.
If you're buying a total-loss vehicle with a clean title, you're about to become a victim of title washing, an illegal practice where a title brand can be removed from a car title through fraudulent means, such as reapplying for a title without disclosing the vehicle's history.
Be on guard if you're ever uncertain about a car's title or unsatisfied with the seller's explanation of the ownership history. You don't want to be scammed, paying thousands more for a car that, unbeknownst to you, could have safety and reliability issues now or down the road.
Get more smart money moves – straight to your inbox
Sign up and we'll send you Nerdy articles about the money topics that matter most to you along with other ways to help you get more from your money.