How to Test-Drive a Car
The best test drive puts a vehicle through the paces it will encounter every day.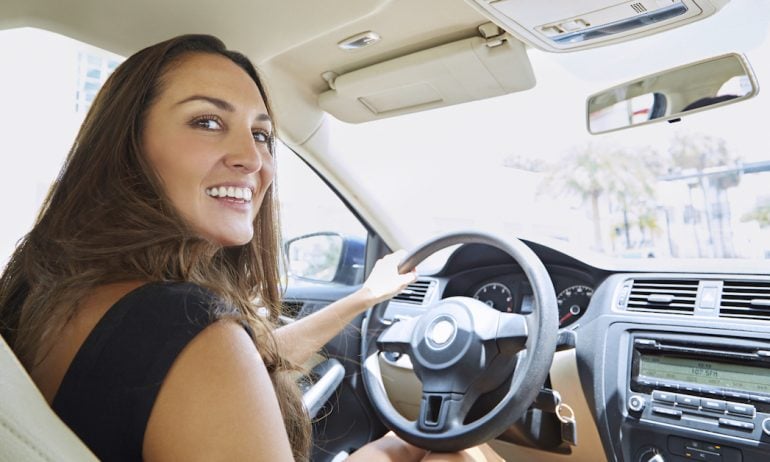 Many or all of the products featured here are from our partners who compensate us. This influences which products we write about and where and how the product appears on a page. However, this does not influence our evaluations. Our opinions are our own. Here is a list of our partners and here's how we make money.
A test-drive is a little like trying on clothes — but instead of wondering, "Does this shirt fit?" you have to ask, "Do I fit in this car?" That's a big question, one filled with both practical considerations and touchy-feely impressions. Choosing a car you like is a highly individual decision. There's no right or wrong answer.
Besides giving you a chance to experience the look and feel of the car, the test-drive also has a very specific purpose — to see whether it will meet your needs.
It's important to realize that test-drives come in two flavors: new cars and used cars. A test-drive at a new car dealership shows you how the car looks and drives, and answers questions about whether it meets your needs. It's also a great time to check the cargo capacity and play with the car's features such as the sound and navigation systems. A used-car test drive can take place at a dealership, an independent used car lot or, if you're buying from a private party, at the owner's house. It's quite similar to a new-car test-drive, except you also need to check the car's condition, and you should have a mechanic do a complete inspection later.
When you get into the car, don't just fire it up and blast off. Take a moment to see whether the seats are comfortable and can be adjusted to your liking. Explore the controls and see whether they are easy to operate. Set the mirrors and check for blind spots. If you have special requirements, like the need to fit a child seat or a dog crate, now's the time to see how well they can be accommodated.
Take a walk around the car. Do any body panels seem to be a different color? That might indicate a collision repair. Do the headlights or taillights work? Do they have any water in them?
Do all the wheels match? Are all four tires the same brand? Turn the wheel and inspect the tires. If the inner or outer edge is worn smooth you have an alignment issue, or perhaps worse.
Car salespeople usually suggest a route that is a series of right turns that brings you back to the dealership. This is convenient for the dealership, but not for you. Instead, you should drive the car for at least 20 minutes under different conditions: on side streets, on the highway, up hills and over rough pavement.
Now put the car through its paces: We're not saying you should do doughnuts or a smoky burnout; you should see how the car accelerates, handles and drives. Check the following points:
How is the visibility? Are there any blind spots? Can you see the corners of the car to park?

Start the car. Any smoke? Blue or black could indicate emissions or engine issues.

Acceleration and cornering: Does the car have enough power? Is the steering nicely weighted to your feel? In tight corners, does the car lean dramatically, or is it still composed?

Do the brakes feel responsive? Do they grab too quickly or feel mushy? Find an empty road and make aggressive stops; the pedal should not be rock hard or mushy, and the brakes may pulse but should not lock up. If the car pulls, it should be slightly and to the right.

Can you read the gauges without taking your eyes off the road for long? Are the controls in easy reach? Are any warning lights visible?

Does everything work? Check the seat heaters, even in summer, and the air conditioning, even in winter. Any moldy smell? Check turn signals, exterior and interior lights, remote, power seats.

On the drive, listen for any unusual noises or vibrations that could indicate worn suspension parts or tires. On a smooth level road, make sure the car tracks true by taking your hands off the wheel. Spend a few minutes at your normal highway cruising speeds; try the cruise control.
If you are test-driving several cars, be sure to make notes about your impressions. Use your smartphone camera to snap a photo of any feature you want to compare with the competing vehicle. Later, review your notes and pictures to help you make a final choice. However, it usually doesn't come to a long deliberation — often, the choice is clear based on driving impressions and the vehicle's utility.
In some cases, you might finish all your test-drives and still not have a clear choice. If you have the time, you can begin the research over again. Select one or two new candidates and take another round of test-drives. It may be time-consuming, but because you will probably have the car for years, the extra effort will be well worth it.
Get more smart money moves – straight to your inbox
Sign up and we'll send you Nerdy articles about the money topics that matter most to you along with other ways to help you get more from your money.