Tips for Buying a Used Car From a Private Seller
Buying a car from a private party is more complex, but there are ways to make the process smoother and safer.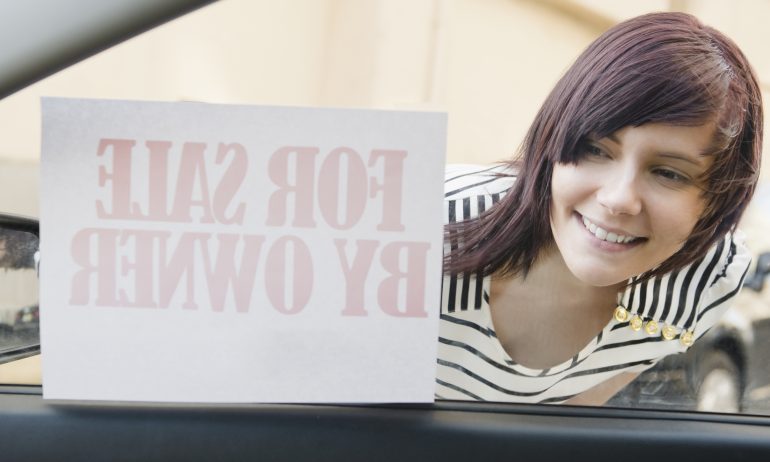 Many or all of the products featured here are from our partners who compensate us. This influences which products we write about and where and how the product appears on a page. However, this does not influence our evaluations. Our opinions are our own. Here is a list of our partners and here's how we make money.
Buying a used car from a private seller can have advantages. For example, if you're looking for an exact make and model of vehicle, you might be able to cast a wide net and find it for sale by owner. Also, cars sold by individuals usually sell for less than at a dealership.
But buying a car directly from a private party is more complicated than using a dealership, and it will require more of your time. So, know what you're getting into and be prepared. This guide to buying a car from a private seller should help.
Finding cars sold by private sellers
Sites like Facebook Marketplace and Craigslist can help you find "cars for sale by owner" in your area — or a wider area if you don't mind traveling. On these sites, you can search and filter by criteria such as year, make, model and mileage and set alerts for any new listings that are a match.
Other sites, such as AutoTrader, have a mix of cars posted by private parties and dealerships, but you can filter for private sellers.
And then there are the age-old options of buying a car through classified ads or from a family member or friend.
Researching cars for sale by private sellers
In most cases, buying a car from an individual means buying from a stranger whose trustworthiness is unknown. And you most likely won't have any warranties to protect you, like you would at a dealership. On top of that, in most states, private-party purchases aren't covered by lemon laws that protect people who buy defective vehicles.
So, the best way to avoid buying a lemon is to do your homework. Here are some steps to learn about a privately listed vehicle before buying it.
Contact the car's seller and ask questions
Here are examples of some questions to ask.
Has the car ever been in a collision or had other damage?

Does the seller still have a loan on the car and with what lender?

If there isn't a loan, does the seller have the car title in their name as proof of ownership?

Has the car had any major mechanical repairs?

Will the owner be able to provide the car's service records, which show regular maintenance?

Does the car have any remaining warranty that will transfer over?

What is the current odometer reading?
Get a vehicle history report
Another question is whether the seller will be providing a vehicle history report. If not, ask for the car's vehicle identification number, or VIN, so you can order a history report yourself. The most popular vehicle history reports can be purchased from Carfax or AutoCheck, with a single report costing less than $50.
History reports reveal a car's past in many different ways — such as previous accident repairs, odometer readings, number of prior owners, title history and lien information. Along with giving you greater insight into the car's history, it can provide red flags if the information doesn't match what the seller has told you. If it doesn't, ask the car's owner about any discrepancies. If the owner can't provide a reasonable explanation, it's a good sign to move on to a different vehicle.
In addition to the vehicle history report, you can use the VIN to do some limited research at the National Insurance Crime Bureau. Here you can see if the car was ever reported stolen and not recovered or whether it has a salvage title, meaning an insurance company has declared it a total loss.
Determine if the car is selling for a fair price
Now that you know a little more about the vehicle, if you're still interested, use sites like Kelley Blue Book or Edmunds to see if the seller's asking price seems fair. Make sure you're comparing the price to the private-party value. You can also see what kind of offers online car retailers such as CarMax, Vroom and Carvana might make to purchase the vehicle.
If the car's price seems high, private sellers may be more willing to negotiate than dealerships. It's also worth noting that private sellers won't press you to buy a list of expensive add-ons, such as maintenance and protection plans. So buying a car from a private party can reduce what you would pay in several ways.
Arranging to see a private seller's car
If your research checks out and you're still interested, you'll want to set up a meeting to see it. A bit of planning can save you time and help make the meeting safer.
Ask the seller to bring the car to a public place, and don't come alone. Bring a family member or friend with you, or at the very least, make sure someone knows where you're going and that you will check in at a specific time.
Try to meet during the day so it's easier to see as you visually inspect the car's interior and exterior. Look for things like worn tires and gas pedals on a car with very low mileage, which could indicate odometer tampering.
You should test drive the vehicle, just as you would if buying from a dealership. But this can be a security concern. One suggestion is to ask for the seller's driver's license to photograph. Send the photo to a family member or friend who knows where you are. Also, ask for proof of insurance on the car.
If the test drive goes well and you still want to purchase the car, this is a good time to negotiate the price. When you and the seller agree upon a price, ensure it's contingent upon the car passing your mechanic's inspection.
Have the car inspected by a mechanic
Don't rely only on the vehicle history report and visual inspection. History reports may not include all information from the car's past, and some issues like flood damage or mechanical problems are more visible to a trained eye.
It's worth the several hundred dollars you will spend to have a pre-purchase inspection. You, not the seller, should choose a mechanic you trust. If the public place you meet is your mechanic's place of business, that can save you time. You can also ask the seller to bring the car's service records to this meeting.
Paying for a car purchased from a private seller
When buying a car from a private party, you won't have a dealer to assist with the financial aspects. If you take out a loan, your lender may provide limited assistance, but it's another task that falls on you for the most part.
Rule No. 1 is don't pay an individual for a car until you have the car's keys and a lien-free, transferred title in your or your lender's possession. If you have the title and the seller's ID from when you test-drove the car earlier, compare the two to make sure the names match. While not foolproof, this is a way to ensure the seller has the legal right to sell the car.
If the seller still has a loan on the car, you will also need to obtain the payoff amount from their lender. You or your lender will then be responsible for paying off that loan and obtaining the title from the previous lender.
Even though you won't pay for the car until you or your lender have the title, you can begin planning how you will pay.
Paying with a private-party auto loan
Not all lenders offer loans for cars purchased from private sellers, so finding one that does can take some effort. However, applying for a private-party auto loan is, for the most part, like applying for any other auto loan. One difference is that some lenders will require you to know the exact car you plan to purchase before applying. Also, private-party auto loans usually have higher rates than other auto loans.
Paying with a personal loan
For cheaper, high-mileage or older used cars that may fall outside most lenders' guidelines, a personal loan may be your best bet — but it will carry a higher interest rate and demand better credit.
Paying with a money order or cashier's check is safer than carrying cash, but some sellers won't accept cashier's checks due to the potential for fraud. (Some may be willing to meet you at the bank to ensure a cashier's check isn't forged.) If you pay with cash, make sure to get a bill of sale with the agreed-upon purchase price as proof of payment.
Using an escrow account is one way to make paying safer. For example, you can put payment for the car into an escrow account for safekeeping, and the money will be released to the seller when you or your lender has the car's title. However, make sure to choose your own escrow company, as scam artists have been known to use fake escrow accounts.
Completing the purchase of a car from a private seller
Taking ownership of a vehicle purchased from a private seller is also more complicated than buying from a dealership because you will be responsible for paperwork a dealer typically handles.
Working with the seller, you will ensure that any registration and title transfer paperwork is complete. Some states also require that a bill of sale be completed along with an odometer disclosure statement. And you will be responsible for paying any sales tax and fees when registering the car. Check with your state's department of motor vehicles to see what it requires for you to take vehicle ownership. It may be easier to meet the seller at the DMV.
And don't forget one sometimes overlooked step — getting car insurance. Before you meet with a private seller to take delivery of a car, talk with your car insurance company about coverage and obtaining proof of insurance before you drive away.
Get more smart money moves – straight to your inbox
Sign up and we'll send you Nerdy articles about the money topics that matter most to you along with other ways to help you get more from your money.