What to Look For When Buying a Used Car
Knowing what questions to ask when used-car shopping can help you avoid buying a damaged vehicle or paying more than you should.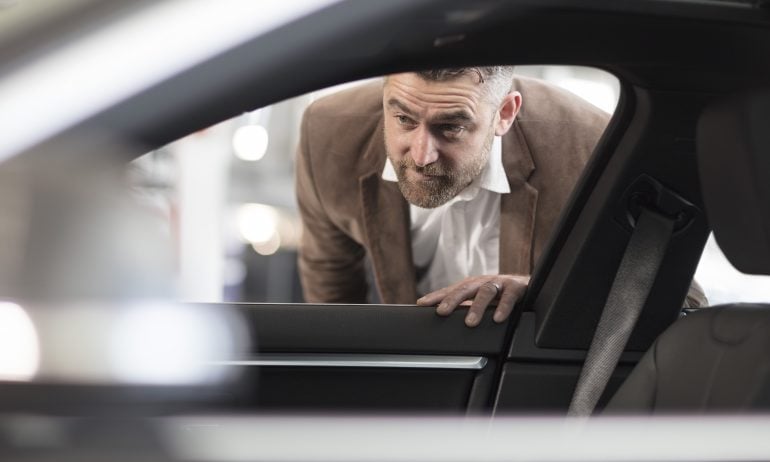 Many or all of the products featured here are from our partners who compensate us. This influences which products we write about and where and how the product appears on a page. However, this does not influence our evaluations. Our opinions are our own. Here is a list of our partners and here's how we make money.
Buying a used car instead of a new one can save you money. Indeed, the average monthly payment for a used car is $526, which is almost $200 lower than that of a new car, according to Experian's State of the Automotive Finance Market report for the fourth quarter of 2022.
But because used cars have unknown pasts, it's crucial to know what to look for when shopping for one to avoid paying for a damaged vehicle or paying more than a car is worth.
Whether you're buying a used car from a dealer or an independent seller, here are things to consider and questions to ask to ensure that you're driving away with a reliable and financially smart option.

Find your next new or used car with ease
Compare prices, models, and more from over 1,000,000 cars nationwide. Shop and compare before visiting the dealer, and get a trade-in offer for your current car in minutes
Buying a used car from a dealer? Find your financing offers
Auto loans from our partners

Get a vehicle history report
The first thing to do when buying a used car is to look at its vehicle history report. These reports can give you an initial glance at a car's past. The best-known vehicle history reports are sold by Carfax and AutoCheck and provide details about a car's history of accidents, title information, records of past owners, information about how a car was maintained and serviced and more.
Most dealers offer free vehicle history reports from Carfax or AutoTrader. But if you're buying from a private seller, you can buy a report yourself from a trusted source.
Still, vehicle history reports — even those from trusted providers — can sometimes have errors or be incomplete. That's why even after viewing a vehicle history report, it is important that you ask questions about a car's history and its current condition before buying.
Questions to ask when buying a used car
It's essential to understand a car's current condition before purchasing it. These are the questions to ask a seller before seeing a car in person and while you're physically inspecting it:
Can I inspect the interior and exterior of the car?
Older used cars often have features that don't work the way they are supposed to. It might not be a deal breaker — for example, if it's a malfunctioning CD player. But other defects can come as annoying and uneconomical surprises, such as weak air conditioning, blown speakers or missing pixels in displays.
Used cars can also come with minor scrapes, dents or other wear and tear. Be sure to check for any significant dents, scratches, rust spots, mismatched paint sections or uneven body panels on the car's exterior that might indicate that the car was in an accident and not properly repaired.
Additionally, open and close the car's doors, hood and trunk, check tires to see if there are any obvious problems and check under mats for leaks, which can alert you to potential water damage.
How was the car maintained and serviced?
Find out if it was serviced at a dealership, by an independent mechanic or a "shadetree" mechanic, one who is not affiliated with a garage. Also ask if the maintenance is up-to-date. Some sellers will even suggest you speak to the mechanic who worked on the car.
Further, ask the seller if there are service records available. As noted earlier, some history reports provide this information, but not all do and unreported services are not recorded. If the seller has the car's service records readily available, this might tell you that they probably serviced the car regularly.
In some cases, accidents are reported on a vehicle history report, but don't assume these reports catch everything. If the car was in an accident, find out how it was damaged and how it was fixed.
A car that was in an accident but not repaired well might pose some unwanted problems down the line for new owners, and it could even be dangerous to drive.
What is the car's ownership history?
How a car was used can clue you in to how reliable it may be on the road. For example, if the car was previously used for ridesharing, it may have more wear and tear than a personal vehicle.
In addition, ask if the current owner is the first. If not, does the seller know how many people owned it before? How long did the seller own the vehicle? A short period could indicate trouble. When searching for a vehicle, consider using keywords like "original owner" or "service records" or even "garaged" to find cars without a checkered past.
Does it have a clean title?
In most cases, buyers should avoid cars with "salvage title" in the description because they might still have hidden problems. This is why it's important to ask the owner for the vehicle's title information. A longtime owner might not know where the title is hiding or a seller might not have the title if there's an outstanding loan from the bank, but you can usually find details about a car's title on its vehicle history report.
Knowing the status of the title early on can help you decide if the car is worth the extra time and hassle.
How did you arrive at this price and is it negotiable?
If you've asked all the above questions, and you're getting serious about buying the car, find out how the seller priced it. Use an online pricing guide, like Kelley Blue Book or Edmunds, or check online classifieds for similar cars to make sure you're getting a fair price.
Can I take it for a test drive?
Car shoppers should always test-drive a car to get a feel for how it moves on the road. This is particularly key for used cars because it can point to any potential problems a seller might not tell you.
During the test drive, check for things like how the seats feel, if you have any blind spots, how the car drives in different environments like on the highway, any unusual engine noises, how responsive the brakes are and the like.
Can I get a pre-purchase inspection?
Pre-purchase inspections or used-car inspections typically cost between $100 and $200. An inspection from a trusted mechanic, which usually includes a test drive, can alert you to any engine or mechanical problems that you might not spot yourself.
Get more smart money moves – straight to your inbox
Sign up and we'll send you Nerdy articles about the money topics that matter most to you along with other ways to help you get more from your money.