How Do I Find a Good Mechanic?
Here are things to look for when searching for a good, reliable mechanic.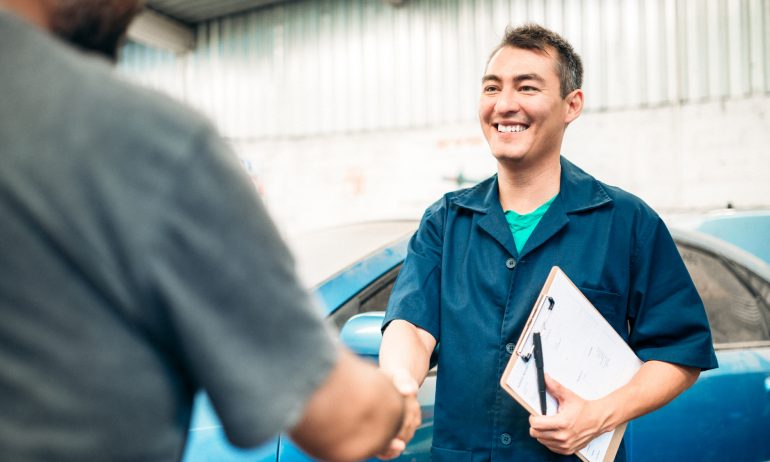 Many or all of the products featured here are from our partners who compensate us. This influences which products we write about and where and how the product appears on a page. However, this does not influence our evaluations. Our opinions are our own. Here is a list of our partners and here's how we make money.
Finding a good auto mechanic can put your mind at ease. When your car starts making an unusual noise or refuses to start, you'll have someone you can turn to for answers.
Having a mechanic you trust to perform routine auto maintenance will also help you keep your car healthy and running longer. This can lower your total car ownership costs by avoiding costly repairs in the future.
But not knowing if a mechanic is giving an honest assessment of a car's needs or an appropriate price for the work has led 63% of Americans to report that they don't trust mechanics, according to AAA. So how do you find a trustworthy auto shop?
 Here are a few things to look for when searching for a good mechanic.
Dependable recommendations
Ask friends and family members that you trust for their recommendations, says Denise Leleux, CEO of Curbee, a mobile vehicle maintenance and repair company in California. But don't just take a recommendation without more information. Ask specifics about why they recommend the mechanic, what work they had done to their car, how they felt about the pricing and how quickly they got their vehicle repaired.
And don't stop at just good mechanics. Ask if they've had any bad experiences with mechanics, so you can avoid those auto shops as well. 
Some websites like Yelp and CarTalk offer recommendations with customer reviews to give you an idea of other drivers' experiences with the auto shops. Kelley Blue Book goes one step further and calculates ratings based on auto shops' Google and Facebook reviews, the age of reviews and review volume. Other websites, including Consumer Reports and AAA, provide a list of auto shops that are certified through their screening processes.
But you don't want to just look for good reviews, says Leleux. Search for bad reviews where the shop responded and tried to correct an issue for the customer.
"You're looking for the good and then how they respond to the bad," says Leleux.
While these are good places to learn about other drivers' experiences, don't use just one website to make your decision. Look up an auto shop's reviews on multiple websites to get a better idea of overall ratings.
Industry licenses and certifications
Once you've gathered some names, research each one to learn about their qualifications. Here are a few licenses and certifications that you can look for to evaluate a mechanic's or auto shop's experience.
Business licenses and qualifications
Some states require repair shops to be registered or licensed to operate legally. The Federal Trade Commision recommends that you ask an automotive shop to see a shop's current licenses to ensure it's a legal business. Some states have departments that help consumers look up auto shop's licenses and support complaint investigations when consumers believe an auto shop hasn't legally met requirements regarding paid work. An example is California's Bureau of Automotive Repair.
Better Business Bureau rating
The Better Business Bureau (BBB) will give you insight into a shop's reputation. Search for the business on the BBB website to see if it has "a good track record" with customer relationships, says Leleux. Pay attention to how complaints have been resolved and the company's overall BBB rating.
Automotive Service Excellence (ASE)
Mechanics who are certified through the National Institute for Automotive Service Excellence (ASE) have proved their knowledge in certain automotive systems and technical abilities when it comes to car maintenance. ASE-certified mechanics have verified work experience and have passed a test for each level of certification they hold. And they must retest every five years to maintain their certifications.
Make- and repair-specific experience
You should also consider a mechanic's experience with your specific make and model in addition to their overall training and experience. This is especially important if you drive a high-end or imported vehicle. Dealership service departments will have specialized mechanics, but you'll likely pay more for this experience than you would at a local garage.
And if you are having your vehicle repaired, check that the shop or mechanic has experience with that sort of work. For example, if you are having work done on your transmission, ask questions about the mechanic's experience with that sort of repair.
If a mechanic can offer you original equipment manufacturer (OEM) parts for your vehicle, that's a good sign of the quality of work they can give you. But relying solely on aftermarket parts might be a clue that the shop isn't as professional as its competitors.
"If an independent shop can't use OEM parts, it probably means he doesn't have a relationship with a dealer to get access to those parts," says Leleux. But being able to offer you OEM parts is a "signal of maybe their relationship upstream and to manufacturers."
While you might choose to go with aftermarket parts, it's good to have the option of OEM parts, especially if your car is still under warranty.
A mechanic who asks questions about your car
Your technician should gather information about you and your vehicle and why you've brought it into the shop. Questions should go beyond the basics of your car's make and model and investigate your car's behavior. Examples include:
Why are you bringing the car into the shop?

If it's not standard maintenance, what is the car doing that concerns you? Can you describe any related sounds or changes in how it drives?

When did you notice these symptoms?

What work have other mechanics done for this issue before? Do you have records the shop can look at to see what has been done to the car?
If an auto shop simply takes your keys and doesn't ask questions to try to understand the issue and get at the root of the problem, you should consider going elsewhere.
A professional shop with responsive employees
Visit the auto shop to get a sense of the business's atmosphere, says Leleux. Take stock of things like how clean the waiting room looks, if someone is working the front desk, how quickly they answer the phone and if employees appear helpful. 
While automotive care can be a dirty business for the mechanics, the front end should look professional and be easy to navigate for customers. If you visit a shop and notice that no one is available to answer questions, the phone is rarely answered or the administrative area seems unorganized, that might be a sign to look for a more professional auto shop.
Questions to ask before committing
After you've established what brings you to the shop, there are still a few questions you should ask before agreeing to have work done on your car. 
If your car is still under a factory or extended warranty, check with your dealership to learn which auto shops are approved to do work that is covered by your warranty.
Why does a repair or work need to be done?
A mechanic should be "able to really show you with physical evidence, whether it's a picture or video, this is why you need something done to your car," says Leleux. If a mechanic makes a recommendation, they should be able to explain how having the work done will repair the issue and what will happen if you don't have the work done.
And ask for clarification if you don't understand an explanation. "Don't be afraid to ask lots of questions because a technician loves what they do," says Leleux. "And they want to share car knowledge." If a mechanic is using terms that you don't know, ask them to simplify the explanation or say it in layman's terms so that you have a better idea of what they're trying to explain to you.
"The majority of people are good and they want to do right by consumers," says Leleux. "But sometimes you're coming at it from two different angles." And that can take a little extra conversation on both sides.
Don't be afraid to admit that you're not a car guru — a good mechanic should be able to help you understand your car's needs without confusing you. If they keep talking over your head and you're still not clear about why you need something done or what it entails, tell them you want a second opinion before agreeing to the work.
How much is it going to cost and why?
Ask for a quote of how much the work is going to cost. If a mechanic offers you a total without an explanation, ask for an itemized estimate that shows the cost for parts and labor. You should be able to see where every penny is going. If an estimate involves unclear line items, ask what the charges are for.
Be wary of mechanics that don't give you an estimate up front. Make it clear that you want to know what they recommend and get a quote before work is performed on your vehicle, say Leleux.
Even if you don't know much about how your car works, you can find a good mechanic who can ease the anxiety of car maintenance. By taking the time to research your options, asking questions about mechanics' experience and certifications and checking out an auto shop before making a commitment to have work done, you can weed out those with red flags.
But sometimes it comes down to your instincts. If you have a bad feeling about a mechanic even though everything looks good on paper, try another shop or get a second opinion to ensure you're comfortable with who will be working on your car.
Want to refinance your auto loan? See if you pre-qualify.
Just answer a few questions to get personalized results from our lending partners.
Get more smart money moves – straight to your inbox
Sign up and we'll send you Nerdy articles about the money topics that matter most to you along with other ways to help you get more from your money.