Facebook Marketplace: Buy or Sell a Car
Facebook Marketplace offers a wide range of affordable used-car listings, but be wary of scammers on the platform.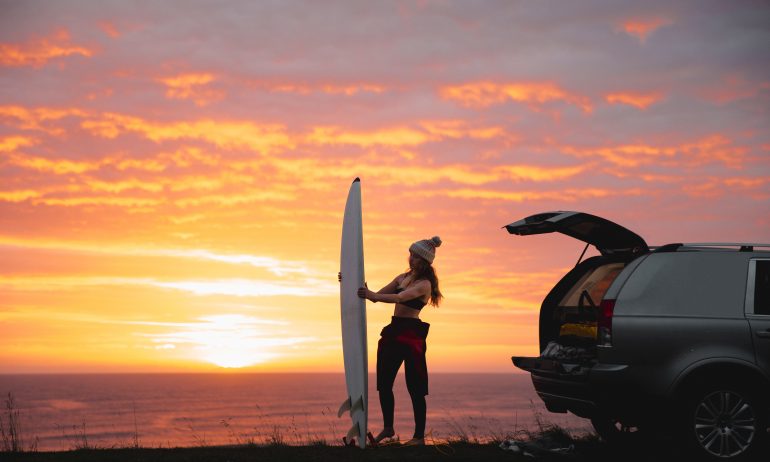 Many or all of the products featured here are from our partners who compensate us. This influences which products we write about and where and how the product appears on a page. However, this does not influence our evaluations. Our opinions are our own. Here is a list of our partners and here's how we make money.
Facebook Marketplace is one of the most popular peer-to-peer shopping platforms, offering everything from furniture and clothing to weird tchotchkes. It's also a great resource for finding local used-car listings at affordable price points, as well as listing your own vehicle.
However, scammers roam Facebook Marketplace both as buyers and sellers. Keep your guard up.
According to Facebook, more than 20 million people look at vehicle listings on Marketplace each month. The social media platform allows individuals and dealerships to post cars for sale on its platform, meaning you can find a wide variety of used-car listings.
What is Facebook Marketplace?
Facebook Marketplace allows users to buy and sell all sorts of products online — not just vehicles — which makes it different from most car-buying apps that exclusively offer vehicle listings. Here's how Facebook Marketplace compares with those dedicated car-shopping platforms:
Both offer users an easy way to browse through thousands of used-car listings. Dealerships are not allowed to list new inventory on Facebook Marketplace.

Many car-shopping apps include listings only from dealers; Facebook Marketplace allows individual users, in addition to dealers, to list vehicles for free.
Large selection of local inventory at lower price points.

Private sellers are often more motivated to sell, so you can get a great deal.

Some listings include a loan calculator and pricing context using Kelley Blue Book data.
Vehicle purchases not covered under Facebook's purchase protection policy.

Need to carefully vet users to make sure the listing or offer is not a scam.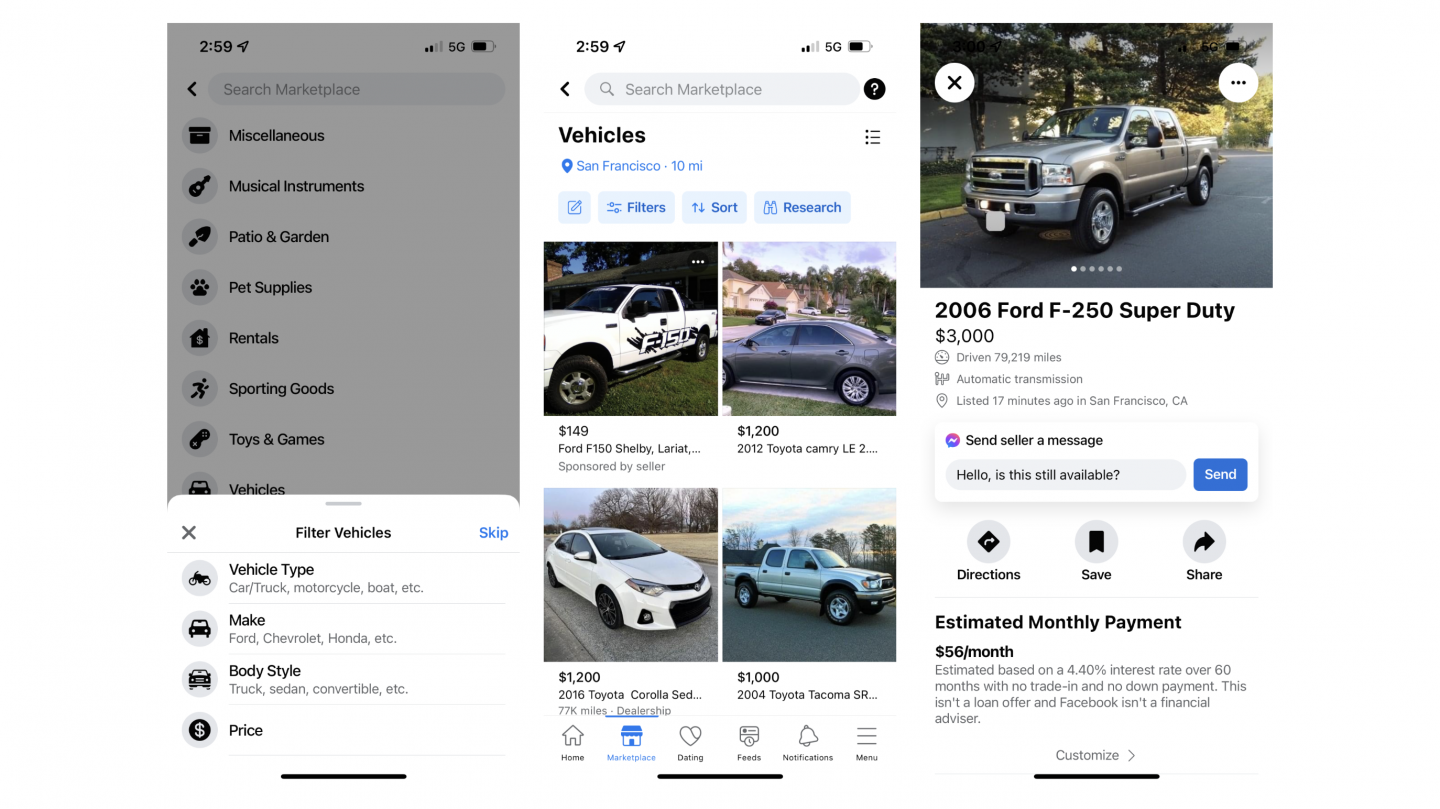 Listing a car on Facebook Marketplace
It's free to list your vehicle on Facebook Marketplace. When you create your listing, you will be asked to fill out information about your vehicle, such as its mileage, whether it has a clean title and how much is still owed.
Make sure to fill out the details about your car thoroughly. This can help buyers decide if your car is the right fit for them. When you do this, Facebook will auto-populate the listing with your car's features based on the year, make, model and trim, as well as tell you how your price compares to that of similar vehicles.
In addition to posting your listing on Facebook Marketplace, you can also post it in public and private groups, which can help you reach a more targeted audience. Some groups screen applicants for membership, so that can be a useful alternative if you're concerned about scammers and want to safely sell your car on Facebook Marketplace.
Regardless of where you list, you'll want to do your own vetting.
Buying a car on Facebook Marketplace
Facebook doesn't charge fees when you buy a car listed on its Marketplace platform. Once you find a car you're interested in, you can message the seller on Facebook to find out more details and purchase the vehicle directly from them.
Here are some helpful tips on avoiding scams as a buyer:
Use Facebook's messaging platform to communicate with sellers. Facebook often takes action against fake accounts and will shut them down. If that happens to a seller you're chatting with, you likely avoided a nasty situation.

Be wary of deals that seem too good to be true. Scammers will use lower prices to attract more eyeballs to their listings.

Ask all the questions you need. Purchasing a car is a big decision, and if someone refuses to answer a reasonable question, that's a red flag.

Don't pay with gift cards. Scammers may ask you to send them gift card details as a form of payment. This is a common scam where the seller deletes their account shortly after you send them the payment information.

Research the seller. Take a close look at their Facebook profile. Be wary of new accounts or ones with a suspiciously small number of friends. Check out their Marketplace profile, which will include other listed items and ratings they received from past sales.

Schedule a time to inspect the car in person. Do this before transferring funds to the seller. Find a mutually agreeable location, preferably during the day and in public. Consider meeting at a police station or grocery store parking lot, as well as bringing someone with you, like a friend or spouse.

Watch out for title jumpers. Verify the car title is in the seller's name. Some people will buy a car but never put the title in their name (usually to avoid sales taxes). Title jumping is illegal, and you may have difficulties if you try to register, title or resell a car with a jumped title.