Do Car Dealers Make Money Off Financing?
Car dealers typically make a commission for arranging a loan, sometimes in the form of an increased interest rate.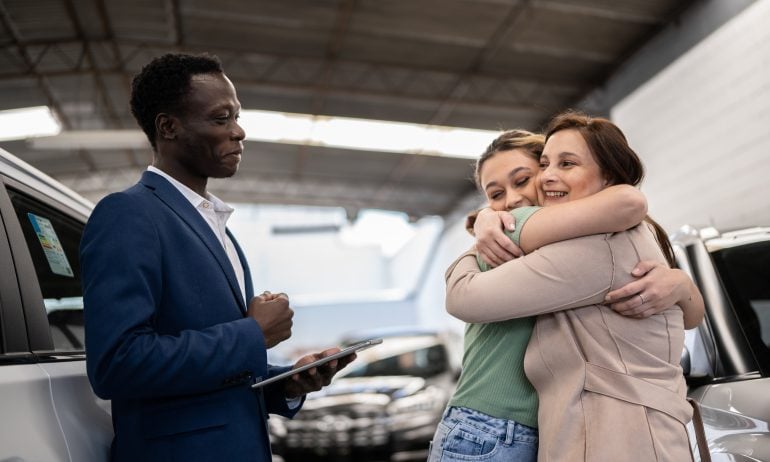 Many or all of the products featured here are from our partners who compensate us. This influences which products we write about and where and how the product appears on a page. However, this does not influence our evaluations. Our opinions are our own. Here is a list of our partners and here's how we make money.
Auto dealerships make a lot of money off financing.
Mostly, they act as intermediaries to connect their customers with banks and credit unions, earning either a flat fee for each loan referral, a percentage of the loan amount, or a portion of the interest.
Some loans make a dealer very little, $100 or even less, but some can generate thousands of dollars in profit.
The most common way to profit off auto loans is a system known as dealer reserve. Dealers have a "buy rate" with each lender that represents the minimum rate the bank or credit union will accept. The dealership can mark up that rate by an agreed-upon amount, but usually 2.5 percentage points or less. That is known as the "sell rate," and it is the one the dealer may show you.
About 78% of dealer-arranged loans carry marked-up interest rates, according to a 2020 analysis by the Massachusetts Institute of Technology, with an average markup of 1.08 percentage points. About 85% of new-car buyers finance their purchase, as do a little more than half of used-car buyers.
Say you take a $30,000, five-year loan through a dealership whose rate is marked up by 1 percentage point. On paper, the dealer would split that extra $750 in interest with the lender. In practice, most dealerships take a smaller amount to get their money upfront.
Marking up interest rates is not illegal, and dealers are not required to tell you if you have been offered a loan with a marked-up interest rate.
Interest rates can be negotiable
Some dealers may offer to sell you a car at one price if you finance through them and another if you don't. Some may decline to sell you a car at all unless you use their financing.
That may make your negotiations difficult.
As a car buyer, your best strategy is to bring a pre-approved auto loan to the table representing the best rate you can find on your own. If the dealership can beat it — and make additional profit doing so — there's no harm in accepting its offer.
If you choose to take a dealer's higher interest rate to get a better price, refinance your car loan as soon as is practical with your bank or credit union.
Car dealers make money in many ways besides loans: off the vehicle itself, from your trade-in, from warranty sales and service work. Profit from one area of the sale may subsidize a discount in another. The dealership leverages that fact to maximize its overall profit.
Buyers should consider their own transactions in the same way: Pay attention to everything, but it's the out-the-door price that matters. You write only one check.
What about 0% loans, origination fees and dealer financing?
New car dealerships have similar profitable arrangements with automakers' "captive" lenders, such as Toyota Financial Services or Ford Motor Credit, earning either a flat fee or a percentage of the loan amount. When manufacturers choose to offer discounted interest rates to buyers such as 0% interest, dealerships typically earn a flat fee for those loans.
Most auto loans do not come with an origination fee. The exceptions are some loans made to subprime credit customers, where origination fees — paid on top of whatever the interest rate is — offset the higher risk that the loan will default. But lenders get that money, not dealers.
Some dealers will lend you their own money. You may see signs outside used-car lots that read "We Finance," or "Your Paycheck Is Your Credit." If you cannot get financed anywhere else, a buy-here, pay-here dealer may be your only option. This in-house financing is the most expensive way to buy a car, but it is very profitable for the dealer.
There's more to financing than APR
Your loan's interest rate is only part of your financing. As you review a dealer's financing offer, make sure you review all the moving parts. Those include:
Your down payment. A dealer may need to increase your down payment to lower the offered rate.

Origination fees. Most loans don't have these, but some bad-credit auto loans may require them. A dealer may have lowered your interest rate but increased the fee.

The loan term. A dealer can keep the interest rate and payment the same but extend the term of the loan from, say, 60 months to 63 months.
As long as the interest rate and other loan terms represent the best deal you can get, it doesn't make sense to worry about how much the dealership is making as a commission. It's entitled to a profit, as long as it's in your best interests as well.
Ultimately, you're better off walking into a dealership with a pre-approved loan for the dealer to match or beat. Barring that, at least check your credit report and run numbers through an auto loan calculator that factors in credit scores. You don't want to walk into a dealership with no way to gauge the offers you see.
Get more smart money moves – straight to your inbox
Sign up and we'll send you Nerdy articles about the money topics that matter most to you along with other ways to help you get more from your money.