What Is a Bad Credit Auto Dealer?
Before you buy a car at a bad-credit auto dealer, here's what you should know.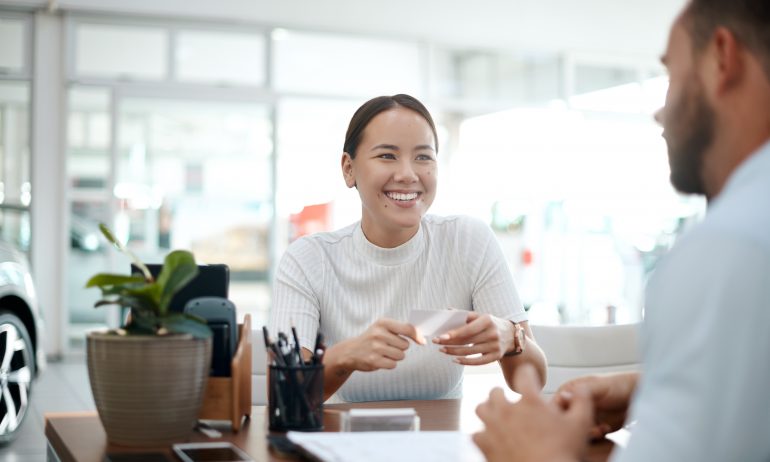 Many or all of the products featured here are from our partners who compensate us. This influences which products we write about and where and how the product appears on a page. However, this does not influence our evaluations. Our opinions are our own. Here is a list of our partners and here's how we make money.
Bad-credit car dealerships sell and finance vehicles for people with low credit scores, no credit, past bankruptcies, car repossessions or other credit issues.
Some of these dealerships specialize in working with lenders that are more inclined to approve bad-credit borrowers. Their financing sources are more flexible, but their loans can come with a very high interest rate.
Other bad-credit auto dealerships finance the vehicles themselves; some may not check credit at all. Instead, they lend based solely on your paycheck and charge even higher interest rates.
Financing through a bad-credit auto dealership
Car buyers who turn to bad-credit dealerships may feel they have no other choice. They may wind up buying a car they don't like, paying a large origination fee, accepting jacked-up interest rates or signing up for unnecessary services.
The two most used credit scoring models, FICO and VantageScore, have a score range from 300 to 850. In general, car buyers with credit scores in the mid-600s or below will have fewer options and pay higher rates for an auto loan.
However, many credit unions and online lenders do make auto loans directly to borrowers who have less-than-perfect credit. So, shopping for a car loan before you visit a dealership may help you avoid bad-credit car dealers altogether.
If financing at a bad-credit dealership is your only option, you can benefit by knowing how they operate ahead of time.
Auto loans from our partners

Dealerships that work with subprime lenders
Some car dealerships work with third-party lenders, often banks or credit unions, that are called subprime lenders. These lenders make loans to borrowers who might not qualify through traditional lending.
Subprime lenders usually do require a credit check, but their approval decision takes into account many other factors. For example, they will consider the reasons behind a bad credit score — such as unplanned medical bills or a job loss — and whether your financial situation is back on solid ground. They are typically looking for a single source of steady income, usually a minimum of $1,500 to $2,000 monthly before tax deductions.
Dealerships that work with subprime lenders may sell new or used cars. They usually have an arrangement with lenders, so that the dealer's finance officers earn either a flat fee per loan or a percentage of the amount borrowed. Finance officers often have the leeway to adjust a loan rate within the lender's guidelines, so they may be able to beat the rate of other loan offers you bring to the table.
Buy here, pay here dealerships
Some car dealers offer their own in-house financing for bad-credit customers, and borrowers make payments directly to the dealer. Called buy here, pay here dealerships, or BHPH, they often advertise "no credit check" or "we finance everyone."
BHPH loans can be a fast, easy way to finance a car, but they are also the most expensive way.
BHPH dealers sell only used cars. They usually don't do a credit check, and some don't have a minimum income requirement. Instead, they determine what monthly car payment you can make, usually based on the pay stub you provide. Then, they show you which cars on their lot you can buy.
BHPH dealers often match payments to the buyer's pay schedule, so payments can be monthly, biweekly or even weekly. They often don't report on-time loan payments to the three major credit bureaus, meaning the loan can't help to build your credit. These dealers typically do report late payments, and some require a tracking device on your car that also prevents it from starting if you get behind on payments.
Get preapproved before visiting an auto dealership
Before visiting any auto dealership, try to line up your own financing. If you simply settle for financing the dealership offers you, you won't know if you could have qualified for a lower-rate loan elsewhere.
Try applying to several bad-credit auto lenders yourself. This could be a bank or credit union, or online aggregators that have a network of lenders. Look for lenders that let you pre-qualify to see rate estimates without affecting your credit scores. Select the best pre-qualified offer and ask for loan preapproval.
If you're able to get a preapproved loan, you can most likely get approved at a dealership that works with subprime lenders. Your preapproved loan gives that dealership a rate to beat. While your loan rate may still be high, presenting a preapproved loan can help you get the best loan possible from the dealer.
If you can't get preapproved through a lender or dealership and need a car right away, a buy here, pay here dealership could be your only option. Because it's the most expensive way to finance a used car, it should always be your last resort.
If you finance through a dealer with subprime lending, or a BHPH dealer that reports your on-time payments to the credit bureaus, you may be able to refinance your auto loan later. If your payments have been on time for six- to 12-months, you may be able to reduce your interest rate and monthly payments.
Get more smart money moves – straight to your inbox
Sign up and we'll send you Nerdy articles about the money topics that matter most to you along with other ways to help you get more from your money.