Car Payment Calculator: Estimate Your Monthly Loan Payment
Calculate your monthly car payment and see how term, interest rate and credit score change the result.
Many or all of the products featured here are from our partners who compensate us. This may influence which products we write about and where and how the product appears on a page. However, this does not influence our evaluations. Our opinions are our own. Here is a list of our partners and here's how we make money.
Calculating your monthly auto loan payment before going to the car lot can boost your negotiating power and help you choose the best loan for your budget.
How to estimate your interest rate
If you've been preapproved or prequalified for an auto loan, enter the rate you've received from the lender. You can also check the auto loan interest rates offered by online lenders.
Or, if you know your credit score, you can estimate the rate you'll likely be offered based on average rates:
Source: Experian Information Solutions
Keep in mind that rates on new cars will be lower than for used cars. Sometimes, carmakers' finance companies will even offer rates as low as 0%.
How to use the auto loan calculator
While you can't calculate your monthly car payment to the penny, having a good estimate will put you in the driver's seat at the dealership and help you compare auto loan offers with confidence.
Here's how to use the auto loan calculator and a look at the different numbers that will make up your car payment.
Car price: In this field, put in the price you think you'll pay for the car after negotiations.

Trade-in and down payment: Enter the total amount of cash you're putting toward the new car, plus the trade-in value of your existing vehicle, if any.

Interest rate: You can enter the rate you've qualified for or estimate your rate based on your credit score using the dropdown menu at the top of the calculator.

Number of months: Enter the loan term, or how long you plan to take to pay off the loan.

Results: There's no need to search for a "calculate" button. Simply put in your numbers and the results will update immediately.
In addition to looking at the monthly payment result, be sure to face the cold, hard reality of how much you'll pay in interest. If that's not sobering enough, look at the total amount you'll spend on the car loan (this excludes the down payment).
By changing the trade-in or down payment amount, the interest rate or loan term, you'll see how it impacts your car payment and total loan costs so you can compare offers.
How to estimate new car prices
As a starting point, you can use the vehicle's sticker price (also called the MSRP). However, in most cases, you'll be able to negotiate a discount from the sticker price. Manufacturer rebates also may lower the price. Remember to include the cost of options and the "destination fee" that is charged for all new cars.
How to estimate used car prices
If you're buying a used car, estimating the sale price is a bit trickier. You can start with the seller's asking price, but you may be able to negotiate it lower. To get an idea of a fair price, use online pricing guides or check local online classified ads for comparable cars.
Your Car-Buying Cheat Sheet
Get Nerdy quick tips on how to streamline the car-buying process even before you hit the dealership.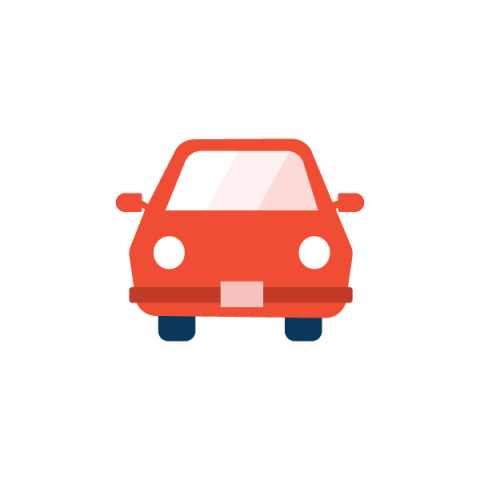 How to estimate trade-in values
You can use online sites for appraisals and pricing help. When using a pricing guide, make sure you check the trade-in value and not the retail cost (the price at which the dealer sells the car). You can also get cash purchase offers from your local CarMax, or online from services such as Vroom or Carvana, as a baseline.
How to estimate sales tax and fees
Don't forget about taxes and fees when considering the total "out the door" price for your car. You'll have to pay state and local sales tax, a documentation fee (which can vary widely) and registration costs. You can search online or call the dealership to ask to ask them to estimate these costs in your area.
Car loans commonly range from two to six years, but the longer your term, the more you'll pay in interest overall. NerdWallet recommends loans of no more than 60 months for new cars and 36 months for used cars.
Get more smart money moves – straight to your inbox
Sign up and we'll send you Nerdy articles about the money topics that matter most to you along with other ways to help you get more from your money.