Should I Buy an Electric Car?
Electric car owners might see lower ownership costs, but they might experience some growing pains, too.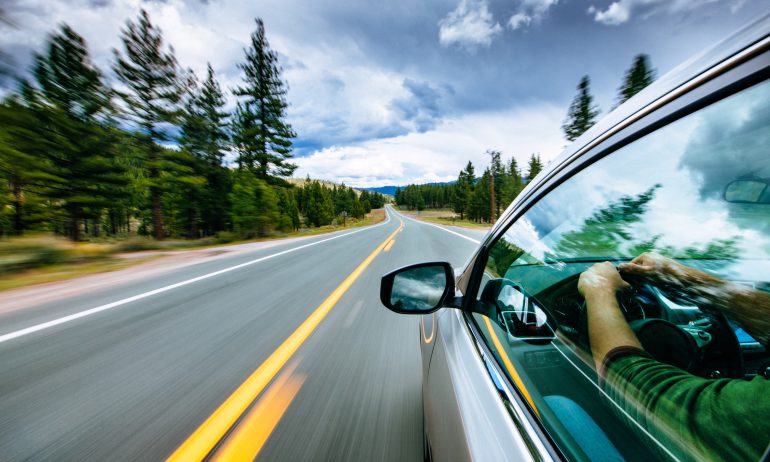 Many or all of the products featured here are from our partners who compensate us. This influences which products we write about and where and how the product appears on a page. However, this does not influence our evaluations. Our opinions are our own. Here is a list of our partners and here's how we make money.
Electric vehicle sales rose 66% in 2022, according to Kelley Blue Book. One out of every 20 new vehicles that left dealer lots was electric. That growth may slow in 2023 due to wider economic concerns, but that's likely just a bump in the road as both legacy automakers and EV upstarts move the entire market to an electric-first future.
If you're car shopping and wondering whether you should buy an electric car, comparing the upsides and the downsides of buying an EV in 2023 can help make your decision clearer.
Charging an EV's battery at home can cost just a few dollars. The actual amount could be higher if your EV has a big battery or if your electric rate is higher than average. But it will almost certainly be cheaper than filling up a gas tank; even a few gallons in states where gas prices are relatively low costs more than a typical at-home charge.
To see how much it costs to fill up your EV, multiply your electricity rate at home, which should be listed on your electric bill in kilowatt hours, or kWh, by the size of the EV's battery, which varies by model.
For example, if you pay the national average for electricity, about 15 cents per kWh, and you drive a Chevrolet Bolt EV, which has a 65-kWh battery, you'll pay: $9.75 ($0.15 × 65) to charge the battery from empty to full. Meanwhile, 10 gallons of gas — the amount you'll need to travel as far as a Chevrolet Bolt's maximum range with a gas engine that gets about 25 miles per gallon — costs $35 at $3.50 per gallon.
Charging at a public charger is less predictable. Some businesses make one or two chargers available to customers for free. Others set their own rates. You can also use a charging network, like ElectrifyAmerica, ChargePoint or EVgo. With locations across the country, these are most similar to gas stations. Charging networks, especially those located near interstate highways, typically have the fastest charger speeds available — and they have the most expensive rates.
Ultimately, the amount you save depends on the difference between the electricity rates and gas prices in your area, as well as the number of miles you typically drive.
Potentially lower maintenance costs
EVs have fewer moving parts than gas-powered cars, which means fewer opportunities for things to break. The lack of an engine also means no oil changes or other routine costs. That doesn't mean there aren't any EV maintenance costs. For instance, you should plan to swap out your tires more frequently due to the heavy battery. Batteries don't require maintenance, though replacing one that's out of warranty can be pricey.
There's also the element of the unknown: There are millions of gas-powered vehicles and decades of data to help predict costs. EVs have a much shorter track record. How they'll perform through the 2020s and beyond remains to be seen.
Subsidies and other incentives
A bevy of government tax credits are available to reduce the cost of an EV purchase. These subsidies are available for both new and used EVs — helpful for those shopping on a budget — but the specific EV and buyer both must meet criteria to qualify.
The U.S. Department of Energy has a searchable database of state-level incentives. Another perk to look out for is credit for public charging stations provided by car makers as a perk.
Better for the environment
EVs don't burn gas. While the battery in an EV makes it more "material-intensive than producing traditional combustion engines," according to the Massachusetts Institute of Technology Climate Portal, the benefits over the lifespan of the vehicle outweigh the initial environmental cost. The emissions created while making a battery are about what a standard gas-powered car emits in a year or two. And although the electricity used to charge a car might be derived from fossil fuels, power delivered via the grid is considerably cleaner than via gas.
Range can still be a sticking point
Before 2016, the median range of new EVs was below 100 miles, and the top-performing option couldn't travel 300 miles without a charge, according to the U.S. Department of Energy and U.S. Environmental Protection Agency.
While this rapid improvement has helped move EVs into the mainstream, they still don't go as far as gas-powered vehicles. For example, some pickup trucks can go nearly 1,000 miles between fill-ups.
Even if your gas-powered car doesn't travel that far, it has a related feature that might be just as important on a road trip: speed. Filling up the tank takes only a minute or two, but fully charging a battery can take a half hour — and that's with the fastest available charger.
Nationwide EV infrastructure is in its infancy
About 143,000 chargers at 53,000 charging locations dot the country, according to the Alternative Fuels Data Center. That's twice the number available five years ago. Most locations have just one or two chargers, while high-speed charging locations along an interstate might have a dozen or more.
Growth of charging stations has been quick, but the footprint of gas stations has a multi-decade head start; drivers have nearly 120,000 places to fill up, according to the Association for Convenience and Fuel Retailing.
In addition to fueling infrastructure, the industries that support the span of a gas car's lifespan — such as replacement parts and qualified mechanics — are mature. In contrast, EVs are still answering questions like how the batteries in today's new EVs will be handled when they leave service a decade or more from now.
Upfront costs to charge at home
Saving money by charging at home sounds like a no-brainer. But learning that you need to spend a few thousand dollars to install Level 2 charging at home can deflate that benefit a bit.
You don't need Level 2 charging to charge at home, but you might find that its superior speeds — it adds about 25 miles of range per hour compared to Level 1's five — are too convenient to pass up.
Your ultimate cost depends on a few factors. The biggest variable could be how costly it is for an electrician to run a new 240-volt connection from your home's electric panel to your garage, or wherever you plan to charge. The charger itself is easy to plug in to the outlet once it's installed. Some new cars come with a Level 2 charger. If not, plan to pay $500 or more. One thing to keep an eye out for: Some new EVs include a Level 2 charger and free installation of a 240-volt line.
Get more smart money moves – straight to your inbox
Sign up and we'll send you Nerdy articles about the money topics that matter most to you along with other ways to help you get more from your money.