Getting More EVs Will Require Recycling More Old Batteries
Battery recycling is in its infancy. The EV future depends on it growing up.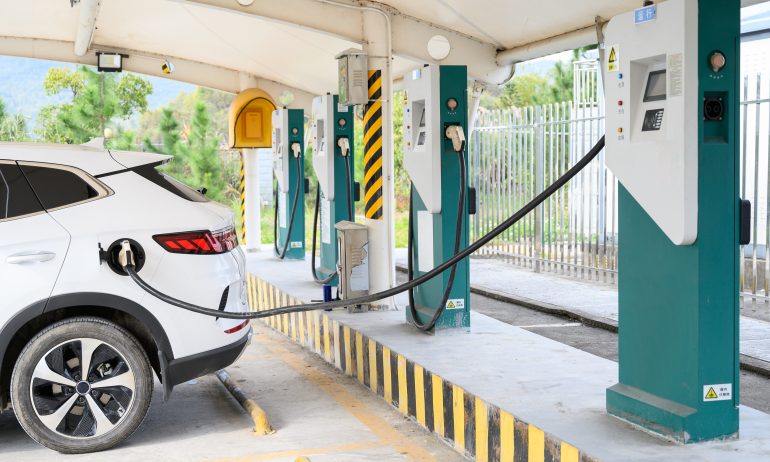 Many or all of the products featured here are from our partners who compensate us. This influences which products we write about and where and how the product appears on a page. However, this does not influence our evaluations. Our opinions are our own. Here is a list of our partners and here's how we make money.
By 2040, 20,500 kilotons of used electric vehicle batteries could enter the recycling stream every year — roughly the weight of a fully loaded Boeing 747 every 11 minutes — according to the consulting firm McKinsey & Company. That's up from 50 kilotons in 2020.
"All the people that are doing what we do are scrambling to basically get these facilities in place to get ready for that amount of material that's going to be passing through the system," says Roger Lin, vice president of global marketing and government relations at Ascend Elements, a battery recycling company.
The environmental benefits of recycling are clear — pound for pound, recycled battery material typically emits much less greenhouse gas than an equivalent amount of mined material. Recycling will play a pivotal role in manufacturing and ownership, too.
Making enough EVs to meet growing demand and selling them at prices consumers won't balk at will require a supply of battery material that mining alone can't supply. And the need to secure these often rare materials could fundamentally reshape what it means to own a vehicle in the future.
Recycling plays a central role in an electrified future
Recycling isn't simply a matter of preference or politics, but one of necessity, says Alessandra R. Carreon, sustainable mobility leader at Rocky Mountain Institute, an organization that works on energy issues. "We can't really mine our way to meet demand, especially in North America," she says.
Demand is swelling quickly: 809,739 EVs were sold in the U.S. in 2022, according to automotive data company Cox Automotive, a 66% increase from 2021. Demand for EV batteries is growing even more quickly than vehicle sales, as U.S. buyers increasingly look for larger EVs, like SUVs, which require bigger batteries.
To be clear, EVs haven't exactly displaced gas vehicles yet. To put things in perspective, gas-powered vehicles still made up 93% of new vehicle sales in the first three months of 2023, according to Cox Automotive.
So what's the importance of battery recycling when EVs are just beginning to hit the roads en masse? Demand for lithium — the primary component in electric vehicle batteries — is already outstripping supply, according to the International Energy Agency, despite lithium production nearly doubling since 2017. The battery recycling company Redwood Materials suggests that demand for lithium-ion batteries will grow fivefold in the next decade.
Cost-conscious consumers should be rooting for the success of battery recycling. The cost to produce batteries has fallen significantly over time as technology improves and economies of scale take hold, but that doesn't mean batteries are cheap. A modest 50-kWh battery could cost a manufacturer $7,500 to produce.
Battery price remains a hurdle to bringing EV prices down further, which some say is a prerequisite for larger EV adoption rates. Finding success is complicated, though: If EV sales grow, demand for battery materials will grow with it, and demand absent more supply will push up prices.
"Eventually — and we're not there yet because the volumes of batteries aren't available — recycled content will be able to offset mined minerals," Carreon says.
How battery recycling works
Recycling a battery begins with getting a battery to recycle. That's easier said than done.
Batteries are heavy, weighing thousands of pounds in some instances. They don't exactly pop out of a car like a battery on a cordless drill. And even if they are no longer in working shape, they can still carry a dangerous charge.
Once you have a battery, you need to remove plastic or other materials that encase the battery materials. The battery material you're left with must be processed to isolate into its constituent elements, a complex undertaking. Eventually, you have raw elements — lithium or cobalt, for example — in nearly pure form. These eventually become the building blocks for new batteries.
Recycling and reusing old batteries address some of the environmental concerns associated with battery production. "Lithium that you extract from recycled batteries is one less that you have to extract from the ground," Lin says. Mining, refining and transporting raw materials are energy-intensive processes. Lin says that greenhouse gas emissions from recycling are up to 90% less than mining new material.
Eventually, battery recycling could alter the contours of car ownership. "Because the value of the metals is so much greater in EV than it is in a normal car, you may see a different model emerge where some of the automakers take a more vested interest in the materials," Lin says.
In fact, Ford announced it was designing a "battery supply chain to create a fully closed-loop lifecycle" nearly two years ago. Lin says consumers in the future may see manufacturers or others finding ways to lay claim to batteries before you're ready to sell — as early as when you buy it in the first place. Imagine incentives that lower the price if you let the manufacturer reclaim the battery in the future.
Recycling isn't the only option
Recycling isn't the only path used EV batteries can take. In some cases, batteries unfit for use in a vehicle can be repurposed for other uses.
One example is storing electricity from the grid when supply is ample and releasing it back to the grid when demand is high. Among other benefits, this reduces the need to generate additional power during peak hours. Companies, including Tesla, build storage systems using new batteries, but used batteries work, too.
The company B2U — short for "Battery 2nd Use" — built such a storage site in Lancaster, California, using 1,300 used batteries from Honda and Nissan. Together, those old EV batteries can store up to 25 megawatt hours of power, which is enough to power more than 800 households for a day.
Battery recycling in the future
The EV battery recycling industry in the U.S. is not yet ready to handle the equivalent of a Boeing 747 every 11 minutes.
"We need to be investing in the recycling facilities so that we can prepare for the millions of end-of-life batteries that will be online in 10 years," Carreon says.
Today, most EV batteries haven't reached their useful end of life: Of the 2.3 million EVs sold since 2011, 1.5 million have been sold in the last four years. By law, EV batteries are required to be covered by warranty for at least eight years or 100,000 miles, so it could be years before they start aging out by the millions. In fact, the bulk of the batteries being recycled today aren't used batteries; they're production scrap from battery manufacturers.
Timing everything right is key. Build too much recycling capacity too soon and businesses could struggle to stay afloat. Build too little too late and the industry could become overwhelmed.
It's hard to know exactly when larger waves of end-of-life batteries will enter the system. EV batteries currently in use are outperforming initial expectations. "That's sort of the mystery unfolding right now," Carreon says. "How long do they really last, and what's actually happening at their end of life? And then how do you measure it? That's actually a really big question mark we have."
In addition to timing, the industry must address the following as it scales:
Designing batteries with recycling in mind. Lin says battery and auto manufacturers can make it easier and safer to remove and disassemble old batteries. The harder it is to process a battery, he says, "the less value there is, and then the less likely it is that the battery ends up getting recycled."

Better industry coordination. Manufacturers, recyclers and others involved in battery production and recycling are still sorting out what their roles and responsibilities are, Carreon says. She says a mix of government regulation and industry coordination can build a smoother process, one that's consistent throughout the country and that doesn't saddle consumers with figuring out what to do with their battery when it dies. 

A complete domestic supply chain. The recycled battery material that recyclers create must then be transformed into a battery. Although the U.S. is home to final assembly plants for new batteries, Carreon says there is "a serious dearth of midstream capacity and processing facilities in the U.S." Without that capability, materials need to be exported and the battery subcomponents must then be imported.
Get more smart money moves – straight to your inbox
Sign up and we'll send you Nerdy articles about the money topics that matter most to you along with other ways to help you get more from your money.