When Does a New Car Become Used?
The moment a new car is purchased and registered to the owner, it becomes a used car.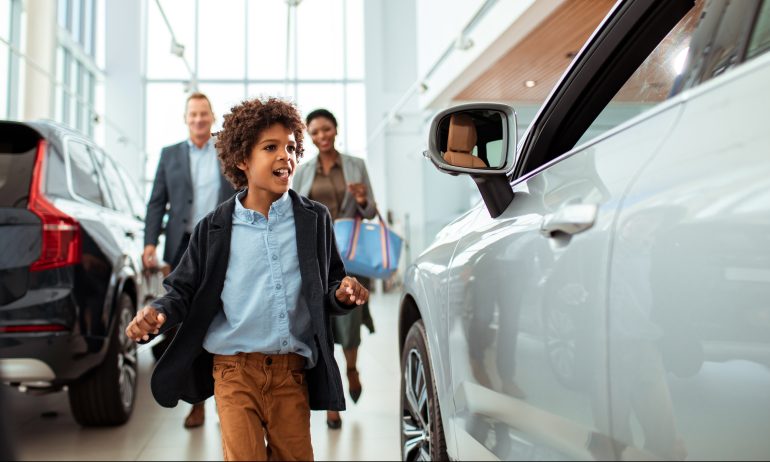 Many or all of the products featured here are from our partners who compensate us. This influences which products we write about and where and how the product appears on a page. However, this does not influence our evaluations. Our opinions are our own. Here is a list of our partners and here's how we make money.
A new car becomes a used car after it's purchased by a customer and registered in their name. This distinction can present someone shopping for a new or low-mileage vehicle with opportunities to save money. 
Historically, new cars lose value, or depreciate, when they are first purchased. As a result, buying a used car with extremely low mileage can feel like buying a new car, but at a discount. Although these cars can be appealing, buying new can be the better option in some cases.
A titled car is a used car
To reiterate — a new car becomes a used car as soon as a customer buys it and the title is transferred. But the car-buying process can introduce quirks.
Dealer-specific return policies
Some dealerships give customers a window to return a new car — and apply the funds to purchase another car from them. However, policies like this aren't widespread, says Brian Moody, executive editor for Autotrader. And even if a dealer offers this option, halting the registration process with the state may be impossible. 
Unexpected odometer readings
Unlike most products, cars are equipped with a tool that tracks usage — an odometer. A new car "could have zero miles on it theoretically and still be used" says Mark Holthoff, senior editor at online car dealer Carvana. "Conversely, some cars sit on the lot and are used for test drives. It might have 5,000 miles. That's considered a new car."
Most new cars won't have 5,000 miles on them, but most won't have zero miles either. Even if a car isn't a dedicated test vehicle, it could still have a few hundred miles on it, Moody says, due to customer test drives, traveling to the dealership or salespersons testing it. In other words, don't try using it as a bargaining chip. On the other hand, If you see a new car with 2,000 miles or more, you might be in a position to ask about it. 
Model redesigns that make unsold new cars seem outdated
A car's model year is a prominent component of its listing and another cause for possible confusion. A car that has never been purchased is still a new car, even when its manufacturer introduces a new model. 
Traditionally, the introduction of new models each year was a buying opportunity, as dealers and car manufacturers offered discounts to quickly clear older inventory. However, differences from one year's model to the next have become less pronounced over the last decade, says Holthoff, and car manufacturers now often stagger model updates throughout the year so they don't flood the market with multiple new models at once. 
As a result, while you still might find a discount on a new vehicle that isn't the newest model available, don't expect a great bargain. Your best bet for finding a discount in this scenario is when a model undergoes a significant redesign. 
How to compare new cars with low-mileage used cars
Bargain hunters who want a new car might also look at used cars with extremely low mileage. Used cars under 10,000 miles aren't hard to find.
Ivan Drury, the director of insights for the automotive site Edmunds, says the drive to score a deal this way makes sense: "At the end of the day, it's the price you're paying and what you're getting. Who cares if it's new or used." He adds that you might end up paying more for a used car, even if the sticker price is lower, after taking into account more expensive financing and a shorter warranty period. It's important to assess each option independently instead of assuming one will always be cheaper. 
Consider the following when deciding between a new car and its like-new counterpart:
What are your financing options? Loans for new cars typically have lower rates compared with used cars, and sometimes they include cash-back incentives. Those factors — in addition to the sticker price — determine the total amount you'll pay over the life of your loan. As a result, when comparing a new car with a used equivalent, compare the rates you can get for each. The one with the higher price could end up costing less to pay off if its rate is low enough. That's all moot if you're paying with cash, of course. Note that NerdWallet recommends that you put 10%-20% down if you use financing. 
How much do you value warranty coverage? If you buy a used car, the car's factory warranty often transfers to the new owner. Because warranty details vary, and because not all warranties are factory warranties, you should verify which warranties will transfer to you before you buy. Even if a factory warranty does transfer to you, it is likely based on mileage and time, and the clock started ticking when its first owner purchased it. The value of avoiding potential repairs for a longer period of time could justify the higher price tag of a new car for some shoppers. 
Certified pre-owned vehicles can combine the lower costs of a used car with the perks of a new car. Some manufacturers lengthen the warranty period and offer financing incentives, making them more like new cars.
How long do you plan to own the car? Traditional advice says new cars quickly depreciate, but supply issues and high demand have that saying upside down lately. In some instances, cars have appreciated — owners have sold their cars for more than they paid. In some cases, they've even sold for more than a new-car equivalent. While this is bad news for buyers, it helps owners who plan to sell. Price appreciation is unlikely to be a permanent trend, but if you plan to resell in a year or two, you might see stronger price support than you would have expected four or five years ago.
Get more smart money moves – straight to your inbox
Sign up and we'll send you Nerdy articles about the money topics that matter most to you along with other ways to help you get more from your money.