POS System vs. Cash Register: Cost, Features, Convenience
Factor in cost and future needs when choosing between a POS system and a cash register for your small business.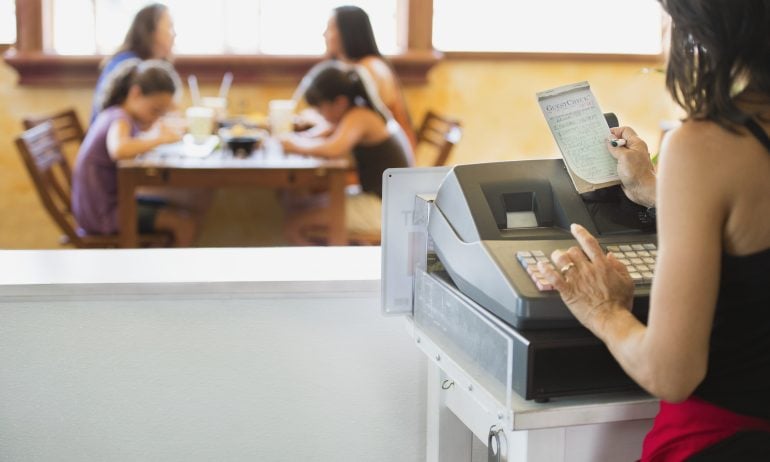 Many or all of the products featured here are from our partners who compensate us. This may influence which products we write about and where and how the product appears on a page. However, this does not influence our evaluations. Our opinions are our own. Here is a list of our partners and here's how we make money.
Historically, cash registers were the only option for accepting and processing payments, but now streamlined point-of-sale systems are a stronger choice for many small businesses because of their ease of use, advanced technology and robust cash-management capabilities. Businesses that only need simple payment processing and basic sales reports may find POS systems too complex, but for businesses that sell online or on the go, they're a better choice.
Both options can accept cash and checks, but with a POS, credit card processing can come built in. (Payment processing fees apply.) Every cash register has different capabilities, but on many, you can calculate tax, tip and discounts, process returns and exchanges, review inventory lists, print daily sales totals, hook up an external barcode scanner (purchased separately) and track employee use.
However, POS systems include these features across the board as an all-in-one package. Ultimately, a POS system is a more modern, efficient and flexible method of processing payments at the point of sale, wherever that may be — and of running your business overall.
Find the right payment provider to meet your unique business needs.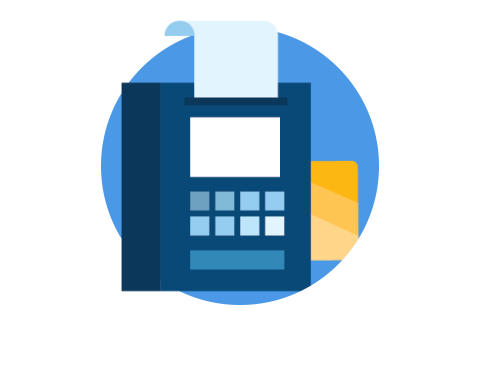 | | | |
| --- | --- | --- |
| | One full setup typically costs $1,000 to $2,000. Mobile and software-only options are typically free to about $500. | One full setup typically costs $100 to $500. |
| | Small businesses looking for convenience, scalability and industry-specific features. | Small, single-location businesses that only need to process payments. |
| | Typically month-to-month or pay-as-you-go, though some systems require multiyear contracts. | |
| | Most POS systems offer free 9-to-5 or 24/7 customer support. | |
| | Excellent. Made to grow and scale with your business. Syncs across locations; software plans can be upgraded for more features. | Poor. Can't sync across multiple locations; no advanced business management features. |
| | Good. Built to be user-friendly and intuitive, but includes a lot of features that may take time to learn. | Excellent. Has basic functions that employees can learn quickly. |
If you want to sell beyond a single brick-and-mortar location, you'll need a POS system with a portable option. Also, e-commerce businesses, or even physical businesses with a digital store, will be better off with a POS system that's loaded with the software necessary to accept online payments.
With many POS systems, you have the option of converting a smartphone or iPad into a POS terminal. You can download the software, usually as a mobile app, onto your personal device and use a Bluetooth or plug-in credit card reader as your hardware.
For an all-in-one mobile POS system, handheld devices like the Clover Flex can accept and process credit card payments from any location, including house calls, farmer's markets and crafts fairs.
In most cases, to process credit card payments with a cash register, you'll need to open a separate merchant account through a third party. An all-in-one POS system, on the other hand, has a merchant account built in. POS systems can also offer digital receipts, pre-calculated tips, and advanced payment features like customer accounts and seasonal discounts.
Business management features
Traditional cash registers are limited to payment processing and basic sales reporting, though some pricier models have more advanced features. But even the most basic POS systems offer an array of features that can help businesses manage inventory, employees, customer relationships and more.
POS systems can produce automatic sales reports and detailed analytics so your business can optimize investments; they can also capture valuable customer data so you'll be better able to market to your audience. Some systems support automatic next-day deposits into your bank account. And with many systems, you can automatically track employee clock-in/clock-out times and sales performance.
POS systems integrate with other business apps, including accounting and payroll software like QuickBooks and Xero, email marketing programs like MailChimp, and even review sites like Yelp.
POS system software updates automatically, so you may not have the same technical difficulties you would encounter with an analog cash register. But if you do have a problem with your hardware or software, most POS companies have free 9-to-5 or 24/7 customer support available.
Why you might want a cash register instead
For all the positives of a POS system, there are a couple of reasons you may want to go with a cash register instead. Cash registers work for brick-and-mortar businesses that only need to process payments and don't want the additional business management capabilities that come with a modern POS system.
While you can purchase a basic cash register for around $100 at an office supply store, a POS register with all the features and accessories, like the Square Register Kit, can cost you upward of $1,000. (If you don't need a full register, POS companies do offer simpler and less expensive hardware options.)
Keep in mind that with a cash register you might need to purchase a barcode scanner and credit card processor separately.
You might not want a POS system if you're not interested in, or comfortable with, investing in a tech-forward option with features that might feel unnecessary. A traditional cash register is easy to use and only comes with the basic features you need to complete sales.
POS systems for small businesses
If you do decide to go with a POS system, there are great options on the market for you to consider. Here are some of NerdWallet's top picks:
$0 for Square magstripe-only card reader ($10 for each additional) or if using Tap to Pay for iPhone (iPhone not included).

$49 for Square Reader contactless and chip card reader.

$149 for Square Stand iPad POS or Square Stand Mount (iPad not included).

$299 for Square Terminal mobile card reader with built-in printer.

$799 for Square Register two-screen system.

$659-$1,479 for various bundles of stands, cash drawers, printers and card readers.
Square is one of the few POS systems with a free software option, as well as a free magstripe reader that you can plug into your smartphone or iPad. Square also offers Tap to Pay on iPhone, which lets merchants accept card payments using only a regular iPhone with the Square POS app. Customers hold their cards or their own iPhone wallets near the merchant's phone to pay. Additionally, you can choose from a range of hardware, including a Square POS register. If you're in retail, you can opt for the Square for Retail software that's designed especially for your needs. Regardless of industry, Square makes it easy to accept online payments.
$49 for chip, swipe and contactless Clover Go card reader.

$499 for Clover Flex mobile POS with printer.

$799 for Clover Mini POS.

$1,349 for Clover Station Solo.

$1,799 for Clover Station Duo.
Clover is one of the most customizable POS options available, with three software plans available for a variety of industries and five hardware options to choose from. Depending on the software you choose, you'll be able to integrate other apps you use for your business. And in the Clover app store, you'll be able to find other tools that can help you run your business more efficiently.
$799 for Countertop Starter Kit (but $0 if you agree to a higher processing fee).

$609 for Handheld Starter Kit (but $0 if you agree to a higher processing fee).

$999 for Guest Self-Service Starter Kit (but $0 if you agree to a higher processing fee).
Toast is a standout POS system made specifically for restaurants. Its software offers online ordering, menu management and custom features for different restaurant categories like bars, cafes and pizzerias. Orders can be automatically synced to a kitchen display to keep tickets organized. Hardware options include a hand-held system, countertop terminals, self-ordering kiosks and more. Payment processing is included.
Caroline Goldstein, a former Fundera writer, contributed reporting to this article.
A version of this article was first published on Fundera, a subsidiary of NerdWallet.