Toast POS Review for 2021: Costs, Pros, Cons and Alternatives
For restaurant-specific features and excellent 24/7 customer support, Toast POS is a standout choice.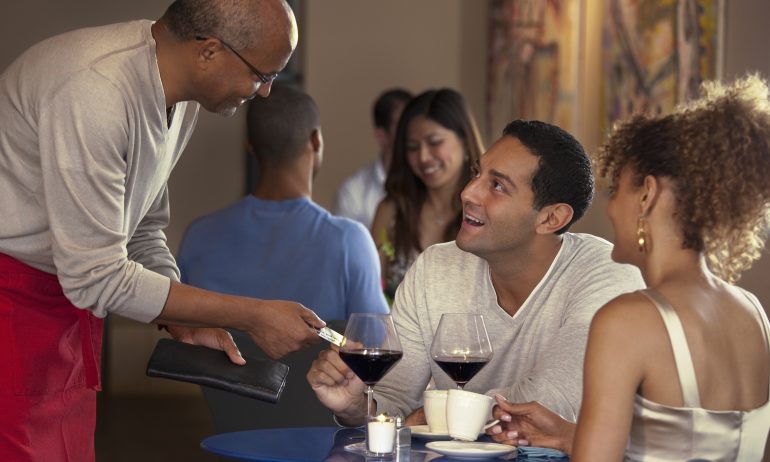 Many or all of the products featured here are from our partners who compensate us. This may influence which products we write about and where and how the product appears on a page. However, this does not influence our evaluations. Our opinions are our own. Here is a list of our partners and here's how we make money.
Toast is a point-of-sale system built specifically for restaurants. The wide range of hardware options along with the restaurant-friendly software features make it easy to accept, manage, prioritize and track food orders from start to finish. Unlike some competitors, it also offers 24/7 customer service for every tier of service as well as installation and network configuration.
While Toast offers top-notch functionality, it does require a greater commitment than some competitors. Contracts last between one and three years, and canceling or switching before a contract is up can be costly. Here's what to know before making a decision.
What kind of restaurant does Toast work best for?
Toast is a good fit for many types of restaurants. It's NerdWallet's pick for best POS system for midsize bars, large coffee shops and restaurants overall. In particular, it benefits restaurants that want to accept orders in a variety of ways, including at an in-store kiosk, on an app at home or on their own phones while in the restaurant. It also allows you to coordinate among multiple locations. Its kitchen display system, which syncs with POS systems in front, helps with prioritizing tickets.
However, Toast isn't the best option for restaurants that aren't in a position to commit to a contract that lasts a year or longer. Newer restaurants might prefer looking into POS systems that offer month-to-month subscriptions and free cancellation until they become more established.
What services does Toast include?
Toast combines point-of-sale services, payment processing, customer loyalty programs and more in its custom-built hardware.
Toast is a third-party payment processor. That means it can process payments on your behalf without requiring you to set up a dedicated merchant account. Once a payment is processed, Toast sends you funds within one or two business days. You'll pay a fee for each card payment in addition to a monthly subscription for Toast hardware and services.
Orders are sent to the kitchen's hardware, also made by Toast. The information gathered at checkout is then put to use throughout the restaurant. Toast's system creates real-time sales, menu and labor reports that you can access on your own device at any time. It also cross-references customer information taken at checkout against promotional emails and the customer loyalty program, both managed through Toast, to gauge what's driving business with a high level of specificity. The platform also integrates with dozens of third-party software providers, including restaurant-specific services such as the meal delivery app Grubhub and reservation apps OpenTable and Tock.
Toast offers a variety of hardware, including devices for service staff and kitchen staff, and even a kiosk option for customer self-service. Prices vary and are part of the custom contract offered to each Toast customer.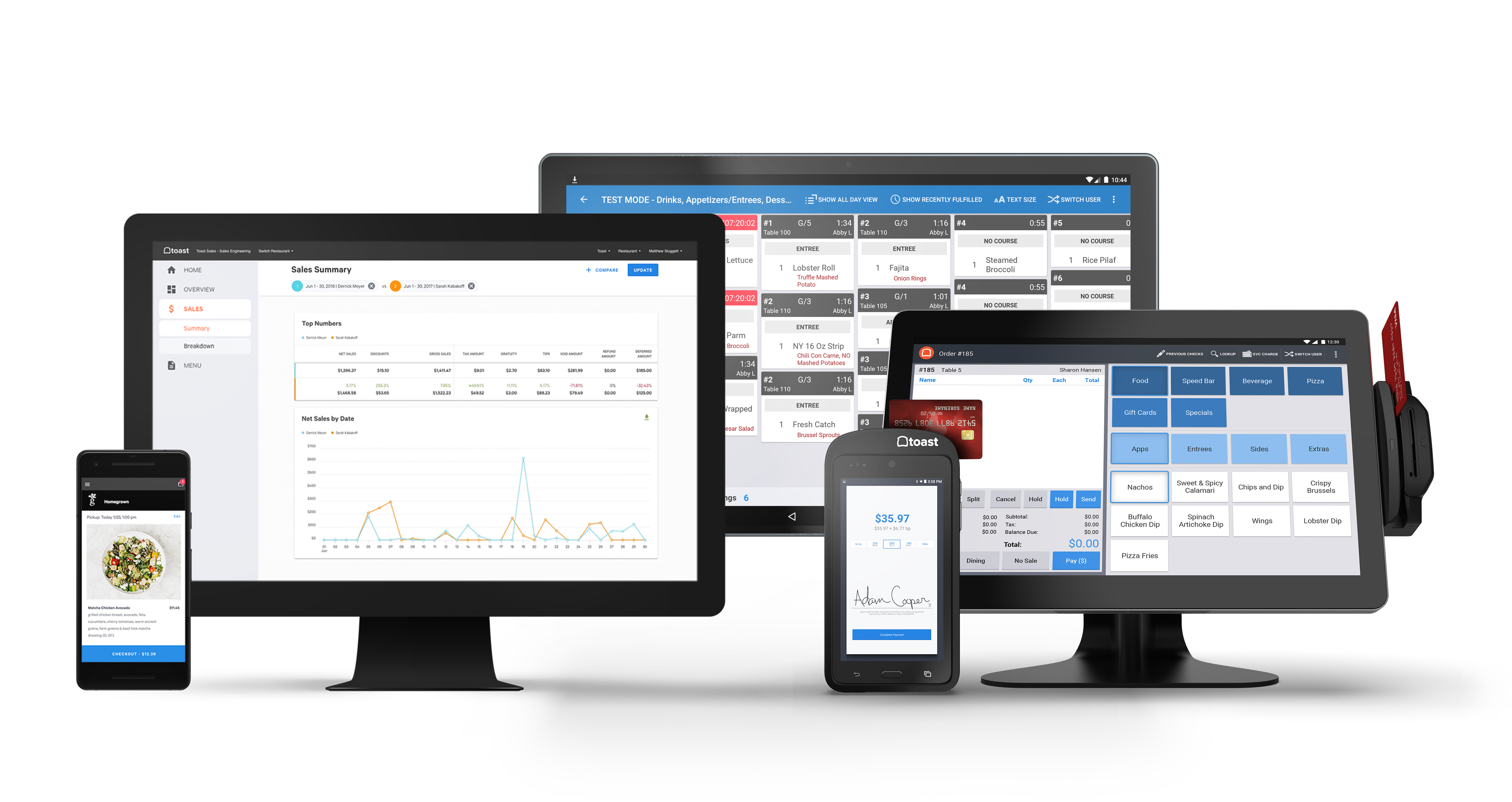 Toast Flex: 14-inch touchscreen that can swivel to customer.

Toast Flex for Guest: Similar to Toast Flex, but with a guest-facing 8-inch screen.

Toast Go 2: Phone-size device that takes orders and card payments (swipe, tap, and insert).

Restaurant Self-order Kiosk: Large touchscreen on a stand.

Toast Flex for Kitchen: Durable monitor that links to kitchen.
You can choose to pay for the hardware upfront or finance it through a third-party financing vendor, according to the company.
How much does Toast cost?
The cost to use Toast is split into two categories: a monthly subscription cost and payment processing fees. The hardware and software features you want determine your monthly subscription amount. You will also pay for payment processing costs every time a customer pays with a card. This cost is variable from month to month and depends on a number of factors, most notably the volume and dollar amount of card sales.
Toast subscription prices
| | | Essentials (starts at $165/month) | Growth (starts at $272/month) |
| --- | --- | --- | --- |
| | | | |
| | | | |
| | Toast Flex, Toast Tap and a router | Yes (custom configuration) | Yes (custom configuration) |
| | | | |
| | | | |
| | | | |
| Online ordering and delivery + Toast takeout app | | | |
| | | | |
| Loyalty program management | | | |
| Email marketing management | | | |
| Payroll and staff management | | | |
Toast's software and hardware come bundled with payment processing services. For each transaction, you'll pay a small flat rate, and a certain percentage of the total transaction. These rates are quote-based and vary depending in part on your restaurant model (for instance, whether you have a sit-down restaurant or a bar).
Multiple ways to accept orders
In addition to the terminals and portable devices you probably expect to see, Toast also offers:
Customer self-serve kiosks.

Toast Order & Pay, a recently relaunched system that allows dine-in guests to order and pay from their own devices.

An app called Toast TakeOut & Delivery, which competes with apps like Grubhub and DoorDash.

The option to set up online ordering through Toast Now.
You'd be hard-pressed to find another POS system that offers this many options for accepting orders.
Built specifically for the restaurant industry
Two out of three Toast employees have worked in restaurants, according to the company, which makes everyone from sales staff to engineers more familiar with the challenges restaurants face. That experience shows in the company's POS system. The hardware is built to survive spills, grease and heat. It also comes with a two-year warranty at no extra cost, in case something does go wrong. The software is able to handle complicated menu modifiers, like optional toppings and happy hour pricing, and other restaurant-specific needs, like check-splitting and tip suggestions.
Live customer service 24/7 at every pricing level
Business hours for restaurants are anything but standard. That makes Toast's 24/7 customer support, which is even available on the Starter plan with no monthly fee, all the more valuable. Live support during business hours is available on Square's free version, but 24/7 support is available only on the paid plans. While Clover does provide live customer support at every pricing level, it doesn't have a free option.
Easily manage multiple locations
If your restaurant has multiple locations, Toast makes it easy to keep information current, even if different locations have differences in menu or prices. When creating reports, you can view data by location or group locations together. And even for those with a single physical location, if your restaurant has an online presence you might run into similar problems staying organized. With Toast, changing the central menu will automatically update it online and on Toast's app.
Low-cost options available
Toast's Starter software subscription is a pay-as-you-go option with no monthly software fees. Along with plenty of functionality, it comes with a Toast Flex terminal, Toast Tap (a compact card reader that allows customers to swipe, dip or tap their cards) and a router at no extra cost. It's rare to find a basic POS software plan that offers so many features, including table management, reporting and analytics, menu management and 24/7 customer service.
Quote-based pricing makes it hard to compare
With Toast, payment processing fees are quote-based and vary from one customer to the next. Because payment processing fees take into account both the number of transactions and the dollar value of those receipts, Toast's custom pricing changes to fit the differences among, say, a bar, a food truck and a sit-down restaurant. But it also means more work for potential customers upfront: You'll need to have a consultation with a Toast rep in order to receive an estimate.
Switching or canceling can be expensive
To sign up with Toast, you'll need to sign a contract. The first contract usually is for one to three years and typically renewed in yearly increments. Leaving prior to the contract's end date will cost you. Specifically, you could be on the hook for paying software fees for the remainder of your contract term.
Square for Restaurants: More transparency, easier to switch
Square for Restaurants offers plenty of useful features, such as table and menu management capabilities and multi-location setups, with subscription fees that are generally month-to-month with no fees for early termination. It's easy to cancel or switch if needed. Square also lists its fees for software, hardware and payment processing online, making it possible to do some preliminary comparison before getting a full quote.
Clover: Affordable prices, top-notch hardware
Clover offers a variety of excellent hardware options for restaurants at a reasonable price. The company's POS software for counter service restaurants also starts at a modest $39.95 per month. For those eyeing the Toast Go 2, an all-in-one handheld device for accepting card payments away from the counter, the Clover Flex could also be worth a look. It's a similar product priced at $499. (Pricing for the Toast Go 2 varies by business and isn't publicly available.)
If you're in the food and beverage business, Toast should be at the top of your list. While you need to do a little homework to get a true picture of what it costs, it has earned its reputation of being a robust and versatile platform for restaurants with solid customer support.
Square POS Great for small-business owners looking for a top-notch POS with quick setup and easy-to-understand fees. Read Review.

Clover POS Great for small-business owners looking for reasonable prices and versatile hardware options.

Merchant account providers

Stax Great for midsize or larger companies that process $20,000+ per month. Read Review.

PaymentCloud Great for businesses in high-risk industries.

Payment Depot Great for cost-effective credit card processing for midsize businesses.