Toast POS Review and Pricing 2022
For restaurant-specific features and excellent 24/7 customer support, Toast POS is a standout choice.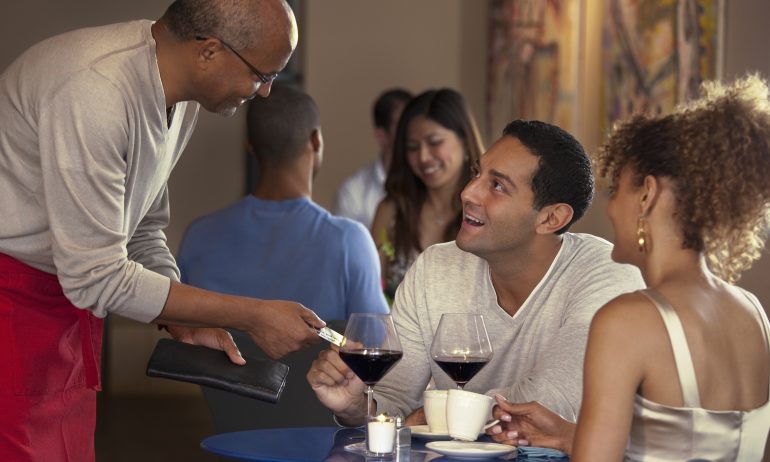 Many or all of the products featured here are from our partners who compensate us. This may influence which products we write about and where and how the product appears on a page. However, this does not influence our evaluations. Our opinions are our own. Here is a list of our partners and here's how we make money.
Toast is a point-of-sale system for restaurants. Its range of hardware options and features make it easy to accept, manage and track food orders. If you're in the food and beverage business, Toast is worth a look, although it's tricky to get an accurate picture of what Toast costs.
2.99% + 15 cents per transaction, if you choose pay-as-you-go option on hardware.

2.49% + 15 cents for card-present transactions, if you pay for hardware upfront.

3.50% + 15 cents for card-not-present transactions, if you pay for hardware upfront.

Pricier than some competitors. There's a free version, but it may not work for everyone.

Starter Kit plan (for one-two terminals): $0.

Custom plans are also available.

Strong lineup compared to competitors, but pricing is difficult to compare. The company offers starter kits at no upfront cost (you pay for it via a higher payment processing rate over two years).

Toast Countertop Starter Kit: $799.

Toast Handheld Starter Kit: $609.

Toast Guest Self-Service Kit: $999.

Additional options include extra handheld devices, printers and kitchen display systems.

On a par with peers. Email marketing, customer loyalty programs, employee scheduling, payroll and delivery services.

Longer relative to peers. Toast requires a two-year contract for payment processing as part of its starter kits.

Customer service availability

Excellent. Offers 24/7 support for all plans. Although many peers offer 24/7 service at some levels, not all offer it at all pricing levels.
Hardware options and online ordering tools make it easy to take orders in a wide range of settings.

Software includes multiple-location support and strong reporting features.

24/7 customer service comes standard with all pricing levels.
Quote-based pricing makes it tough to quickly compare prices.

Requires a long-term contract.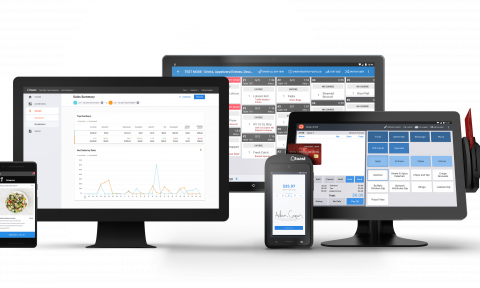 Photo courtesy of Toast.
Servers can take orders at a checkout counter using a touchscreen monitor, tableside using a handheld device or at a checkout kiosk. Customers can place orders online, including at a table in your restaurant. Orders can go to a kitchen display system, also made by Toast.
Toast offers supporting services that tie into its POS system, including:
A customer loyalty program.

In-depth reports, including real-time sales, guest feedback, discounts and sales by location.

Integrations with third-party software providers, including restaurant-specific services such as Grubhub, DoorDash and OpenTable.
When a customer pays with a card, Toast processes the payment and sends you funds within one or two business days.
How much does Toast cost?
For each transaction, you'll pay a fee. The fee is quote-based and is based on factors such as your restaurant model (for instance, whether you have a sit-down restaurant or a bar). Toast also says its payment processing rate is 2.99% + 15 cents for the pay-as-you-go hardware starter, or 2.49% + 15 cents for card-present transactions (and 3.50% + 15 cents for card-not-present transactions) if you buy its hardware upfront.
Toast offers a variety of hardware with quote-based pricing, including devices for service staff and kitchen staff, and a kiosk option for customer self-service. You can pay for the hardware upfront or choose a pay-as-you-go plan, where the hardware costs are covered by your payment processing fees.
Toast Flex: 14-inch touchscreen that can swivel to customers.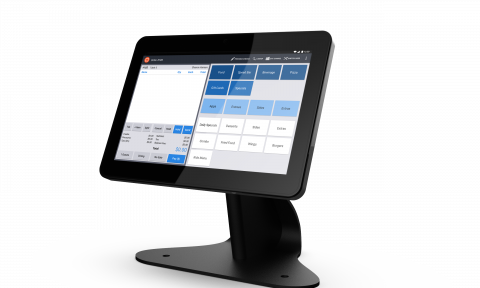 Photo courtesy of Toast.
Toast Go 2: Phone-size device that takes orders and card payments (swipe, tap, and insert).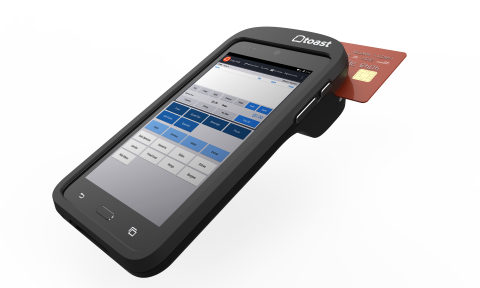 Photo courtesy of Toast.
Restaurant self-order kiosk: Large touchscreen on a stand.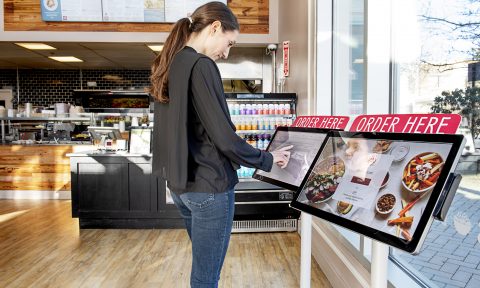 Photo courtesy of Toast.
Kitchen display system: Durable monitor for kitchen, replacing the need for paper tickets.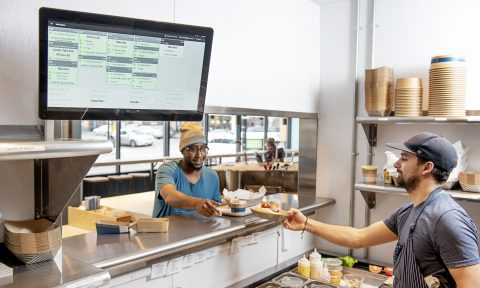 Photo courtesy of Toast.
Toast software: Side-by-side plan comparison
| | Starter (free or $69/month) | Point of Sale ($69/month) | New Restaurant Basics ($110/month) | Essentials (starts at $165/month) |
| --- | --- | --- | --- | --- |
| | In-person dining, basic hardware. | Custom hardware configurations. | In-person dining, basic payroll and staff management, custom hardware setup. | In-person dining and online ordering. |
| | Yes (Toast Flex, Toast Tap and a router). | Yes (custom configuration). | Yes (custom configuration). | Yes (custom configuration). |
| | | | | |
| | | | | |
| Online ordering + Toast takeout app | | | | |
| | Loyalty program management. | Loyalty program management. | Loyalty program management. | Loyalty program management. |
| Payroll and staff management | | | | |
What kind of restaurant is the Toast POS system best for?
In particular, it benefits restaurants that want to accept orders in a variety of ways, including at an in-store kiosk, on an app at home or on their own phones while in the restaurant. It also allows you to coordinate among multiple locations. Its kitchen display system, which syncs with POS systems in front, helps with prioritizing tickets.
Toast isn't the best option for restaurants that aren't in a position to commit to a contract that lasts a year or longer. Newer restaurants might prefer looking into POS systems that offer month-to-month subscriptions and free cancellation until they become more established.
Multiple ways to accept orders, including online ordering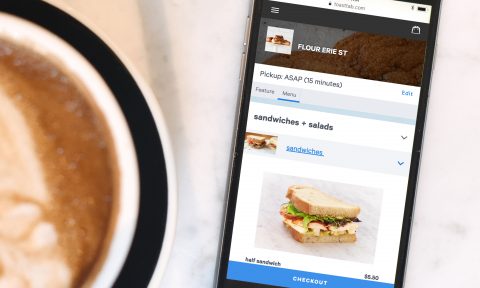 Photo courtesy of Toast.
In addition to the terminals and portable devices you probably expect to see, Toast also offers:
Customer self-serve kiosks.

Toast Order & Pay, a system that allows dine-in guests to order and pay from their own devices.

App-based ordering via the Toast TakeOut & Delivery app, which competes with apps like Grubhub and DoorDash.

Online ordering through a page linked directly to your POS system.
Some POS systems work in a variety of other industries, like retail, butToast is exclusively for restaurants. That focus shows in details such as hardware built to survive spills, grease and heat, as well as software that can handle complex demands for order modifiers, such as adjusting the cost for toppings on a pizza depending on the pizza's size.
Live customer service 24/7 at every pricing level
Business hours for restaurants are anything but standard. That makes Toast's 24/7 customer support, which is even available on the Starter plan with no monthly fee, all the more valuable.
Easily manage multiple locations
If your restaurant has multiple locations, Toast makes it easy to keep information current, even if different locations have differences in menu or prices. When creating reports, you can view data by location or group locations together. And even for those with a single physical location, if your restaurant has an online presence you might run into similar problems staying organized. With Toast, changing the central menu will automatically update it online and on Toast's app.
Quote-based pricing makes it hard to compare
Toast's payment processing fees are only partially disclosed and are in some cases quote-based, varying from one customer to the next, as is hardware in many cases. This means more work for potential customers upfront: You'll need to have a consultation with a Toast rep in order to receive an estimate.
Switching or canceling can be expensive
To sign up with Toast, you'll need to sign a contract. Leaving prior to the contract's end date could cost you.
Accept payments without worry
See our payment provider recommendations that fit your business.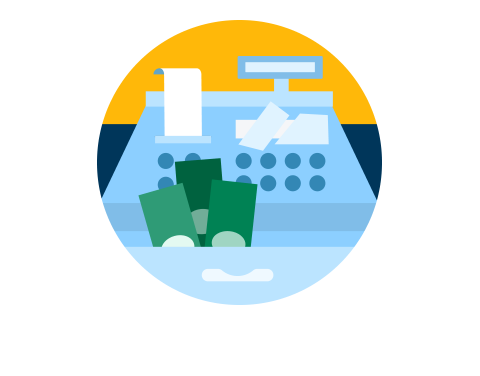 Square for Restaurants: More transparency, easier to switch
2.6% plus 10 cents for in-person transactions (2.5% plus 10 cents with Retail Plus plan).

2.9% plus 30 cents for online transactions or invoices without a card on file (2.6% plus 30 cents with Premium plan).

3.5% plus 15 cents for manually keyed transactions or card-on-file invoices.
POS software fees: Subscription fees are month-to-month with no fees for early termination and it's easy to cancel or switch if needed.
Why we like it: Square for Restaurants offers plenty of useful features, such as table and menu management capabilities and multi-location setups. Square also lists its fees for software, hardware and payment processing online, making it possible to do some preliminary comparison before getting a full quote.
Clover: Affordable prices, top-notch hardware
2.3% plus 10 cents for in-person transactions for most plans.

2.6% plus 10 cents for in-person transactions on Retail Starter, Personal Services Starter and Professional Services Standard plans, as well as Home & Field Services Standard and Advanced plans.

3.5% plus 10 cents for online or keyed-in transactions.
POS software fees: Starter plan is $14.95 per month. Standard and Advanced plans are $44.95 per month.
Why we like it: Clover offers excellent hardware options for restaurants at a reasonable price. For those eyeing the Toast Go 2, an all-in-one handheld device for accepting card payments away from the counter, the Clover Flex could also be worth a look. It's a similar product priced at $499.