Clover POS System Review for 2021: Features, Cost, Top Alternatives
Reasonable prices and great hardware options make Clover a good choice.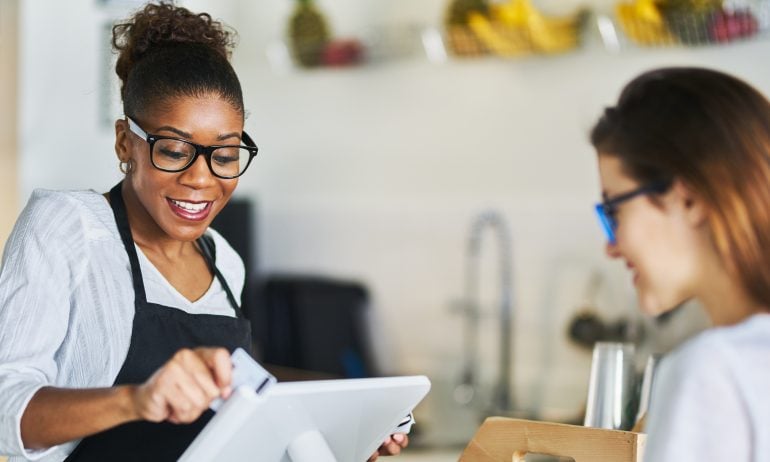 Many or all of the products featured here are from our partners who compensate us. This may influence which products we write about and where and how the product appears on a page. However, this does not influence our evaluations. Our opinions are our own. Here is a list of our partners and here's how we make money.
The Clover point-of-sale system is a solid and affordable choice for entrepreneurs with restaurants, retail outlets or professional services. Its easy-to-use features and high-quality, versatile hardware can make it simple to add orders or ring up sales efficiently. But it's not the cheapest option available, and its pricing could be more transparent.
To get started with Clover, you need to select both a software plan and the hardware you want to use. You can mix and match POS software and hardware options according to your business's specific needs, and get setups customized specifically for restaurants, retail and general service businesses. All systems come with:
Reporting tools that allow you to track revenue, filter your POS reports to see your busiest times and your best-selling items, get aggregated sales across all your locations, view end-of-day reports, track total sales per employee and more.

24/7 customer service phone support.

Ability to set up both digital and physical gift cards.

Ability to accept payments online via virtual terminal.

Ability to sync with third-party apps like QuickBooks and Yelp.

The option to use Rapid Deposit, which gives you access to the funds generated by sales transactions within minutes — for a 1% fee — instead of having to wait the typical one to three business days.
Clover was acquired by First Data in 2012, which was then acquired by Fiserv in 2019. Fiserv is one of the largest payments and financial technology providers in the world, according to the payments news site PYMNTS.com. When you sign up with Clover, you'll have to use Fiserv for payment processing on the backend, though you can work through different merchant service providers.
How much does Clover cost?
Here's how Clover's software, hardware and payment processing costs stack up.
Software and payment processing costs
Software: $9.95 per month
Payment processing: 2.7% + $0.10 per transaction for in-person transactions and 3.5% + $0.10 for each keyed-in transaction.
Software: $39.95 per month
Payment processing: 2.3% + $0.10 per transaction for in-person transactions and 3.5% + $0.10 for each keyed-in transaction.
Nerdy tip:
Not all of these software capabilities will work across all Clover POS hardware solutions. For example, with the Go, you won't have access to features such as building your mailing list, creating a loyalty program and reading customer feedback.
| | | |
| --- | --- | --- |
| | | Mobile attachment for iOS or Android devices. |
| | | All-in-one handheld POS system. |
| | | Compact countertop POS system. |
| | | Full countertop POS system. |
| | | Full countertop POS system with consumer-facing display. |
With a Clover POS system, everything comes included: the software, hardware and payment processing. Except for the Clover Go, you can also use these systems without relying on a smartphone or tablet. If you want to keep things simple, purchasing these goods and services as a bundle is appealing.
Clover's payment processing rates are reasonable when compared with competitors. The 2.7% + $0.10 transaction rate on Clover's Register Lite plan is roughly the same as PayPal and Stripe (and slightly more than Square). The Register plan comes with a lower rate of 2.3% + $0.10, which beats most other competitors. What's more, the Clover Flex POS and Clover Mini POS can be had for under $750. With many businesses, you'll need to spend upward of $1,000 to get yourself a complete set of POS hardware. Clover's affordability can't be overlooked.
Clover's hardware operates with great speed and ease and can be set up for a variety of different business purposes, including for restaurants, retail outlets and services. Its functionality and versatility might be enough to justify the higher prices on the more elaborate setups, like the Station Pro.
Unlike some POS systems, the Clover POS doesn't offer any free hardware options. This means that, on top of payment processing fees, your business will have to shell out a lump sum for a piece of Clover POS hardware, no matter how simple your payment processing needs are. Compare that to Square, which offers a free mobile credit card reader to all new merchants.
Square POS addresses the imperfections that Clover POS systems tend to suffer. Not only does Square POS offer a free magstripe reader, but it also offers a free version of Square POS software that comes with inventory management capabilities. Square's fees are also similar to what you'd get with Clover's Register Lite plan, and you can add a variety of features to your Square POS, such as payroll processing and a customer loyalty program.
Cheaper payment processing options exist
While the Clover POS is relatively affordable, its payment processing fees aren't the lowest available.
For cheaper payments, consider Payment Depot. Payment Depot is a merchant services provider that provides membership pricing and wholesale interchange rates. Memberships range from $49 to $199. With your membership, you'll get the interchange rate plus transaction fees ranging between $0.05 and $0.15. What's more, Payment Depot resells several of Clover's POS systems, including the Flex, Mini and Station. Other tools include a payment gateway and virtual terminal.
If you go with Clover, you have no choice but to process payments through Fiserv, even if you choose to work with a different merchant services provider, such as Payment Depot. Customer reviews on Fiserv vary widely, but it's not uncommon to hear customers complaining about hidden fees, arbitrary account holds and early termination fees.
Clover also has many resellers, which means similar business owners can get widely different terms, depending on which reseller they work with. If you look on review websites, you'll find customers describing Clover as a "scam" more than once — potentially because they got a raw deal from a reseller. If you buy from a reseller, read customer reviews and ask questions about the terms beforehand to avoid getting blindsided.
If you're looking for a POS system with great hardware options and an easy-to-use system, a Clover POS is a good choice. Despite some imperfections, it offers functionality and quality at prices that won't break the bank.
Square POS Great for small-business owners looking for a top-notch POS with quick setup and easy-to-understand fees. Read Review.

Toast POS Great for restaurants that need specific features and 24/7 customer support.

Clover POS Great for small-business owners looking for reasonable prices and versatile hardware options.

Merchant account providers

PaymentCloud Great for businesses in high-risk industries.

Payment Depot Great for cost-effective credit card processing for midsize businesses.
A version of this article was first published on Fundera, a subsidiary of NerdWallet. It has been updated.