Payment Depot Review 2020: Features, Pricing, Alternatives
Consider features, pricing and value against alternative payment processors.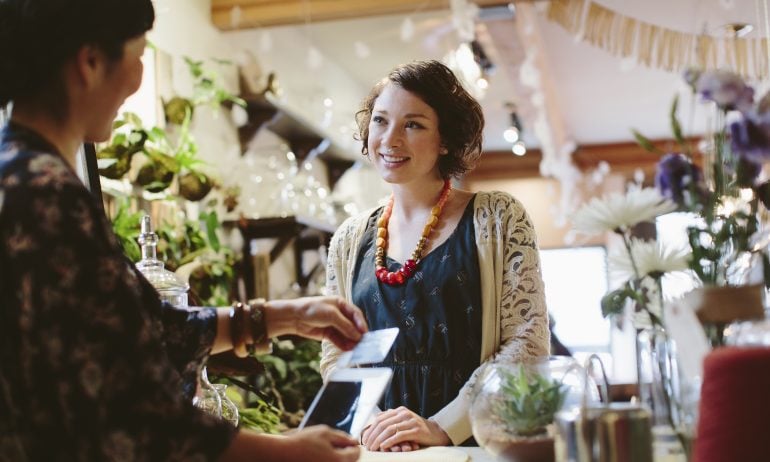 Many or all of the products featured here are from our partners who compensate us. This may influence which products we write about and where and how the product appears on a page. However, this does not influence our evaluations. Our opinions are our own. Here is a list of our partners and here's how we make money.
The merchant services industry is riddled with hidden fees and predatory contracts, but Payment Depot says it's something of an exception. On its website, Payment Depot proclaims that merchants deserve better than payment processors that overcharge by using "confusing terms, high markups and unnecessary fees." To solve this issue, Payment Depot says it offers a unique pricing model that prioritizes fairness, transparency and simplicity.
Well, the company currently processes $4 billion annually and over 3 million transactions per month. Payment Depot can also count major corporations like Sprint, Subway and Domino's as clients. Seems like there could be something to being a fair, transparent and simple payment processor.
To see how well Payment Depot lives up to these claims, let's break down everything this payment processor can do for your business. We'll cover Payment Depot's features, pricing and overall value. We'll also suggest a few alternative payment processors so that you'll know your full range of options.
Payment Depot: The basics
Payment Depot is a front-end processor, meaning it connects your business to credit card networks and provides authorization and settlement services with your merchant account. Back-end processing with Payment Depot is done through First Data and TSYS — two of the largest processors in the world. When you sign up (approval takes as little as 24 hours), Payment Depot will set up your merchant account with either First Data or TSYS (if you use a Clover POS you'll get a First Data account, otherwise you'll get a TSYS account).
With Payment Depot you can process Visa, Mastercard, American Express and Discover credit and debit cards. You can also accept ACH and e-check payments. On their website, Payment Depot says they can deliver processed payments into your business bank account within one business day. Payment Depot also offers free PCI compliance — a mandatory certificate required annually by credit card brands to keep merchants accountable for the protection of cardholder data.
In terms of the types of businesses Payment Depot works with, on their website they say they can provide solutions for retail, restaurant, B2B, mobile, e-commerce, medical, legal, accounting and professional services businesses.
That's the basics of Payment Depot. Now let's learn about everything this payment processor can do for your business when you sign up.
Accept payments without worry
See our payment provider recommendations that fit your business.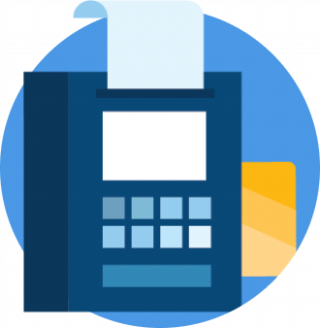 Payment Depot: Capabilities
"Payment processing" is something of an ambiguous term. To help you better understand what it actually means to sign up for a service like Payment Depot, here is a rundown of all the services they offer:
Payment Depot provides dedicated merchant accounts to businesses. The word "dedicated" is important here. This means that the merchant account your business receives is entirely your own, and not shared with any other business. Dedicated merchant accounts are the most stable option for merchants because they are not subject to account holds and freezes, which are common amongst the aggregated merchant accounts offered by businesses like Square and PayPal.
As previously mentioned, Payment Depot merchant accounts are offered through either First Data or TSYS, and funds arrive in your business account within one day. Payment Depot does not work with high-risk merchants at this time.
Payment Depot sells a nice variety of credit card terminals via their website. There are four "smart" terminals to choose from and three standard terminals. Note that some terminals come free when you sign up for a membership (more on this later). We'll list all your options here:
Clover Flex ($449): Accepts magstripe, chip card and contactless methods of payment, plus has a built-in receipt printer.

Vital Plus ($449): Accepts magstripe, chip card and contactless methods of payment, prints receipts and scans barcodes.

Poynt Smart Terminal ($599): A wireless card reader that can accept magstripe, chip card and contactless methods of payment and print receipts or send text/email receipts.

Clover Mini ($599): Accepts magstripe, chip cards and contactless payments, scans barcodes and prints receipts.

First Data FD130 ($299): Countertop card reader that can accept magstripe, chip card and contactless forms of payment, plus print receipts.

Verifone VX520 ($299): Countertop card reader that can accept magstripe, chip card and contactless forms of payment, plus print receipts.

Dejavoo Z11 TriComm ($299): Countertop card reader that can accept magstripe, chip card and contactless forms of payment, plus print receipts.
Aside from these credit card terminals, you can also purchase a Simple Swipe mobile magstripe card reader through Payment Depot. The card reader costs $69 and works when plugged into a mobile device in conjunction with the Simple Swipe app. A Bluetooth version of the card reader is available for $79, and a version that can accept contactless forms of payment can be purchased for $99.
POS systems are sold separately from membership plans. The two options Payment Depot offers are quite expensive, but it's still convenient that you can purchase your POS system through your payment processor. Here are your two options:
Vital Select ($1,399): The Vital Select POS system comes with a 15.6-inch touchscreen display, attached cash drawer, customer-facing display, receipt printer, barcode scanner and magstripe/chip card/contactless payment reader. The POS software has functionality for inventory management, employee management, customer relationship management, pricing discounts and tax administration.

Clover Station ($1,499): The Clover Station comes with a 14-inch touchscreen display, cash drawer, receipt printer, customer-facing display and magstripe/chip card/contactless payment reader. The software you get depends on which pricing plan you choose: Register Lite ($14/month) or Register ($29/month). Both plans come with the ability to set employee permissions and shifts, track sales and reports, process payments offline, access the Clover App market and manage inventory.
Payment Depot will provide you with a payment gateway to accept online transactions at no additional cost. The preferred product offered by Payment Depot is an Authorize.Net payment gateway. However, on its website Payment Depot says it will also integrate with other gateways. In addition, Payment Depot integrates with most major e-commerce platforms.
The last freebee Payment Depot offers is a virtual terminal that will allow you to process payments by punching in credit card information on any internet-enabled device.
Payment Depot offers 24/7 customer service via phone and email. All membership plans also come with a free reprogramming of your current POS hardware by Payment Depot representatives. One drawback is that Payment Depot doesn't offer much of a Support Center on its website, so you'll probably have to call or email for most questions about your service.
In general, most payment processors will charge you an interchange fee that is comprised of a fee owed to the credit card network for each transaction, plus a small percentage markup paid to the processor for running the transaction. Payment Depot does not charge a markup on the interchange fee. All you'll pay is what is owed to the credit card network, plus a small fixed fee (ranging between $0.15 and $0.05) for processing the payment. This is known as wholesale interchange pricing and, in the payment processing industry, it doesn't get cheaper than that.
So how does Payment Depot make money if it is not charging a markup on the interchange fee? By charging a monthly membership fee ranging from $49.99 to $199.99 a month. You'll probably need to do some math to determine if Payment Depot's membership fees are cheaper than your current payment processor's interchange fees, but for most medium and high-volume businesses, they will be. Furthermore, being charged a membership fee should make your monthly payment processing costs a bit more predictable.
Let's learn more about each Payment Depot pricing plan to understand its true value. Note that all plans are month-to-month, although reduced rate annual pricing is available. Furthermore, Payment Depot doesn't charge cancellation fees, account fees, statement fees or service fees on any of its plans.
The Basic plan costs $49 per month and allows you to process payments using the interchange fee (set by the credit card network) plus a $0.15 transaction fee. This plan includes a free payment gateway, virtual terminal and chargeback and risk monitoring. Your processing volume limit is $25,000 per month. If you exceed your processing limit with any plan, you'll be moved up to the appropriate plan for the next month.
The Most Popular plan costs $79 per month and drops the transaction fee down to $0.10. You get everything included in the Basic plan, plus a free Simple Swipe card reader and credit card terminal, plus data breach protection. The transaction limit on the Most Popular plan is $75,000.
The Best Value plan ups the price to $99 per month and drops the transaction fee to $0.07. The transaction limit is $200,000 per month and additional perks include a free credit card pin pad.
Finally, there is the Premier plan, which has an unlimited transaction volume limit, a low $0.05 transaction fee and a monthly cost of $199. The other additional upgrade you get with this plan is a free credit card terminal upgrade every two years.
Note that Payment Depot also offers custom plans for those with unique payment processing needs. These plans are quote-based.
Here are what we see as the benefits of working with Payment Depot:
Being charged wholesale interchange rates is a huge perk to working with Payment Depot. On its website, Payment Depot says merchants can save at least $400 annually in processing fees using their solution. Furthermore, membership pricing makes your payment processing fees predictable, given you will never be charged for things like account maintenance, PCI compliance or statements. Finally, there is no risk in signing up with Payment Depot. All memberships come with a 90-day money-back guarantee, and no cancellation fee if you decide to move on thereafter.
Another nice perk with Payment Depot is that you can acquire your credit card terminal at no cost if you sign up for the Most Popular plan. Typically, a credit card terminal is a big expense for a small business, so it's nice to see Payment Depot making their services even more affordable by throwing in this important piece of hardware.
It's hard to find things to complain about with Payment Depot. Sure, the POS systems they offer are a bit overpriced, but you can probably get a lower rate by going directly to Clover or Vital. We'd also like to see Payment Depot build out a Support Center on its website, instead of just having an FAQ page. But those are minor complaints. Really, it's uncommon to find a payment processor as transparent and affordable as Payment Depot, and we wouldn't want to deter you by picking nits.
Accept payments without worry
See our payment provider recommendations that fit your business.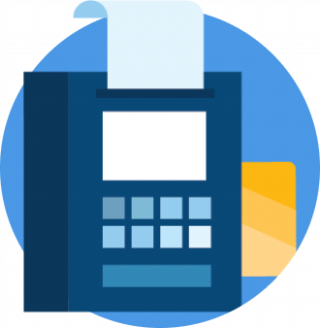 Here is how Payment Depot ranks on the major review websites:
TrustPilot: 5 stars out of 5

Capterra: 4.5 stars out of 5

Better Business Bureau (BBB): A+
Payment Depot is highly reviewed on most major customer review platforms. In particular, customers rave about how much money they save on their payment processing fees and how helpful Payment Depot's customer service is. There are a handful of negative reviews, mostly pertaining to technical issues or POS hardware breaking down. But to Payment Depot's credit, they take the time to respond to every negative review and try to assist the customer.
Payment Depot alternatives
We can't think of any Payment Depot alternatives that also offer wholesale interchange pricing, but we can recommend some payment service providers that offer some more features than Payment Depot:
Square's payment processing rates are higher than Payment Depot's because they add a markup to the interchange price. Having said that, Square's rates are still a reasonable 2.75% per transaction, and they don't charge an additional fixed transaction fee. Besides, you wouldn't go with Square just for their payment processing rates. Square also offers some of the most popular credit card terminals on the market starting at as little as $10. There are also free Square POS software and hardware kits starting at $199. Square's integrated solutions make it one of the most popular options for small-business owners.
For businesses that do very few transactions per month, it might not make sense to pay a big membership fee. If this is you, we recommend Payline Data. Payline charges a 0.2% markup on the interchange fee plus a fixed $0.10 transaction fee — but this is a relatively cheap rate in the payment processing space. You will also have to pay a $10 membership fee, which is more affordable than the membership fees offered by Payment Depot. Plus, Payline offers most of the same features as Payment Depot: credit card terminals, payment gateways and virtual terminals.
Using Payment Depot as your payment processor
Our conclusion is that Payment Depot does indeed live up to its claim to be a fair, transparent and simple payment processor. It's hard to find payment processors that are upfront about their pricing model. The fact that Payment Depot is upfront and it charges such low rates is a very good sign. Its various pricing plans mean it can accommodate businesses of most sizes and its feature set includes most of what you would need from your payment processor. All in all, we feel Payment Depot is an excellent option for business owners.
This article originally appeared on Fundera, a subsidiary of NerdWallet.