SwipeSimple Review: Pricing, Features and Alternatives
SwipeSimple offers simple options to accept payments on the go, but resellers set the prices, services and support.
Many or all of the products featured here are from our partners who compensate us. This influences which products we write about and where and how the product appears on a page. However, this does not influence our evaluations. Our opinions are our own. Here is a list of our partners and here's how we make money.
SwipeSimple is a cloud-based mobile point-of-sale system. It works with both Android and iOS devices or on a small selection of dedicated payment terminals. As its name suggests, the system is designed to be simple. It's not as packed with features as some competing point-of-sale systems, but it could be a way to start accepting payments with minimal setup and maintenance.
There's one major obstacle to figuring out whether SwipeSimple is a good fit for your business: You can't buy it directly from the company. You need to get it through a reseller that sets the rates you pay and provides services and support for the system. Ultimately, your cost, experience with the product and quality of support may be more a function of the reseller than SwipeSimple itself.
(Software, hardware, payment processing)

Costs are a function of the merchant services provider that resells SwipeSimple.

Contracts are a function of the merchant services provider that resells SwipeSimple.

SwipeSimple has an extensive knowledge base, but doesn't provide direct support for merchants. They must contact their reseller for support.

Resellers can request email support on the SwipeSimple website or call a toll-free number for live support Monday to Friday from 9 a.m. to 6 p.m. ET.

SwipeSimple has a straightforward user interface. Positive user reviews on Apple's App Store and Google Play often emphasize its simplicity.

The mobile apps and desktop portal have handy demo modes that make it easy to get a feel for how things work and run new users through training.
How does SwipeSimple work?
SwipeSimple allows you to accept payments on mobile apps, stand-alone payment terminals and online.
Mobile solution: Card readers and mobile app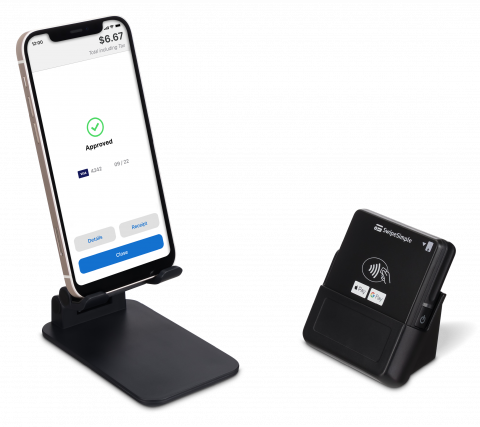 SwipeSimple offers two Bluetooth-enabled mobile card readers that can be paired with Android or iOS apps to enable accepting payments on the go:
B200 reader: Supports magstripe and EMV (chip) card payments.

B250 reader: Supports magstripe, EMV (chip) and contactless tap payments.
The mobile apps support a catalog of items with photos and standardized prices, and you can also charge custom amounts on the fly. The app allows for some limited configuration of taxes, suggested tips, signature prompts and receipt options, including paper, email and text message. Many configuration settings are limited to the desktop browser-based dashboard, though, so the app isn't quite a one-stop shop.
Fixed solution: SwipeSimple terminal
SwipeSimple also offers several stand-alone payment terminals. The terminals support credit and debit cards as well as alternative payments like Apple Pay and Google Pay. Like the mobile apps, the terminals sync with the browser-based dashboard system for management and reporting.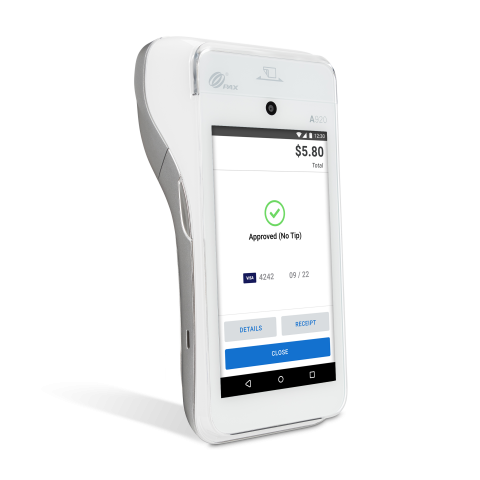 SwipeSimple offers three terminal options:
SwipeSimple also offers cash drawers and receipt printers to accompany the system. Larger dedicated cash register products are listed online as "coming soon," but aren't yet available.
Online solution: SwipeSimple payment gateway
SwipeSimple offers a payment gateway with functionality to process one-time and scheduled payments online. The system also allows you to generate invoices to send by email or text message. Invoices can include payment links that customers can follow to an online payment form.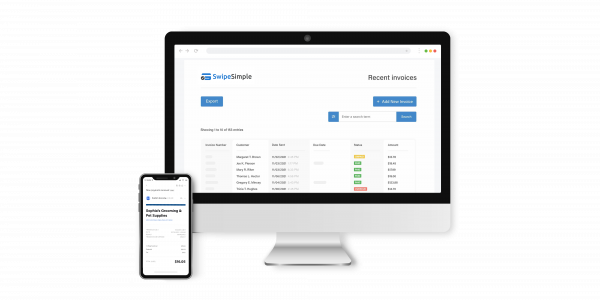 All of SwipeSimple's offerings sync with a back-end dashboard that runs in a web browser. On the dashboard, you can manage your app and hardware settings, maintain a customer database and review reports on your business.
The system can automatically create customer profiles based on the information you record during a transaction. With authorization from customers, that can include their credit card information for future transactions and recurring or scheduled payments.
Reports on the dashboard can give you insight into sales, individual items, users, taxes and more. Reports can also be exported for use with third-party systems like QuickBooks.
How much does SwipeSimple cost?
There's no one price for SwipeSimple because you can't buy it directly. You have to use a reseller — a merchant service provider such as Worldpay or Payment Depot. Even from resellers, it's not easy to find SwipeSimple pricing. None of the nearly 20 merchant service provider partners listed on SwipeSimple's website posts its pricing online, so you'll need to get quotes to find out your potential hardware, software and payment processing costs.
It's easy to try out SwipeSimple in a browser or on your iOS or Android device with demo modes. You don't provide details about your business or contact information, so there's no need to worry that the demo comes with pressure to buy.
SwipeSimple works with many different merchant service providers, so you have plenty of flexibility to find a merchant account and service provider that works best for you.
By contrast, some other POS systems require you to use their specific services and accounts. SwipeSimple's flexibility could be a significant benefit if you have a strong preference for a specific compatible merchant service provider or want to shop around for deals.
SwipeSimple emphasizes portability, but many features and settings aren't available on the mobile app. For example, invoicing, settings to manage your inventory and pricing, and reports on information beyond one-, seven- or 30-day summaries are available only in the browser-based dashboard. Some competitors offer more options to handle these functions in their mobile apps.
It's hard to compare SwipeSimple's offerings with alternatives because prices for software, hardware and payment processing aren't readily available. Many competitors also use quote-based pricing at least some of the time, but they usually give some information about baseline prices or a few standard packages.
SwipeSimple doesn't provide customer service directly to merchants, so you'll need to go through your reseller for help with hardware, software or account issues. For better or worse, support hours and expertise with the SwipeSimple product will be a function of your reseller.
Resellers can get help directly from SwipeSimple, but only during standard business hours Monday to Friday (9 a.m. to 6 p.m. ET). That could mean delays resolving issues for businesses that are open nights and weekends.
Alternatives to SwipeSimple
Square: Transparent pricing and lots of options
Square is NerdWallet's choice as the best POS systems for small businesses for its transparent pricing, ease of use, strong features and live support. Like SwipeSimple, Square offers a cloud-based, mobile-friendly POS system. Unlike SwipeSimple, Square offers its own merchant services and payment processing without the need to go to a third party or reseller. There are also free options that make it easy to get started with no monthly fees.
Clover: Great hardware and flexible merchant account options
Clover is NerdWallet's choice as the best overall mobile POS system. Its hardware stands out by including lots of features in small, durable packages. Like SwipeSimple, you buy Clover through partnered merchant service providers, but Clover posts some pricing online. The selection of reseller partners also differs between the two systems, so if you prefer a specific merchant service provider, that preference might dictate which system is available to you.
Is SwipeSimple right for me?
The merchant service providers that resell SwipeSimple set the prices and provide bundled services and support. As a result, whether it's a good option for you can depend as much on the reseller as on SwipeSimple itself. If your merchant service provider resells SwipeSimple and can offer a good price, it's worth at least playing around with the app and dashboard demos to see whether it's a good fit for you.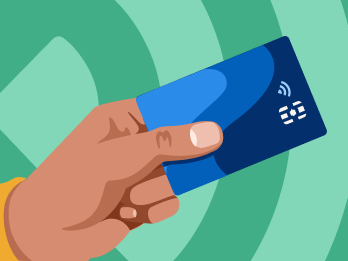 Accept payments, avoid surprises
Answer a few questions to match your business with our selected payment partners.
Best Payment Processing Companies
Product

Payment processing fees

Monthly fee

Learn more

Helcim

0.40% + 8¢

 

plus interchange, in-person; 0.50% + 25¢ plus interchange, online.

$0

 

Square

2.6% + 10¢

 

in-person; 2.9% + 30¢ online.

$0

 

Starts at $0/month for unlimited devices and locations.

Stripe Payments

2.7% + 5¢

 

in-person; 2.9% + 30¢ online.

$0