What to Do When American Airlines Delays Your Flight
American stands out for offering actual refunds on flights delayed by more than four hours, with some restrictions.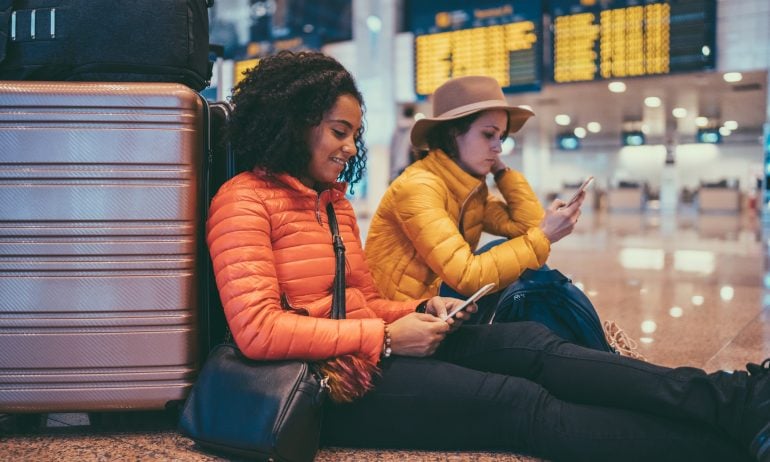 Many or all of the products featured here are from our partners who compensate us. This influences which products we write about and where and how the product appears on a page. However, this does not influence our evaluations. Our opinions are our own. Here is a list of our partners and here's how we make money.
Flight delays have always been an unfortunate and unavoidable part of travel, but these days, they seem to be getting worse instead of better. If you're worried your travel plans might involve American Airlines delays, it can help to be prepared ahead of time. Here's what to do if your itinerary does get thrown off and how to protect yourself from that happening in the first place.
What American considers a flight delay
The American Airlines policy is clear about what is considered a delay. That said, the policy doesn't include additional passenger compensation promises in any of its policies.
Delays caused by American Airlines
If the disruption is the airline's fault or you're diverted to another city, your expenses may be covered. This is contingent on whether you board your next flight before 11:59 p.m. local time on your scheduled arrival day. If the changes do not meet these conditions, the airline will pay for your overnight stay at an approved hotel.
Delays beyond the airline's control
If the delay is outside of American's control, like weather, a strike or other civil disorder, passengers are responsible for covering the costs of lodging, meals and other expenses.
For domestic flights, the airline will not keep passengers on a plane for longer than three hours on the tarmac. International flights, meanwhile, have a four-hour time cap.
The clock measuring time spent during a tarmac delay does not start until the pilot asks for permission to return to the gate or other disembarkation point.
In either scenario, the airline promises passengers will have adequate food (such as crackers or biscuits) and water within two hours after the aircraft leaves the gate (for departures) or touches down (for arrivals).
Rack up miles or enjoy lounge privileges with our favorite American Airlines cards
Check out our nerdy picks for the best American Airlines credit cards and find the right card for you.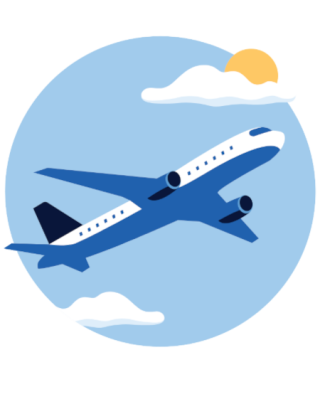 What to do if your American Airlines flight is delayed
First, the good news: The Official Airline Guide has ranked American Airlines in the top three most punctual airlines, so your chances of experiencing a delay are less likely than with most others (except for Hawaiian Airlines and Delta Air Lines, which ranked first and second, respectively).
But things do still go wrong from time to time whether it's due to poor weather conditions, overbooked flights or airline worker strikes. So if you've just gotten word that your flight has been delayed, don't panic.
Search for alternatives using technology
If there's a severe enough delay that your flight needs to be changed, American will rebook you on the next flight with available seats and reroute your bags, too, once you check in for your new flight.
But rushing to the nearest help desk in a fluster and bombarding airline employees won't help your situation. Instead, try to stay calm, and if your flight is delayed by more than a reasonable amount of time, use the American Airlines app, website or an airline kiosk to see if there is an earlier flight available that you can switch to.
The app will allow you to view trip changes and updates, and the website will let you see flight changes and accept airline-proposed itineraries. Both tools allow you to schedule a new flight if necessary.
It won't help you get to where you're going any sooner, but if your flight is delayed by a few hours, consider using an airport lounge benefit from your credit card, ticket class or other membership. You'll be able to relax in comfort, often with snacks and beverages, until it's time to fly.
If you do not have airport lounge access already, you're not completely out of luck. Several American Airlines lounges are accessible by purchasing a day pass.
Select Admirals Clubs offer day passes for $79 or 7,900 AAdvantage miles.

Flagship Lounges offer day passes for $150 or 15,000 AAdvantage miles per person.
If your flight is delayed by more than four hours, and you don't accept the alternate flight options available from American (or if there weren't any available), the airline will refund any remaining ticket value plus optional fees like seat selection or baggage fees.
This is not just a credit or flight voucher — it's an actual refund. So make sure to ask for it if the airline offers a credit or miles in exchange for the inconvenience.
If the airline is at fault for the delay and your flight doesn't board before 11:59 p.m. local time on your scheduled arrival day, American may be able to cover the cost of an overnight stay.
If you decide to book a room yourself and only follow up with the airline afterward, it's unlikely they'll reimburse you.
It's best to start at the nearest help desk to figure out your options and receive authorization from American. Just know that if the delay is due to weather, you're likely on your own.
How to protect yourself from future delays
Avoiding potential delays is always preferable, so do some research and make the right calls ahead of time to mitigate your risk. You may be able to avoid delays entirely by booking using these tips.
Research delays to and from your destination
With tools like the website FlightAware, which offers a platform for searching various flights and route trends around the country, you can look up how often flight delays occur based on airline, airport and more. The website's MiseryMap offers a color-coded display of the worst offending airports and routes over the last two days.
If trends don't look good from your preferred airport, consider booking from a different one nearby. Or if flights get backed up regularly at a certain time of day, avoid that flight window.
Get travel insurance ahead of your trip
While travel insurance can't ensure your flight departs or arrives on time, it can offer peace of mind and cover costs for things like an extra night in a hotel room if your flight gets canceled or significantly delayed.
You can purchase a travel insurance policy directly through an insurance agency or by using an insurance comparison tool. These aggregators help you quickly shop options from various travel insurance providers. You must purchase your coverage at least one day before your trip — you can't buy it at the airport.
An itinerary with one stop (which involves two flights to get you to your final destination) has twice the chances for delays compared to a nonstop flight. If it's an option, and you're worried about the possibility of a delay, book a direct flight to boost the likelihood that you'll arrive on time.
Flights scheduled for earlier in the day have a reduced chance of being delayed. The reason is simple: Once a few flight schedules get thrown off, be it by midmorning or late afternoon, they have the potential to create a domino effect, delaying more flights for the rest of the day.
Choose early morning flights for the best chance at arriving on time.
Final thoughts on American Airlines flight delays
While American Airlines delays are sometimes unavoidable, when they do happen, some of the first steps to take are checking American's website or app and, if the delay is several hours long, talking to an agent to find out your options.
If you're trying to reduce the risks of future flight delays, it may be helpful to research flight trends, book direct and early flights or purchase travel insurance ahead of your trip to protect your money.
---
How to maximize your rewards
Get more smart money moves – straight to your inbox
Sign up and we'll send you Nerdy articles about the money topics that matter most to you along with other ways to help you get more from your money.