10 Tips for Traveling With an Emotional Support Animal
Your emotional support pet may no longer be able to fly for free. Here's what you can expect.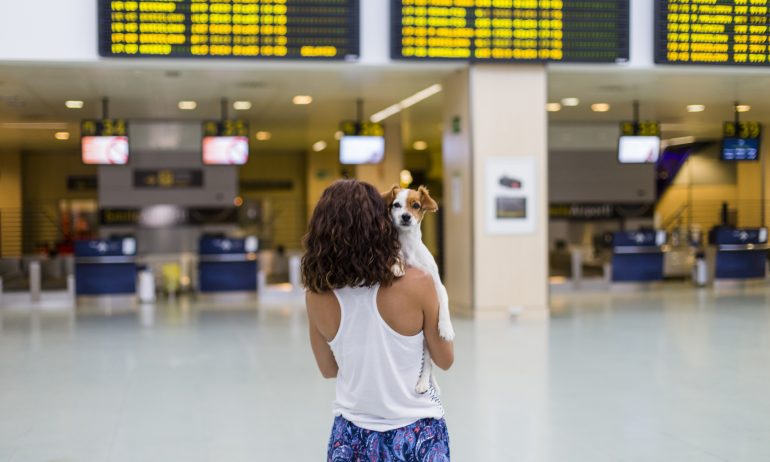 Many or all of the products featured here are from our partners who compensate us. This influences which products we write about and where and how the product appears on a page. However, this does not influence our evaluations. Our opinions are our own. Here is a list of our partners and here's how we make money.
Emotional support animals on planes are no longer a given — at least not for free. While passengers were once able to bring just about any type of animal on board for no extra fee, as long as they had a doctor's note declaring it an emotional support animal, that's no longer the case.
As of December 2020, the U.S. Department of Transportation, or DOT, eliminated the requirement that airlines allow emotional support animals on board free of charge. Of course, certified service animals will still be permitted on planes. However, it pays to plan ahead if you're expecting to fly with any other support companion. Here are helpful tips for traveling with an emotional support animal going forward.
Advice for traveling with an emotional support animal on a plane
Passengers used to be permitted to bring just about any animal on board if they had a doctor's note saying they needed it for emotional support. Not anymore. Now, only service dogs that are trained to assist passengers with specific physical and psychiatric disabilities are required to be allowed on board at no extra charge.
So if your animal isn't an actual service dog, you can no longer expect to bring it on board with you without paying the same fees as any other pet.
Why the change? The DOT cited reasons like animals misbehaving because they haven't been trained as service animals, as well as the public taking advantage of airlines to bring on a variety of creatures that wouldn't normally be allowed.
2. Have the right paperwork for a service dog
Be prepared to provide paperwork certifying that your service dog is an official support animal. Airlines have the right to require that documentation as proof up to 48 hours before your scheduled flight.
No more free emotional support animals in the cabin means you should expect fees when bringing your pet. Alaska Airlines charges $100 each way. Traveling with an emotional support animal on United, Delta or American Airlines will cost you $125 each way.
4. Be aware of restrictions for large pets
Other factors, like your emotional support animal's age and size, may impact whether you can bring it in the cabin or in cargo. Often, dogs and cats will need to be of a certain age, and their kennel or carrier will need to meet specific dimensions to fit under the seat. You may have to buy an extra ticket if you'll be carrying on more than one pet.
If your companion isn't small enough to fit under the seat or isn't an animal that's permitted in the cabin, airlines have varying policies regarding when and how to book or schedule it for shipment, including crate size, required documentation and more. Always check with your airline to make sure you're abiding by its rules and restrictions.
5. Check for breed restrictions
Some types of animals aren't allowed on board at all, so you'll want to check your airline's specific policies. For example, American allows only cats and dogs, Delta permits some birds and Alaska is OK with rabbits.
Some airlines may also restrict which breeds they allow either in the cabin or cargo compartment for the safety of pets and passengers. Alaska and American, for example, don't allow short-nosed breeds like pit bulls, pugs or Himalayan cats in the cargo hold due to breathing concerns. Certain animals can often still travel in the cabin so long as their carrier fits under the seat (for a fee, of course).
If your emotional support animal must be checked into the cargo compartment, keep the outside temperature in mind. If it's extremely hot or cold outside, you could be putting your pet at risk. Schedule direct flights so your animal spends less time on the tarmac, and travel during the cooler parts of the day in summer (early morning and late evening) and the warmest part of the day in winter (midday).
Some airlines, like American, won't even allow pets in the cargo area if the outside temperature exceeds certain thresholds.
7. Check for destination restrictions
Airlines may not allow you to carry on an animal to certain destinations based on the rules and regulations where you'll land. For example, you'll have to check an emotional support animal in the cargo area to places such as:
Check to see if there are restrictions to your specific destination regarding how your pet can travel.
8. Get proof that your pet is healthy
Whether checking or carrying on your emotional support animal, some airlines require you to provide proof from your veterinarian that it's healthy enough to travel. For example, when flying American Airlines and Delta, emotional support animals can board only when health records are provided.
9. Know when these rules go into effect
If you've already booked a flight with an emotional support animal, it may still be permitted on board free of charge depending on the airline. For instance, Delta Air Lines will honor bookings that were made before Jan. 11. Review airline websites ahead of travel to confirm how emotional support pets are accommodated.
10. Adjust as needed for pet travel during COVID
If you're flying during the pandemic, be aware that many airlines have suspended transporting animals in the cargo compartment, which limits the ability to travel with large animals. Check with your airline and plan accordingly.
From now on, if your support animal isn't a certified service dog assisting you with a specific disability, you'll be expected to pay for it to come on board when flying the major U.S. airlines — just like any other pet. This change requires some additional planning, and likely additional costs, if you want to bring it along on your next flight.
---
How to maximize your rewards
Get more smart money moves – straight to your inbox
Sign up and we'll send you Nerdy articles about the money topics that matter most to you along with other ways to help you get more from your money.