What Is Tendering on a Cruise?
Tendering is the process of being carried to shore by a smaller vessel when the cruise ship can't dock at port.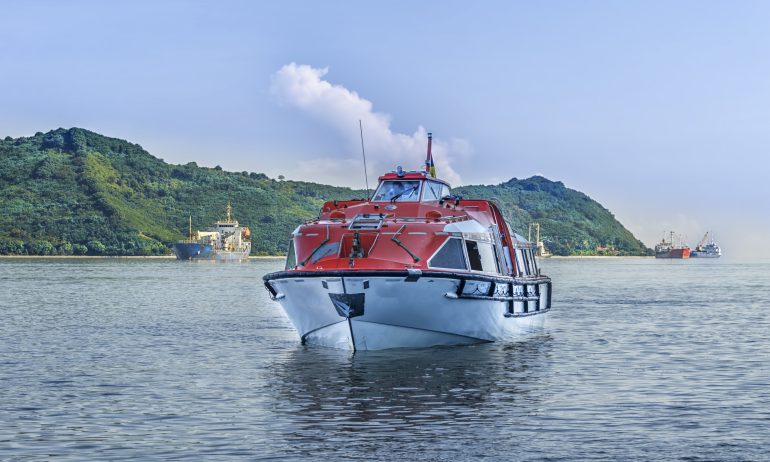 Many or all of the products featured here are from our partners who compensate us. This influences which products we write about and where and how the product appears on a page. However, this does not influence our evaluations. Our opinions are our own. Here is a list of our partners and here's how we make money.
If you're a cruise novice, you've likely never heard of cruise ship tendering.
What exactly is cruise tendering? Well, some cruise ship ports don't allow large ocean liners to dock, in which case you have to take a smaller vessel to port. This is tendering.
Still confused? Let us explain and help you understand what it means to tender on a cruise ship
What does tender mean on a cruise?
A tender on a cruise refers to a smaller boat that takes the passengers and crew ashore. Tending is done when a vessel is too large to dock in a port of call, the water is too shallow or your ocean liner arrives later than other ships and there's no more room left to dock.
Depending which cruise line you're sailing with and the itinerary, tender boats can be either the cruise ship's lifeboats or boats operated by a local company in the port of call.
Tender boats can often hold up to 200 passengers at once, so they're quite roomy.
To avoid chaos, cruise ships typically use a ticketing system for tendering, particularly for the early groups. The ticket will list the time you can start disembarking.
Tickets aren't required to come back on the ship, but you still have to queue up for the next tender.
What does tender port mean on a cruise?
A tender port is a seaport that requires a large ocean liner to use small boats to reach its shore.
Many cruise lines publish a list of tender port destinations, meaning you'll have access to that information ahead of time. Tender ports should also be listed on your itinerary once you book a sailing on a tendering cruise.
Downsides of tendering on a cruise ship
You have to get in a queue
Because a tender on a cruise ship is a much smaller boat than the cruise vessel itself, it's going to take more trips to unload all the passengers, so you're going to have to line up for a cruise ship tender.
Even though multiple tender boats can run at once, it's still going to take longer to get to the shore than just walking off the boat right after anchoring at a pier.
If you're looking to be among the first passengers to disembark, some cruise lines offer priority tendering for elite members or passengers who purchased a priority access package.
Mobility issues can hinder the cruise experience
Because tender boats are small and sometimes require stairs to get into, passengers with mobility issues might have difficulty disembarking a ship while tendering.
For example, wheelchairs aren't allowed to be transferred from the ship in a tender, which means someone using one would have to skip certain shore excursions.
You might skip some ports in bad weather
Taking a small boat in rough seas isn't the safest method of arriving on land, so there's a chance that your excursion could be shortened or you might skip some ports of call altogether.
Safety first, meaning you might end up with an extra day or two at sea if the winds are strong or if lightning has been spotted in the area.
Upsides of tendering on a cruise ship
You can take great photos of the ship
If you're a photographer, taking photos of the cruise ship is rather difficult when you're on the cruise ship. Tendering provides some great vantage points for capturing the vessel and its size from unique angles.
Option to visit remote locations
Cruise ship tendering allows you to visit ports that you normally can't visit on a large vessel.
Additionally, because of their small size, tender boats can take you to some smaller islands or some hard-to-reach locations.
Tips for cruise ship tendering
Avoid booking early-morning excursions
If you booked a shore excursion through the cruise company, you have nothing to worry about because you'll likely tender off together with other excursion participants earlier than others.
However, if you book an excursion with an independent tour provider, you need to factor in plenty of time to reach the shore in time for the activity. It's best to get a tender ticket ahead of time.
The whole tendering process can take quite a bit of time because you have to queue up on the cruise ship and then spend 10 to 20 minutes on a boat. You can expect the same on the way back.
We recommend applying lots of sunscreen to protect your skin from direct sunlight for extended periods of time.
Don't wait until the last tender
We get it. You're in a new port of call and want to maximize every minute of it enjoying the scenery and the activities. However, we don't recommend cutting it too close to the last tender of the day to take you back onboard.
The ship will leave you behind if you're not back in time for scheduled departure. Allow for a few hours ahead of the final tender boat to avoid queues.
Take seasickness precautions
If you tend to get seasick, you might want to prepare in advance for potentially spending time in a moving boat.
Use motion sickness medicine to prevent nausea. Perhaps avoid drinking alcohol the night before. Once on the tender, find a seat in a more stable part of the boat, preferably with access to fresh air, and focus on the horizon.
Cruise ship tendering, recapped
Those with cruise-run excursions and elite status usually get to disembark in the first groups, but the tendering process takes time for the rest of the passengers.
Cruise ship tendering sounds inconvenient, but it can happen on any cruise. The good news is that it allows you to visit more ports and gives you a unique perspective from a photographer's point of view.
---
How to maximize your rewards
Get more smart money moves – straight to your inbox
Sign up and we'll send you Nerdy articles about the money topics that matter most to you along with other ways to help you get more from your money.