Which Hotels Have Handled COVID-19 the Best?
We rated hotel brands on their health and social distancing policies, along with their flexibility on bookings.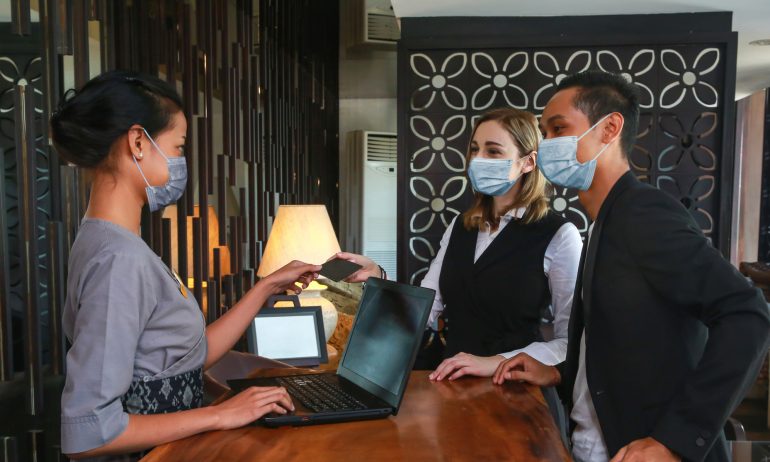 Many or all of the products featured here are from our partners who compensate us. This may influence which products we write about and where and how the product appears on a page. However, this does not influence our evaluations. Our opinions are our own. Here is a list of our partners and here's how we make money.
The COVID-19 pandemic has turned travel upside down, and the hotel industry has been forced to cope with a constantly changing landscape of traveler expectations. From to, major hotel brands have scrambled to adapt to the new reality.
But which hotel brands have adapted best? Which have offered the most customer-friendly policies and been willing to sacrifice bottom-line concerns for the sake of guest safety?
We've updated a comprehensive look at eight major hotel brands, switching from "grades" to a more detailed rating on a five-point scale. We also updated ratings based on newly rolled out mask and booking policies, new information made available to us from hotels and a deeper look into each hotel's policies.
Note: These hotel brands have introduced new cleaning and sterilization policies, often in partnership with health care providers. Since we are not experts in this area, we did not attempt to compare these policies. We instead focused on policies such as mask enforcement that can be compared directly.
To determine the final score, we compared two major categories:
We gave each brand a score in each category (see below for more details), then averaged these two scores.
This August update saw a huge shake-up in the rankings, after health and safety policies (specifically regarding masks) changed for many brands in late July. Also, the top brands have continued offering flexible booking policies on new reservations, while those that have begun rolling back these policies got dinged.
Hilton and Hyatt take the top spot thanks to consistently flexible booking policies, and clear and comprehensive safety measures.
Note: These rankings are current as of Aug. 7, 2020, and do not reflect any changes since.
We compared each program across eight criteria, based on the official policies stated on the hotel websites:
Despite getting off to a slow start with its health protocols, slow and steady won the race for Hyatt thanks to a clear face mask policy and trained local health leaders. Hilton also scored well in this category. Radisson scored poorly because it has no mask policy for guests or staff, while Wyndham has a mask policy but no room blocking, staff health checks, or trained health leaders.
When travel plans were first disrupted, some hotels outlined flexible policies for existing reservations, letting guests change or cancel these bookings without fees. Then came policies allowing free changes and cancellations on new bookings, in an attempt to entice some travelers back into making new plans. Then came rollbacks of both policies in the summer as the virus seemingly abated.
To score these ever-evolving policies, we looked at two types of change/cancellation fee waivers (new and existing bookings) in April, when many travelers were changing existing reservations, and one type of policy (for new bookings only) in August. So each hotel brand received three individual scores (two for April, one for August), summarized in one flexibility rating below.
Hilton edged to the front of the pack thanks to its continually generous change/cancellation policy, even as travel has ticked back up through the summer. Radisson makes a strong showing in this category with its open-ended flexible policy for travel at any future date.
Similar to our analysis of, we have done our best to boil this extraordinarily complex topic into a simple rating system and provide help for travelers in choosing which hotel to trust with bookings for the remainder of 2020 and beyond. It is important, in my opinion, that we hold hotels and other businesses accountable for the actions they take at times like these. So if you're on the fence about a hotel booking, maybe you lean toward brands like Hilton and Hyatt that scored well across the board.
If ensuring health and proper social distancing are your primary concerns, consider brands with enforced mask policies like Best Western, Hyatt, Hilton, IHG or Marriott. If, on the other hand, maintaining flexibility amid coronavirus uncertainty is paramount, check out the brands like Radisson, Hilton, Marriott and Hyatt, which rated the highest here.
In any case, make sure to check the most current policies of a given hotel before booking.