Your Guide to Allegiant Air Fees and Packages
Baggage fees vary by route and cost more when you pay them close to departure.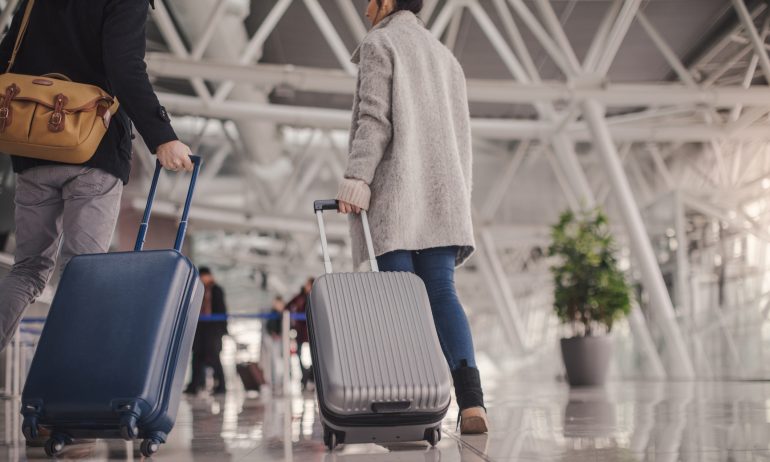 Many or all of the products featured here are from our partners who compensate us. This influences which products we write about and where and how the product appears on a page. However, this does not influence our evaluations. Our opinions are our own. Here is a list of our partners and here's how we make money.
Thinking about booking a flight with Allegiant Air but confused by the add-on fees? You're not alone: Ultra-low-cost carriers like Allegiant are built around the "a la carte" model, where the base airfare doesn't include basics like bags, seat assignments or a pack of crackers.
Allegiant also carries loads of "gotcha" fees for unaware passengers. For example, failing to print your own boarding pass (or use the Allegiant app to get a digital pass) will incur a ludicrous $5 "boarding pass printing fee." And paying for a checked bag at the airport can cost 100% more than paying during booking. Knowing about these fees can save you a headache and a bunch of money.
It's also important to keep in mind that most of these fees apply to each leg of a journey, so a round-trip flight on Allegiant can end up costing much more than the advertised price. On the other hand, savvy Allegiant travelers can avoid these dodgy fees and reap lower fares.
The airline offers three fares:
Since these fees vary from flight to flight, we'll look at a real-world round-trip flight from Austin, Texas, to Las Vegas. The base price of this ticket was $74.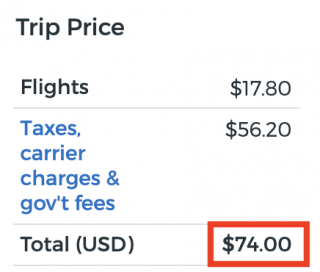 This represents only a fraction of the total potential cost of the ticket. The "Bundles" section below breaks down whether it's worth paying for these fees together in Allegiant's preselected bundles.
The two bundles are Allegiant Bonus and Allegiant Total. The main differences between Allegiant Basic and Allegiant Bonus boil down to luggage allowance and seat selection. The Allegiant Bonus bundle includes a back-of-the-plane seat assignment and a carry-on bag or checked bag (depending on the flight). The Allegiant Basic fare price includes neither.
Now, take a look at the various types of fees you may encounter during your Allegiant process.
All domestic airlines except Southwest charge for bags, but Allegiant has one of the most expensive and confusing baggage fee systems. There are two pieces of this system that are crucial to keep in mind:
Allegiant charges for overhead carry-on bags, without exception. The cost of these larger carry-ons is usually the same as checked bags.

Allegiant charges far more for bags paid at the airport than online. Paying for a checked or carry-on bag at the airport usually costs $50 each, which would total $200 for a round-trip ticket if you had one of each. Avoid these fees at all costs.
Allegiant charges for checked bags, and the cost per bag depends on the route flown and when the bag is paid for. Paying for these bags at booking is cheapest, paying "pre-departure" (online but not during booking) is more expensive and paying at the airport is always $50 per bag.
Here is an example one-way fee breakdown for a medium-length route from Austin to Las Vegas:
It's much more cost-effective to pay during checkout. However, many travelers don't know this far ahead of time whether they will be checking a bag or not. This creates a dilemma, which is exactly what Allegiant is banking on. When in doubt, either pay for bags ahead of time or plan to travel light.
Passengers are allowed one free personal item that fits underneath the seat. All roller bags and other larger carry-ons carry a fee, and these fees follow a similar structure to checked bags: They vary by route and cost more when paid closer to the day of the flight.
Here is the carry-on bag fee for the same example as above, Austin to Las Vegas:
The only difference between this and the checked bag fees is that paying for an overhead carry-on at booking costs $5 less. Paying for the same bag at the airport still costs a whopping $50 each way.
Circling back to the "$74" round-trip base fare, you can see that bringing a carry-on and checked bag, even when paid in advance, would add $90 ($25 x 2 + $20 x 2).
Many airlines now charge for seat selection, which means you either have to pay extra to secure a decent seat or roll the dice and let the airline assign your seat at the last minute. Allegiant makes this process especially confusing by the way it prices individual seats.
During checkout on allegiantair.com, you'll see a standard seat selection screen like this: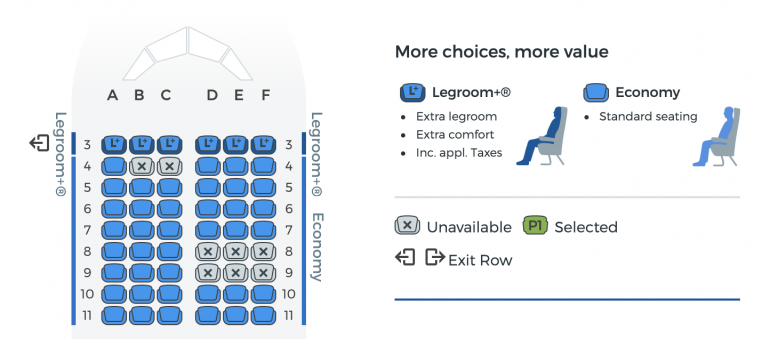 However, there's no way to see the cost of a given seat without selecting it. In this case, the "extra legroom" seats in the front of the cabin cost $24 each way, while the regular economy seats cost $10-$19, depending on their location.
The strategy here is simple: Either pony up for a decent window or aisle seat if the benefit outweighs the price, or skip seat selection altogether. There's no reason to pay $10 for a middle seat.
For the purposes of the overall price analysis, assume selection of a window seat near the front for $19 each way, adding $38 total.
Change and cancellation fees: $75 per segment (each way)
Technically, changes are not allowed on base Allegiant fares, and the airline charges $75 per segment for cancellations, so $150 for a round-trip fare.
Ready for another complication? Allegiant lets you buy "Trip Flex" protection for $75 each way, which effectively renders the fare fully refundable. Yet, since the cancellation fee is the same as this "Trip Flex" fee, the only added benefit is the ability to change the flight for free. In our example, adding $150 in trip protection to a $74 fare doesn't make sense — it would be cheaper and easier to simply buy another ticket.
Boarding pass printing: $5
As mentioned, Allegiant will charge you to print your boarding pass at the airport. You can either get a mobile boarding pass or print your own at home to avoid this fee.
If you're used to flying full-service carriers, you may be surprised to learn that Allegiant does not offer complimentary nonalcoholic drinks or food. Expect to pay a few bucks for snacks.
Phone booking fee: $14.99 per segment
Booking over Allegiant's ticketing phone line will set you back $14.99 for each flight segment (i.e., for each stop). In other words: Don't book over the phone.
Pet fee: $100 per segment
Allegiant allows pets in soft-sided carriers, and charges $100 per segment.
Since these are all optional or easily avoidable fees, we won't include them in our overall price total.
Bundles — are they worth it?
Adding one final twist to this confusing maze, Allegiant offers "bundles," which effectively pay for several of these fees together at a discounted rate. For this Austin to Las Vegas flight, this included a "bonus" and "total" option.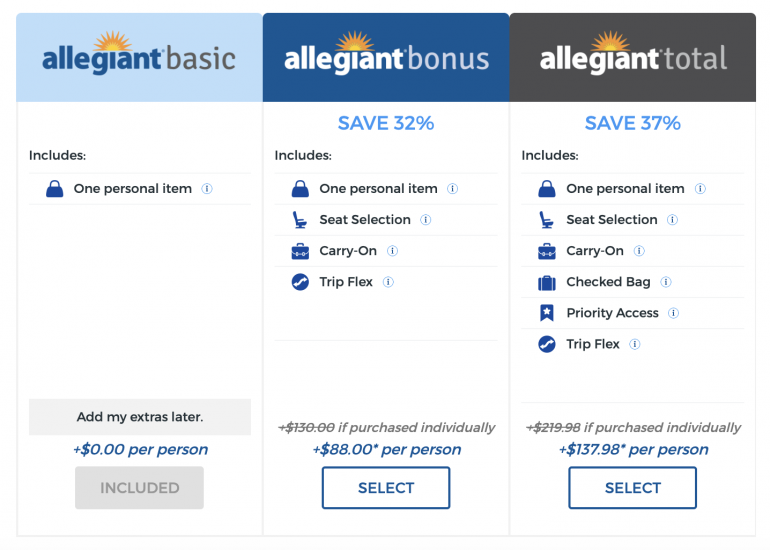 For comparison, here's the breakdown:
Paying a la carte, in this case, adds $128 to the total fare — less than the "total" bundle and more than the "bonus" bundle. But the "bonus" bundle does not include a checked bag (only a carry on) and does include "Trip Flex" protection, which makes little sense for such a cheap fare. The "total" bundle costs only $10 more than our a la carte selections and includes priority boarding and "Trip Flex" protection.
Unfortunately, there's no hard-and-fast rule about when and whether these bundles make sense. The bundles do reduce the cost of the fees, but they might include some fees you weren't going to pay (such as change/cancellation flexibility). The best way to check whether a given bundle is worth it is to select your seats and compare the overall costs. That said, these bundles do offer another advantage: They are simple.
Allegiant Air charges a lot of fees. In our example, the cost of the base airfare more than doubled once baggage and seat selection were included, and this did not include other tricky fees like higher bag fees at the airport or boarding pass printing fees.
If you don't mind playing Allegiant's game and paying for only the add-ons you need, you can save some cash. But it's easy to get taken for a ride by these convoluted fees.
---
How to maximize your rewards
Get more smart money moves – straight to your inbox
Sign up and we'll send you Nerdy articles about the money topics that matter most to you along with other ways to help you get more from your money.