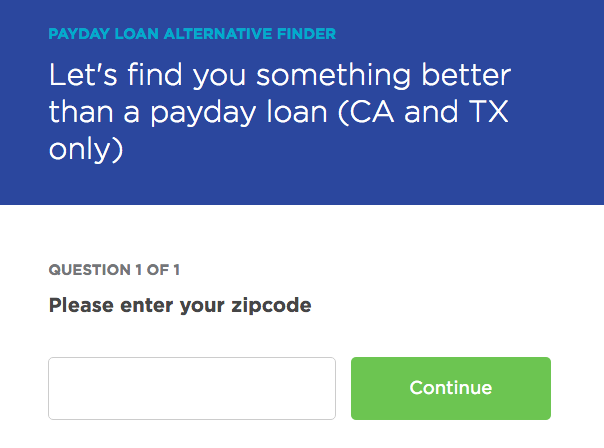 Borrowers in California and Texas searching for quick cash have a new option: a database of low-cost alternatives to high-interest payday loans.
The database, built by NerdWallet and searchable by ZIP code, lists more than three dozen community organizations that provide financial assistance to borrowers in the form of small-dollar loans or grants. Loans range from a few hundred to thousands of dollars, typically with no interest.
The idea came from a desire to steer borrowers away from the neighborhood payday loan or car title loan store and toward a safer alternative, says James Zhang, who leads NerdWallet's Consumer Credit and Debt team and spearheaded the project.
"A huge chunk of America needs access to credit, but with payday loans, they get a product that will put them in more financial distress," Zhang says.
Payday loans have an average annual percentage rate of 400%, according to the Consumer Financial Protection Bureau. Four out of 5 loans are rolled over or renewed within two weeks, the bureau's research shows, trapping borrowers in a cycle of high-interest debt. And a recent CFPB report showed payday loan borrowers often face high bank penalties, which can lead to the loss of their accounts.
Most of the nonprofits included in the database offer interest-free loans. Those that do charge an interest rate have a cap of 36% APR, which consumer advocates say is the upper limit of loan affordability.
Meeting consumers' needs online
As payday lending moves online, nonprofits lack the infrastructure to reach consumers in the digital world, Zhang says. Borrowers who search for online payday loans may not turn up the lower-cost options available.
NerdWallet, with more than 3 million visitors a month, is well-positioned to connect those consumers with online alternatives, Zhang says.
Online lending makes up one-third of all payday lending, but online lenders' revenue tripled from $1.4 billion in 2006 to more than $4 billion in 2013, according to a report by the Pew Charitable Trusts.
The NerdWallet database is free to its partner community organizations and is expected to expand to cover more states. Zhang says California and Texas, the database's first targets, are among states with the highest number of payday loan storefronts in the country.
"Payday loans prey on people who don't have anywhere else to turn," says Natalie Evans, director of programs at the Assistance Center of Collin County in Plano, Texas. The center, which provides financial assistance for rent and utility payments, is a member of the payday loan alternatives database.
Amrita Jayakumar is a staff writer at NerdWallet, a personal finance website. Email: [email protected]. Twitter: @ajbombay