Deciding whether a credit card's annual fee is worth it comes down to the card's value. If the benefits and perks included with the card have a higher value than the annual fee, it may be worth paying. But determining the value of a card isn't always so cut and dry.
What is a credit card annual fee?
A credit card annual fee is the price you pay to have the card. In most cases, this type of credit card fee appears once a year on your account. However, some issuers charge a monthly fee instead of an annual fee. In that case, you would pay the fee every billing period.
The amount you pay depends on the type of credit card you have. As of this writing, the average credit card annual fee is around $128, according to NerdWallet's analysis of 160 credit cards that charge them. But annual fees ranged widely — anywhere from about $7 for a no-frills card to $700 for a premium one.
When is an annual fee worth it?
Annual fees are typically worth it if the benefits you get from the card outweigh the cost. That said, you need to use the card's benefits regularly to get a fair comparison. Consider these factors when determining the value of your card.
Free perks
Here's a look at some common benefits that come with credit cards and what they can cost on the open market.
| Benefit | Example cost |
| --- | --- |
| Roadside assistance | A basic membership from CAA costs $75 a year. |
| Airport lounge access | A standard Priority Pass membership costs $99 a year, plus $35 per visit. |
| No foreign transaction fee | Foreign transaction fees vary by issuer, but many charge 2.5% per transaction made abroad. So, if you spent $100 on a dinner, for example, you might have to pay an additional $2.50. |
| Checked bags | Air Canada charges $30 for the first checked bag with basic and standard economy tickets. |
| Travel insurance | Costs vary greatly, but according to Rates.ca, a healthy 35-year-old man taking a 10-day trip may expect to pay roughly $25 for $2 million in coverage. |
Now, if your card offers some or all of these benefits for free, it may cancel out the cost of the annual fee. For example, let's say you get a travel credit card with an annual fee of $120, and it comes with airport lounge access and roadside assistance. According to the above examples, those benefits would be worth a combined $174. The monetary value you get exceeds the cost of the card's annual fee. But it's only worth it if you use those perks. If you never visit an airport lounge and don't own a car, the $174 in potential savings means very little.
Built-in extras
It's also worth considering practical benefits that may not necessarily have a cash value. For instance, extended warranty and purchase protection can offer peace of mind and be extremely beneficial if you ever need to make a claim. Other perks might save you time or energy or bring enjoyment, such as concierge service or early access to events.
Welcome bonuses
Many cards offer sign-up bonuses to new cardmembers. These promotional offers can come in the form of extra rewards points, higher earn rates, lower interest rates and more. Depending on your needs and the card you get, they can make the annual fee worth paying. However, it's important to remember a welcome bonus is typically temporary or a one-time deal. You'll still need to cover the annual fee once the promotion has expired.
Rewards points and cash back
Rewards and cash-back cards can help you recoup money and earn points on everyday purchases, which can cover the cost of the card. Ideally, you want those savings to be more than the annual fee. For example, if you spend roughly $400 a month on groceries and your card offers 3% cash back at the supermarket, you would earn $12 back a month, or $144 by year's end. If the card's annual fee was, say, $110, you would not only cover the cost but earn an additional $34.
Best Credit Cards in Canada
Compare all different credit cards side-by-side and find out the best card that will meet your need with special perks and benefits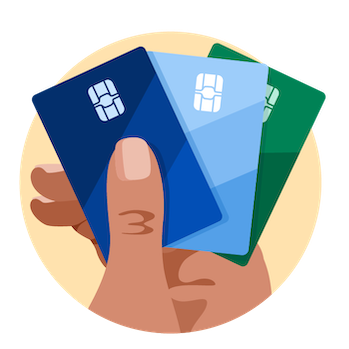 Nerdy Tip
If you don't find that the value of your credit card's benefits offset the cost of the annual fee you're paying, then switch to a no-fee credit card.
How to avoid annual fees
There are a few ways to avoid credit card annual fees:
Get a no-fee card. There are numerous credit cards that don't charge an annual fee. However, their perks may not be as extensive as those that do.
Get the first year free. When you sign up, many credit cards offer a rebate for your first annual fee. While this is a great perk, make sure you can afford the fee in the years that follow.
Get a premium bank account. Some financial institutions waive your credit card annual fee if you have a specific type of account.