One of the greatest fears for drivers is having their vehicle break down while on the road. The idea of getting out of your car to change a flat tire on a busy street or highway is terrifying. That's where roadside assistance comes in. With this service, you can have a professional help you out, putting yourself out of harm's way and making driving less stressful.
Even though roadside assistance is inexpensive, many drivers choose not to get it since it's still a yearly cost. What you may not realize is that there are credit cards that include roadside assistance for free.
What is credit card roadside assistance?
Credit card roadside assistance is a benefit that comes with a few credit cards in Canada. The service is no different from regular roadside assistance, but you need to check your credit card to see what it provides since there may be different tiers of assistance available.
If you ever needed support while on the road, you'd simply call the roadside assistance partner to get help. When making the call, just let them know that you're a credit cardholder as they'll be able to look up your account. Note that some credit card roadside assistance programs require you to register in advance.
Don't forget to read the details of your policy to find out what you're covered for. For example, your coverage may only apply to Canada and the U.S. Some programs will cover only the primary cardholder, while others will cover a specific vehicle.
What does credit card roadside assistance cover?
Credit card roadside assistance covers basic services that will protect you in most situations. When you call in for help, the operator will dispatch the appropriate professional to help you out. Although the type of services offered may differ per company, they will usually all cover the following:
Flat tire change. A professional will come to swap out your flat tire with your spare wherever you're located.
Battery jump-start. If your car battery is dead, a partner will give you a boost.'
Towing service. If your car breaks down, your vehicle will be towed to a mechanic of your choice, up to a specified distance.
Lockout service. A technician will try to unlock your car or call a locksmith.
Fuel delivery. You can get a few litres of gas delivered to you.
Extraction and winching. If your vehicle gets stuck, your roadside assistance can get you out.
Some of the premium roadside assistance programs will even include benefits, such as reimbursement for personal transportation, traffic accident emergency services and motorist legal services.
» MORE: Do you need credit card travel insurance?
Best Credit Cards in Canada
Compare all different credit cards side-by-side and find out the best card that will meet your need with special perks and benefits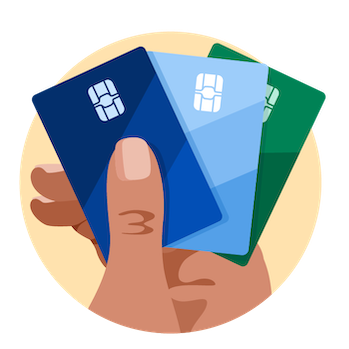 Credit cards that come with roadside assistance
Currently, there are only a handful of credit cards in Canada that provide free roadside assistance. As a reminder, you'll want to read the terms and conditions of the policy before choosing a card, as the benefits can differ significantly.
Here are three popular credit cards with roadside assistance and a brief description of what you get.
TD Cashback Visa Infinite Card. You get a free Deluxe TD Auto Club membership, arguably the best roadside assistance program. All the standard services are included, plus premium benefits, such as traffic accident or stolen vehicle emergency services.
Triangle World Elite Mastercard. You'll get a Canadian Tire Roadside Assistance Gold Member Plan, which provides all the basic services. When registering, you can choose to cover the primary cardholder for any vehicle or a specific vehicle where all drivers are protected.
BMO CashBack World Elite Mastercard. Dominion Automobile Association provides basic roadside assistance coverage. While this service is adequate for most drivers, you only get four service calls a year.
» MORE: How to use your credit card like a pro
Is credit card roadside assistance better than paid roadside services?
Deluxe TD Auto Club and Canadian Tire Roadside Assistance are available to the public, so what you get with your credit card is exactly the same. The difference is, you get it included for free if you have an eligible credit card.
Some people also like to compare credit card assistance to what's offered by CAA and Costco. With CAA, you do get some extra perks, such as bike assist and gas price monitoring. Costco roadside assistance is attractive since it's cheaper than many other programs.
There's nothing wrong with either of those programs, but you need to pay out of pocket for them. With a credit card roadside assistance plan, you get the service included for free. Regardless of what you decide, having roadside assistance can give you peace of mind when you're behind the wheel.