Transferring money from your credit card to your bank account is a type of cash advance. It may sound like a quick and simple way to get money, but the fees and high interest rates may not be worth the move. Only consider this option if you know you can pay back the funds quickly.
How do transfers from a credit card to a bank account work?
When you transfer money to your bank account, it's considered a cash advance. Instead of using the credit to pay for items, you're using it as cash. For example, if your credit limit is $5,000 and you transfer $1,000 to your bank account, you'll have $1,000 of available funds in your account, minus any transfer fees and costs.
How much does transferring money from a credit card to a bank account cost?
Unlike standard purchases made on your card, this type of transaction starts accumulating interest immediately — there's no grace period for cash advances.
Sometimes the cash advance rate on your credit card is the same as the purchase APR, but it can be higher. For example, the average purchase interest rate for a rewards card is roughly 20%, with an average cash advance rate of 22%, according to NerdWallet's analysis of over 180 credit cards that allow cash advances.
On top of the high interest rate, you may also be charged a cash advance fee for using the service. This could be a flat fee or a percentage of the amount you transfer.
How to transfer money from a credit card to a bank account: 4 options
Despite their differences, all of the following methods are considered cash advances.
Request a transfer in person
You can ask a teller at your local bank branch to withdraw funds from your credit card and deposit them into your bank account. If your chequing account is with a different bank, you may need to bring the withdrawn cash to the other bank to deposit the funds.
Withdraw the cash from an ATM
To complete the transfer yourself, start by putting your credit card into an ATM and making a withdrawal. Then, you can initiate another transaction to deposit the funds into your bank account. Keep in mind that your card, and even the ATM, may have limits on how much money you can withdraw at one time — separate from your cash advance limit. 
Transfer the money online
If your credit card and bank account are with the same institution, you can likely do the transfer online or through the issuer's app.
Use a credit card convenience cheque
Credit card convenience cheques work the same as regular cheques: you write the amount you want to spend, and the cash is withdrawn from your credit card when the cheque is processed. 
Did you know?
Gambling purchases like lottery tickets are considered cash advances. If you can, avoid using a credit card to buy these types of items. 
How much can I transfer from my credit card to my bank account?
The amount of cash you can transfer depends on your cash advance limit. This is the amount of cash you can withdraw or transfer from your credit card at one time. Issuers take into account your credit history — among other factors — when setting this limit.
Your card's daily limit may also affect how much cash you can transfer. For example, if your daily limit is $2,000 and you've already charged $1,000 to the card, you'll only be able to transfer $1,000 of cash. Cash advance fees may reduce the available amount even more.
Will transferring money from my credit card to my bank account hurt my credit score?
Using your credit card to get cash won't have an impact on your credit score. However, by using your credit card to get a cash advance, you're increasing the percentage of credit you're actively using in relation to the amount you have available, otherwise known as your credit utilization ratio.. A high credit utilization ratio (typically anything above 30%) can have a negative impact on your credit score as it implies you rely heavily on borrowed money.
As with all credit card bills, late payments on cash advance balances can hurt your credit rating. And, since the interest accumulates instantly, you'll want to start paying it off as soon as possible.
Nerdy tip
You may be able to pay bills with a credit card instead of accessing a cash advance. However, using your credit card may also incur transaction fees, so look into all your options before making this decision. 
Pros and cons of transferring cash from a credit card to a bank account
There are reasons transferring cash from a credit card to a bank account is appealing. Namely, you can get your hands on money quickly. But as mentioned above, cash advances generally aren't recommended, as the costs tend to outweigh the benefits.
Pros
Easy access to cash when you need it. If you're stuck at a cash-only vendor and your bank account is empty, you can transfer cash from your credit card to complete the purchase.
Use an ATM without a debit card. If you don't have your debit card and need to get cash quickly, you can use your credit card to withdraw cash from the ATM.
Cons
High interest rates. Interest starts accumulating as soon as you transfer the money.
Additional fees. Cash advance fees and interest rates are not levied on standard cash purchases.
Potential damage to credit. Cash advances can negatively impact your credit score if you fail to pay your bill on time.
Potential road to debt. Cash advances can easily lead to credit card debt if you don't pay the balance down and the interest accumulates.
No rewards. You won't earn rewards on purchases made in cash.
Best Credit Cards in Canada
Compare all different credit cards side-by-side and find out the best card that will meet your need with special perks and benefits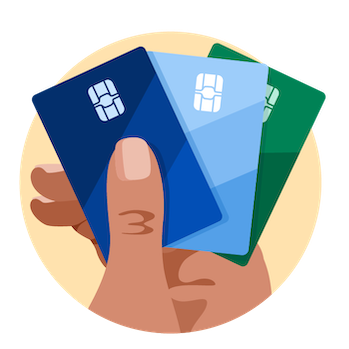 Alternative ways to get cash quickly
Cash advances from your credit card can be handy in an emergency, but they're not the best route to take. If you need a sizable amount of cash, you want to consider a personal loan or a line of credit. Both of these options typically offer better rates and flexibility.
Frequently asked questions 
How do I transfer money from my credit card to my bank account instantly?
Transfers made online or via the issuer's app may complete the same day. However, if you want to get the cash in your hands instantly, you may want to withdraw the funds from an ATM.
How to transfer money from a credit card to a bank account without any charges?
Some cards offer promotional 0% interest deals on cash advances for new cardholders. Additional fees may apply. After the promotional period ends, the card's standard cash advance interest rate applies.