A postal code is an identifying piece of information found in a Canadian mailing address. A ZIP code is the U.S. equivalent. You may be asked to supply one of these codes when applying for a credit card or processing a credit card transaction.
TD® Aeroplan® Visa Infinite* Card
Our pick for the best airline credit card in Canada, with a strong intro offer of up to 55,000 Aeroplan points. Plus, your first year has no annual fee. T&Cs apply, must apply by May 28, 2023.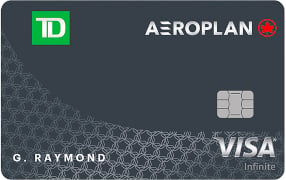 What is a credit card postal code?
Postal codes in Canada are a six-character string consisting of three letters and three digits. For example, the postal code for the CN Tower in Toronto is M5V 3L9. Every mailing address in Canada has a postal code, which helps mail carriers and couriers sort and deliver mail.
If you're prompted for your credit card postal code when making a purchase online or over the phone, use the postal code from the billing address that's on file with your card company.
What is a credit card ZIP code?
Residents of the United States have ZIP codes instead of postal codes. ZIP codes are five-digit numbers, such as the famous 90210.
Why credit card postal codes and ZIP codes matter
Your postal code or ZIP code acts as a security measure. When making purchases online with a credit card, you may be prompted to provide the mailing address or postal code associated with your card. This serves as a security check to ensure that you're the one using your card.
While this system is not foolproof, it can help prevent thieves from charging fraudulent transactions to your card if all they have is your name and credit card number.
Nerdy Tip
When making an online purchase, make sure you've selected the correct country of residence for your billing and/or shipping address. If you select the United States, you'll be prompted to enter your ZIP code. If you enter a Canadian address, you'll see a place to enter your postal code.
Using a Canadian postal code at U.S. gas pumps
If you travel to the U.S., you may be asked to provide a ZIP code when making a credit card transaction. This is especially common at gas stations. And it presents a problem if you're paying with a Canadian credit card, since you can't enter a postal code using letters and numbers.
Fortunately, there's an easy solution. When prompted for your ZIP code, enter the three digits from your postal code, followed by "00."
For example, if your postal code is M4B 1G5, your credit card ZIP code would be 41500. Mastercard recommends this strategy.
What happens if my ZIP code or postal code doesn't work?
The '00' ZIP code strategy may not always work, so it's practical to have a backup payment method, like a debit card or cash, while travelling in the U.S. That way, if your credit card is declined at the pump, you won't be stranded.
Frequently asked questions about credit card ZIP codes
Where is the ZIP code on a credit card?
Most credit cards don't have the cardholder's ZIP or postal code printed on them. To find out what ZIP or postal code is associated with your credit card, log in to your online account and check the personal information you supplied when you created the account. You may also find this information on your credit card statement.
What is a ZIP code in Canada?
Canadian addresses have a six-character postal code comprised of letters and numbers.