Not every purchase is foolproof. Ill-fitting clothes, defective toys — heck, sometimes we buy something on impulse and think better of it in hindsight.
If you make a purchase with your credit card and want a refund, it's often quite easy to reverse a credit card charge. How long the refund takes depends on merchant refund policies.
How a credit card refund works
When you purchase something using a credit card, you agree to buy the item now but pay later when your credit card statement comes. The merchant, however, gets paid immediately by your credit card company. As a result, if you decide to return your purchase, the merchant does not refund the money to you directly; it gets put back into your credit card account.
Typically, all you need to complete a refund on a credit card is the receipt for the purchase and the credit card used. Then, the merchant will reverse the charge, and the refund will be posted to your credit card account.
How quickly the refund is processed is another matter. Spending money on a credit card is practically instant, but getting it back is slower.
How long does a credit card refund take?
Credit card refunds typically take three to five days, but some can take up to 90 days. T
here are no laws in Canada around how long credit card refunds take to process, so it largely depends on the merchant's refund policy.
If a refund takes longer than expected and you can't communicate with the merchant or the refund is disputed, you can raise the issue with your credit card company and initiate a chargeback (more about those below).
Credit card refund policies vary by merchant
Refund requirements, restrictions, and timelines depend on the business owner's refund policy. If you want a refund, check the fine print of the transaction receipt. You may also be able to find the store's refund policy on the merchant's website — if they have one. The refund policy stipulates what types of refunds the business accepts and under what conditions and circumstances.
Before you begin the refund process, check the fine print for the following:
When you can request a refund. There's often a set window of time following a purchase in which a refund can take place. Ensure your request falls within the allotted refund timeframe before you start the process.
What you need to request a refund. You may be required to present the transaction receipt, documentation, or other evidence backing up your refund claim.
How long the refund will take. Most credit card refunds take between three to five days, but it may take longer to get your money back, depending on the merchant's policies.
Credit card refunds versus chargebacks
A credit card refund typically takes place at the point of sale. But if there's a problem — say, if the merchant doesn't agree to the refund — you may need your credit card company to issue a chargeback.
Merchant-issued refunds
This refund is issued when you bring your item, receipt and credit card back to the store, and the merchant initiates the refund right in front of you. If the purchase was made online, contact the merchant to find out how they handle returns and refunds. You'll often be expected to return the item by mail, and the refund is issued once the merchant receives the item.
Chargebacks
If the merchant doesn't agree to issue a refund, you can dispute the transaction directly with your credit card company. This will begin the process of refunding all or part of the transaction through a credit card chargeback. Typically, your card provider will give the merchant 30 days to respond and, if they don't, the transaction will be reversed. When this happens, the merchant's bank often charges the merchant a steep financial penalty for having to return the money.
Best Credit Cards in Canada
Compare all different credit cards side-by-side and find out the best card that will reward you with special perks and benefits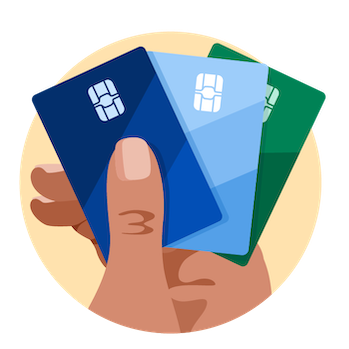 What happens to rewards earned from a credit card purchase after it's refunded?
If you earn rewards on a purchase and that purchase is refunded, the points are forfeited.. Expect to see your rewards balance reflect the subtracted points once the refund is processed or at the end of your billing cycle.
There's one exception, though. You may be able to keep the rewards points if you opt for store credit instead of a credit card refund.
5 steps to getting a credit card refund
Ensure the refund process unfolds without a hitch by using these five tips.
1. Read the refund policy
Available online or in-store, a merchant's refund policy will let you know under what circumstances you can request a refund. Read this ahead of time, so you know if it's worth pursuing or if you need any documentation before approaching the merchant.
2. Organize your documents or supplemental evidence
Make sure you bring the item in question along with your receipt and any other evidence supporting your case for a refund, including fine print, terms and conditions or e-mail chains.
3. Provide the necessary details
Present the credit card you used for the transaction, the receipt and any additional evidence or documents to the merchant. Ask for a secure way to provide your credit card details online or by phone, if necessary.
4. Sign and request copies of required documents
Sign any refund verification documents for the merchant's records and ask for copies for your records.
5. If that doesn't work, contact your credit card provider
If the merchant won't honour a refund, contact your credit card company and ask to dispute a charge and follow their instructions to initiate a chargeback.
Frequently asked questions about credit card refunds
Is a credit card refund instant?
No, credit card refunds don't happen instantaneously. It typically between three to five days to receive a refund.
Does a credit card refund go toward your required payment?
No, credit card refunds are returned to you as an account credit. A refund isn't considered a payment toward your monthly bill.