When consumers are looking at getting a new credit card, they typically focus on the welcome bonus, earn rate, benefits and annual fee. Rarely do they ever consider the credit card issuer or network. While those things may not seem relevant, they can hugely affect where your card is accepted.
What is a credit card network?
Think of credit card networks as the infrastructure that happens behind the scenes that make credit card transactions possible. They work with financial institutions (credit card issuers) and allow consumers to make purchases with a credit card.
In Canada, there are three major credit card networks:
Visa
Mastercard
American Express
According to a Nilson report from 2019, the market share for purchase transactions was 29.59% for Visa, 20.43% for Mastercard and just 1.36% for American Express. The remaining transactions were made with Interac debit.
Whenever you use your credit card to make a purchase, a transaction fee known as the interchange fee is charged to the merchant and paid to the credit card network provider. The amount retailers pay depends on the credit card network, cost of sale, retailer and type of transaction. This fee ranges between 1.25% to 2.40% and doesn't cost consumers anything.
» MORE: How to use your credit card like a pro
What is a credit card issuer?
Credit card companies in Canada are commonly referred to as the issuer. Since Visa and Mastercard don't provide cards to consumers directly, they need to partner with banks and credit unions to get cards into the wallets of Canadians.
American Express does do business directly with consumers, so they're both a provider and an issuer. That said, American Express also works with credit card companies in Canada that want to issue an American Express credit card.
Some of the most common credit card issuers in Canada include:
Royal Bank
Bank of Montreal
Canadian Imperial Bank of Commerce
The Bank of Nova Scotia
Toronto-Dominion Bank
American Express
Hongkong and Shanghai Banking Corporation (known more commonly as HSBC)
In recent years, there have also been some Canadian Fintech companies that have started to issue credit cards including:
STACK
Neo Financial
Brim Financial
KOHO (which is technically a prepaid card)
When applying for a credit card, it's the issuers that review and approve applications. They're also the ones that set the welcome bonus, earn rate and benefits. All of your customer service support will also come from the credit card issuer.
» MORE: Do you know all the different types of credit cards?
Best Credit Cards in Canada
Compare all different credit cards side-by-side and find out the best card that will reward you with special perks and benefits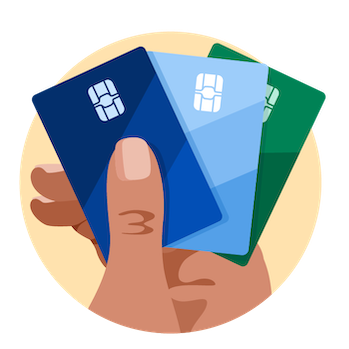 Credit card network tiers and perks
Each credit card network has different tiers that give you additional benefits regardless of who your credit card issuer is. As you can imagine, the higher the level, the more benefits you get. However, if you want one of the better tiers, there's usually a minimum income requirement to be approved and there may be a higher annual fee.
Here's how the tiers break down.
Visa
Classic. No income requirement.
Gold. Minimum personal income of $12,000
Platinum. Minimum personal income of $15,000.
Infinite. Minimum personal income of $60,000 or household income of $100,000.
Privilege. Minimum personal income of $150,000 or household income of $200,000.
If you have an Infinite or Privilege card, you'll get some extra benefits directly from Visa. For example, there's the Visa Infinite Luxury Hotel Collection, where you can get perks, such as free Wi-Fi breakfast, late checkout and more at select properties. You also get concierge service, Wine Country benefits, extended warranty, purchase security and more.
Mastercard
Classic. No income requirement.
World. Minimum personal income of $60,000 or household income of $100,000.
World Elite. Minimum personal income of $80,000 or household income of $150,000.
Those who have a World or World Elite Mastercard get some great travel benefits. These credit cards offer airport lounge access via Mastercard Airport Experiences like via LoungeKey. You also receive car rental insurance and free Boingo Wi-Fi. Additionally, you'll get purchase protection and an extended warranty.
It's worth noting that Mastercard now requires World Elite cardholders to charge at least $15,000 a year. If you don't meet that threshold, you'll be downgraded to a World card.
American Express
Credit cards. No income requirement.
Charge cards. No income requirement.
Business cards. No income requirement.
American Express has no formal income requirement for any of their cards, which is why they appeal to many people. Regardless of which American Express card you have, you'll get access to American Express Offers and Invites. For reference, charge cards have no set credit limit, whereas regular credit cards do.
Generally speaking, when choosing a credit card, the issuer matters more since they determine the welcome bonus, earn rate and benefits. That said, the credit card network is also worth considering since Visa and Mastercard are accepted by more merchants than American Express.