Seventy-one percent of Canadian adults plan to travel this year, according to a March 2022 NerdWallet survey conducted online by The Harris Poll among 1,018 Canadians. Of those planning to travel in 2022, many say it's because they need a break or to get away (42%) or they want to visit friends and family (39%) — although 8% say their travel is motivated by a desire to redeem travel points or miles.
Travel credit cards allow you to earn points and miles on every purchase you make, even while you might be sticking closer to home during the pandemic.
Speaking of which: 35% of Canadians who don't plan to travel this year say it's because they simply don't feel safe to travel due to COVID variants, according to the NerdWallet survey. If you aren't quite ready to get back on the road, there's good news: you can keep your travel rewards from expiring simply by keeping your account active, like making a purchase with a partner retailer.
How to choose a travel credit card
Though the benefits of a travel credit card may be well known, it can still be challenging to decide which travel card is best for you. When it comes down to it, you need to consider a few specific criteria when choosing a card.
Rewards type. Choosing between general or co-branded rewards should be your first decision. Do you want to earn points you can redeem against any travel expense, or rewards for a specific airline, hotel chain, or loyalty program, like Air Miles?
Sign up bonus. Welcome bonuses frequently change, but when there's a good offer, it's worth considering.
Additional benefits. Travel insurance, lounge access, free checked bags, and no foreign transaction fees are just a few benefits that can make travelling more luxurious and affordable.
Earn rate. See if the rewards earning rate offered aligns with your spending to help you accumulate points quickly. For example, if you tend to spend a lot on ridesharing or at restaurants, choose a card that offers extra rewards on spending in these categories.
Annual fee. Most travel credit cards come with an annual fee, but the benefits included often offset that cost. Some cards will waive the fee for the first year.
Annual income requirement. Premium travel credit cards have a minimum personal or household income requirement. If you don't meet the threshold, you won't be approved, so it's worth checking this before bothering to fill out an application.
You usually won't get everything you want in a single travel credit card, so you need to prioritize. The signup bonus alone is quite often worth hundreds of dollars, but that's a one-time deal. Pay closer attention to the additional benefits since those are ongoing and can often be worth more than the annual fee. For example, a card that includes comprehensive travel insurance could save you more than $150 a year.
Understanding what your points are worth is equally important. General travel program rewards typically have a fixed value. For example, you might be able to redeem 1,000 points for $10 in travel expenses (or 1 cent a point).
But if you're earning airline or hotel rewards, you need to calculate the value of one point for each redemption to make sure you're getting the best deal.
To do this, you take the value of your reward (minus any extra fees) and multiply it by 100 to get the value in cents. Then divide that result by the number of points you would need to redeem.
Let's say you're deciding between two redemption options:
Flight 1 costs $400 or 25,000 points
Flight 2 costs $300 or 21,000 points
For flight 1, you'd calculate (400 X 100) / 25,000 = 1.6 cents per point.
For flight 2, your value is (300 X 100) / 21,000 = 1.4 cents per point. So you'll spend slightly more points to buy flight 1, but it's the better choice because it maximizes the value of your travel rewards.
Regardless of which travel credit card you choose, it's essential to read the terms and conditions to understand the details. Some benefits may have specific requirements before they apply, such as a minimum spend in a certain length of time. Knowing the ins and outs of your loyalty programs will help you maximize the value of your rewards.
Best Travel Credit Cards in Canada
Compare all different travel credit cards side-by-side and find out the best card that will meet your need with special perks and benefits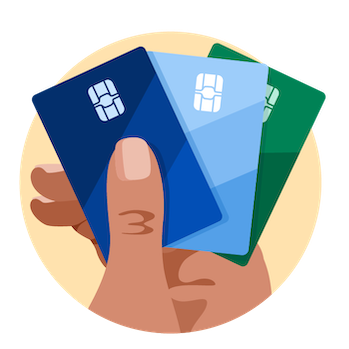 Travel credit cards in Canada
Many people don't realize that you're not limited to the travel credit cards available from your bank or credit union. You can apply for any travel credit card as long as you meet the requirements for things like credit scores and minimum household income. That opens up your options, as you'll have dozens of cards to choose from, including some of these:
Scotiabank Passport Visa Infinite Card
With no foreign transaction fees, free airport lounge passes, travel insurance, and an easy-to-understand rewards program, the Scotiabank Passport Visa Infinite Card is a great all-in-one travel credit card. The earn rate is a solid 2 points for every $1 spent on grocery, dining, entertainment and transit purchases. Everything else earns you 1 point per $1 spent.
TD Aeroplan Visa Infinite Card
Like many Aeroplan credit cards, the TD Aeroplan Visa Infinite Card is fantastic for people who fly Air Canada often, as the primary cardholder and up to eight travel companions can check their first bag for free. If that wasn't enough to get you excited, the welcome bonus usually includes a buddy pass that allows a travel companion to pay just the taxes for a flight within North America.
Marriott Bonvoy American Express Card
The Marriott Bonvoy American Express Card comes packed with benefits. You get a generous welcome bonus, automatic Silver Elite status, and a free annual night. The earn rate is 5 Marriott Bonvoy points for every $1 spent at participating Marriott properties, and 2 points for every $1 spent on all other purchases.
American Express Gold Rewards Card
What makes the American Express Gold Rewards Card so attractive is the flexibility of your points. The American Express Membership Rewards points you earn can be used for any type of travel or transferred to select airline and hotel loyalty programs, letting you strategically maximize the value of your points.
MBNA Rewards Platinum Plus Mastercard
The MBNA Rewards Platinum Plus Mastercard is appealing since it's one of very few travel credit cards without an annual fee or a high minimum income requirement. Although you won't get any fancy perks with this card, the earn rate is respectable, and MBNA Rewards can be used to book any type of travel.
Methodology
This survey was conducted online by The Harris Poll on behalf of NerdWallet from March 22-25, 2022 among 1,018 Canadian adults ages 18 and older. The sampling precision of Harris online polls is measured by using a Bayesian credible interval. For this study, the sample data is accurate to within + 2.8 percentage points using a 95% confidence level. For complete survey methodology, including weighting variables and subgroup sample sizes, please contact Marcelo Vilela at [email protected].