Some major stores in Canada offer retail credit cards. While signing up on the spot at the cash register may give you an instant discount or allow you to earn more points, having a store credit card may not be ideal for your everyday purchases. That said, if you mainly shop at a few specific retailers, then getting store credit cards in Canada could benefit you — as long as you use them strategically.
What is a store credit card?
Store credit cards in Canada are no different than any other credit card. You charge your purchases to your card, then pay them off, ideally paying your bill in full each month. You'll earn rewards tied to the loyalty program that's associated with the store and its partners.
What makes a retail credit card appealing is that you can usually earn extra points and benefits. You may also get a welcome bonus when you sign up. Having the right credit card when you shop can help you earn big rewards that you can later redeem for free items or other benefits.
Disadvantages of store credit cards
Retail credit cards typically only offer a good earn rate at the store (or family of stores) they're associated with. That means you'll usually only get a basic return when you make a purchase anywhere else. For example, the Walmart Rewards Mastercard earns you 1.25% back in Walmart Reward Dollars when shopping at Walmart, but just 1% on all purchases made elsewhere.
The rewards from a store credit card can usually only be used at the same retailer or its partners. If you shop at those stores regularly, that may work well for you, but having flexible rewards is often better for consumers.
Since most store credit cards have no annual fee, it's unlikely you'll get premium perks such as travel insurance, airport lounge access or mobile device insurance.
Best Credit Cards in Canada
Compare all different credit cards side-by-side and find out the best card that will meet your need with special perks and benefits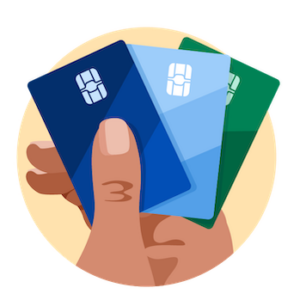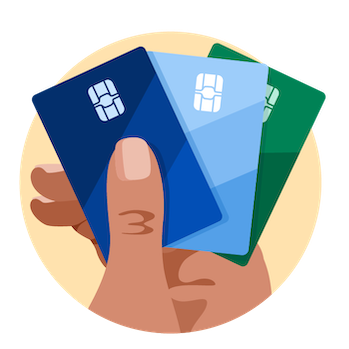 How to get a store credit card
You can apply for retail credit cards online or in stores. Regardless of how you choose to apply, try to see if there's a welcome offer. For example, PC Financial, the store credit card for Loblaws-owned grocery stores and Shoppers Drug Mart, has promotions. In the past, you could get 100,000 points ($100 in groceries) when signing up.
When you apply in store, a customer service representative can help you get signed up. Most store credit cards don't have a minimum income requirement, so it can be easy to be approved. That said, some stores also have higher-tier credit cards that do have a household income requirement.
When you apply for a store credit card, your credit score will likely drop a few points. However, as you make regular payments, your credit score will increase over time. Like most credit cards, a retail credit card can help you build credit.
» MORE: How to apply for a credit card (and get approved)
How to choose a store credit card
The best store credit cards in Canada really depend on where you shop. If a merchant where you do a lot of spending offers a retail credit card that gives you a better earn rate than you'd get with a regular credit card, it could be worth signing up.