Traditional credit cards may get most of the attention due to their perks and welcome bonuses, but you shouldn't sleep on prepaid cards. A few different prepaid cards have introduced unique benefits and have apps that can help you learn about your spending habits. Add in the fact that prepaid cards don't require a credit check and it's easy to see why they've become so popular.
What is a prepaid credit card?
A prepaid credit card technically isn't a credit card because you aren't borrowing any money. Instead, a prepaid card requires you to deposit funds onto the card before it is used. This differs from a traditional credit card, where you make purchases in advance and pay later.
In addition, prepaid cards do not require a credit check to apply and your transactions don't appear on your credit history. So, if you're trying to improve your credit score, you might be better off with an option that actually uses credit, like a secured credit card or a credit card for Canadians with bad credit.
However, you might want to choose a prepaid card over a conventional credit card because it can help with your budgeting. Since you can spend only the funds that you've transferred to your prepaid card, you're limited to using the money you have; there's no way you can overspend.
Differences aside, prepaid cards function pretty much the same as traditional cards. Depending on the card you get, you can use it wherever Visa, Mastercard, or American Express is accepted. They also have an expiry date and CVV number (Card Verification Value) that help with security.
Best Prepaid Credit Cards in Canada
Compare all different prepaid credit cards side-by-side and find out the best card that will meet your need with special perks and benefits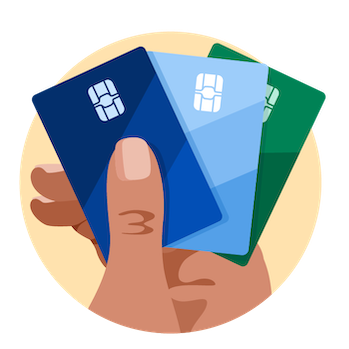 Prepaid cards in Canada
Although most prepaid cards operate in the same way, each one comes with its own minor differences. Before applying, consider what your goals are, what benefits are included, and if having an app for your card is important.
These are some prepaid cards in Canada:
KOHO
With no annual fee, 0.5% cash back on all purchases, and interest earned with KOHO Save, KOHO's prepaid Visa card is one of Canada's most popular prepaid cards. You can control your card directly through the KOHO app, which allows you to set up savings goals and purchase round ups (to increase your savings). The included spending insights and free financial coaching are also a great way to help you take control of your finances.
STACK
STACK's reloadable Mastercard has become a popular choice for travellers since it has no annual fee, no foreign transaction fees, and no ATM fees. This is an incredible way to lower the amount you're spending when abroad. You can even lock your card directly from the app if you're concerned about fraud.
MyVanilla
MyVanilla is available in Visa and Mastercard, but both come with an activation fee that may annoy some people. The reason why they're still popular is that they can be purchased just about everywhere. You'll find them in pharmacies, grocery stores and gas stations, so it's an easy present to grab if you're short on time or ideas.
CIBC AC Conversion Card
The CIBC AC Conversion Visa Prepaid Card was designed with travellers in mind as they can load up to 10 different currencies on the card. This can make things easier for jet-setters who don't want to carry around a lot of cash. You load the card online through the CIBC AC Conversion Card website, where the currency exchange rates are typically lower compared to going into the branch.
When to get a prepaid card
When you look at how prepaid cards work, you'll quickly realize that there are many reasons why you may want to get one.
You want to balance your budget. You can spend only what you've deposited, so there's no need to worry about unpaid balances and interest charges.
Rewards. Some prepaid cards offer cash back on every purchase or at select merchants.
Security. A few prepaid cards allow you to lock your card instantly via the app.
No annual fee. Most prepaid cards have no annual fee.
Easy to be approved. There's no credit check or minimum income requirement when you apply for prepaid cards.
While the benefits of prepaid cards are clear, there's no denying that you can get even more with traditional types of cards. Many conventional cash back or reward credit cards give you increased earn rates on specific categories. You could also get premium benefits such as airport lounge access and roadside assistance. That said, prepaid cards are an excellent choice for anyone concerned about their spending habits.
Where to buy prepaid cards
The best prepaid cards can be bought online from the issuer. Some prepaid cards are available at retailers, so you can get one quickly if you need it right away. Once you have your card, just load your funds and start spending.
In most cases, to have your online application approved, you need to be a resident of Canada and have reached the age of majority in the province or territory where you reside. Once approved, your card will be mailed to you. When the card shows up, you need to activate it and possibly download the app.
Prepaid cards have become popular in certain situations. Even if you qualify for a traditional card, it's still worth considering a prepaid option depending on your needs.