Many or all of the products featured here are from our partners who compensate us. This may influence which products we write about and where and how the product appears on a page. However, this does not influence our evaluations. Our opinions are our own.

Butler Mortgage at a glance
Butler Mortgage is a high-volume mortgage brokerage based in Ontario but serving all of Canada. It claims to shop the rates of over 350 lenders on its clients' behalf.
Butler Mortgage key features
Butler Mortgage loan types
Operates throughout Canada with offices in several locations throughout the Greater Toronto Area, as well as Vancouver and Calgary.
Advertises the ability to shop rates from over 350 lenders across Canada.
Large range of mortgage types, including new construction, second homes, investment properties and mortgages for self-employed people.
Butler Mortgage co-founder, Dave Butler, was named the top Mortgage Broker in Canada by Canadian Mortgage Professional magazine in 2018, 2019, and 2020
Open & closed mortgages
Fixed & variable-rate mortgages
Purchase Plus Improvement loans
Investment property and second home/vacation home mortgages
Mortgages for self-employed people
Pros
Convenient, because you get access to rates and offers from hundreds of prime lenders across Canada.
Provides mortgage products for self-employed borrowers and a program to help clients improve their credit.
Offers an 'After-Approval Rate Guarantee.'
Co-founder Dave Butler was named one of Canada's top brokers in 2018, 2019 and 2020.
Cons
Butler Mortgage branch offices are mostly limited to Ontario.
The Butler Mortgage website provides an inconsistent user experience.
Online reviews indicate an inconsistent customer service experience.
Butler Mortgage full review
Butler Mortgage is a Canadian company founded in the 1990s in Toronto by Ron Butler. It has since expanded to have offices in several cities in Ontario, as well as in B.C. and Alberta, however the company serves all of Canada.
Butler Mortgage is not a direct lender but rather a mortgage brokerage, meaning that it shops for mortgages on its clients' behalf by presenting their information to its network of lenders. Interested lenders then make competing offers and borrowers select the mortgage proposal that works best for their needs. Butler Mortgage is known as one of the largest volume brokerages in the country.
The company offers a typical selection of mortgages, including open, closed, fixed and variable mortgages, as well as mortgages for second homes and investment properties. Butler Mortgage also offers new construction loans and HELOCs. The company will also help you renew or refinance an existing mortgage.
Butler Mortgage also works with self-employed applicants who may normally have trouble securing a loan.
Butler even offers an "After-Approval Rate Guarantee." After you're approved, if another lender advertises a better mortgage interest rate that your mortgage provider won't match, Butler lets you change lenders for free. The company also offers a guarantee that agrees to beat any rate or pay clients $500 cash at closing.
Who is Butler Mortgage best for?
Butler Mortgage may be a good choice for any home buyers or refinancers who prioritize getting the lowest possible mortgage rate.
Butler advertises several rate guarantees that indicate confidence in its ability to secured the lowest mortgage rates for its customers.
If you're a self-employed borrower, first-time home buyer or new to Canada, Butler Mortgage advertises loan products and lenders that may be able to meet your needs. It's unclear how well the company is suited to work with low-credit-score borrowers, although it does advertise services that can help clients repair their credit if needed.
How to choose the right mortgage lender
Selecting the right mortgage provider is a big decision. A mortgage is a large debt and you want to make sure that you're getting the best deal possible. You'll need to do some research, make a list of what's important to you, and spend some comparing offers from the different types of providers.
Decide your budget. It's important to have an idea of how much mortgage you can comfortably afford, before talking with lenders. They may offer you more than you want to spend; it's important to be ready for that conversation.
Understand the different types of lenders: Mortgage providers include banks, credit unions, brokers like True North Mortgage, alternative lenders, and private lenders. Each has its pros and cons.
Compare offers from three different lenders: To ensure you have a good idea of what's out there, consider seeking mortgage pre-approval from a big bank, a broker and one other type of alternative lender.
Don't focus too much on rates. The interest rate is just one part of the mortgage equation. Yes, you want the most competitive rate possible, but it's also important to weigh the reputation of the lender, the quality of customer service they provide, the types of loans they offer, the fees they charge, and the flexibility of terms they may offer.
» LEARN MORE: Read our guide to choosing a mortgage lender
How Butler Mortgage calculates your mortgage payment
Like most mortgage brokers and lenders, Butler Mortgage lending partners will consider the following when estimating what the regular payment might be for your future mortgage:
Home price: the total amount you agree to pay for a home.
Down payment: the total amount you'll pay upfront toward a home purchase.
Amortization period: the number of years over which you'll repay your mortgage.
Mortgage term: the length of the contract you'll have with your mortgage lender.
Payment frequency: how often you'll make a mortgage payment.
Mortgage interest rate: the fee you'll pay to borrow money from the lender; expressed as a percentage of the loan amount.
Property taxes or title transfer fee: an annual fee based on your property value.
Mortgage default insurance: an extra cost you'll pay if your down payment is less than 20%.
Example:
Home price: $650,000
Down payment: $58,500 (9%)
Amortization period: 25 years
Mortgage term: 5 years
Payment frequency: Monthly
Mortgage interest rate: 5.5%
Mortgage insurance: $23,660
TOTAL MORTGAGE: $615,150
MONTHLY MORTGAGE PAYMENT: $3,778
» MORE: Use our mortgage payment calculator to compare different loan scenarios
Butler Mortgage feature overview
Mortgage variety
Butler Mortgage offers a typical mix of mortgage products. It has fixed and adjustable rate mortgages, new construction and purchase plus improvement mortgages, and home equity lines of credit.
Butler Mortgage also works with lenders that offer open and closed mortgages, mortgages for second homes or investment properties, as well as mortgage options designed specifically for those who are self-employed and may have trouble getting a conventional mortgage.
Ease of application
You can start a mortgage application with Butler in one of three ways: via phone, by filling out an online form or even via fax. However, you can't complete the entire application process online. A mortgage specialist will get in touch with you via phone before providing a quote or pre-approval.
Note: While using the ButlerMortgage.ca website to evaluate the company for this review, NerdWallet experienced many technical difficulties. Pages of the site did not load or reload properly, which often made it hard to navigate. Potential borrowers experiencing the same difficulties may have trouble contacting the brokerage or getting clarity on the loan types or rates offered.
Loan amounts and terms
Because Butler Mortgage works with so many lenders, there is no single maximum or minimum loan amount to be aware of.
However, certain types of mortgages may have ceilings on the amount you borrow, such as only accessing up to 85% of your property's value for a second mortgage.
Butler Mortgage offers a wide variety of terms, varying from six months to 10 years for fixed, and three or five years for variable-rate mortgages.
Mortgage rate transparency
Butler Mortgage posts a variety of sample mortgage rates on its website, but does not indicate what assumptions are being made about loan amount or the borrower's credit score to calculate those rates.
The company states that it tracks the rates of all prime lenders that advertise fixed rates in Canada, though it doesn't state exactly how frequently its displayed rates are updated.
Rate types
Butler Mortgage provides loans with both fixed and variable rates.
Mortgage fees
As a mortgage brokerage, Butler Mortgage makes money via commissions paid by the loan providers it works with, not borrowers.
However, Butler's website does note that the individual lender with whom you're matched may charge its own fees for such things as early prepayment or moving to a new lender before the end of your mortgage term.
Security and safety
Butler Mortgage's website doesn't provide specific information about how your financial information is safeguarded during the application process.
However, its Privacy Policy page does clarify the third parties with which Butler might share your information, as well as how long they will keep your information on file.
If you want to limit what info is collected and/or shared by Butler, general contact information for the company's Privacy Officer is provided.
Customer satisfaction ratings
Based on NerdWallet analysis of satisfaction scores on several customer review websites, it's likely that Butler Mortgage provides a satisfactory experience for most customers.
Butler Mortgage had 4.6 out of a possible 5 stars, according to more than 675 customer reviews on Google, at the time of this writing.
Butler Mortgage had a 3 out of a possible 5 stars, according to just two customer reviews on the Better Business Bureau website, at the time of this writing. Butler Mortgage has been accredited by the BBB since 2012, and has an A+ rating from the BBB itself.
Butler Mortgage had 2 out of a possible 5 stars, according to over 35 customer reviews on Yelp, at the time of this writing.
Butler
Because Butler Mortgage doesn't provide mortgages directly to clients, your customer service experience will largely be provided by the broker you choose.
Butler does an official complaints policy clearly stated on its website. If you have any concerns about your mortgage, you can phone or email a "Chief Complaints Officer" who will respond to your concerns verbally within 48 hours. If you're not happy with the outcome of the officer's investigation, complaints can be reported to the Financial Services Commission of Ontario.
Butler Mortgage eligibility requirements
To qualify for a mortgage with Butler Mortage, as with any lender or brokerage, you'll need to meet certain eligibility requirements. These include:
Minimum credit score: Typically 680, but lower-score options exist.
Credit history: Established accounts in good standing, no recent negative marks.
Income: Amount of income needed will vary depending on how much you want to borrow.
Down payment amount: At least 5% for a home under $500,000. For homes between $500,000 and $999,999, you need 5% of the first $500,000 and 10% of the amount above $500,000.
Debt service ratios: Your gross debt service ratio must not exceed 39%; your total debt service ratio must not exceed 44%.
Type of employment and employment history: You must be able to demonstrate at least two years of consistent employment.
The Butler Mortgage website notes that a borrower's "…income and credit do not have to be perfect. With 20% down or at least 20% equity, Butler Mortgage can obtain a mortgage for almost any income or credit situation."
If you're concerned about your credit score or income, you can contact the a Butler MOrtgage broker directly to ask about your chances of approval.
How to apply for a mortgage with Butler Mortgage
To apply online you, click the "apply now" on the Butler Mortgage website and fill out a short application form that includes personal information, your address and email, the amount of mortgage you want and your credit score.
A Butler Mortgage broker will then set up a time to call you to follow-up with more details and a more in-depth discussion of your needs. Butler will also help go over what documents and other information you may need to finalize your agreement.
You will then receive offers from various lenders that you can review.
Alternatives to Butler Mortgage
If you decide Butler Mortgage is not for you, you can compare mortgage rates from other Canadian lenders and brokers to find the best mortgage rate for your needs.
| | True North Mortgage | RBC Mortgage | First National Financial |
| --- | --- | --- | --- |
| Lender type | Mortgage brokerage | Big Bank lender | Non-bank lender |
| Service area | National | National | National |
| In-person service? | Yes | Yes | Yes |
| Ease of application | Easy (online, phone, in-person) | Easy (online, phone, in-person) | Difficult (online, phone, in-person) |
| Mortgage variety | Above average | Average | Above average |
Frequently asked questions about Butler Mortgage in Canada
Who owns Butler Mortgage?
Butler Mortgage was founded in the 1990s in Toronto by Ron Butler. It is still run by the Butler family, including son Dave Butler an award-winning broker in his own right.
How do Butler Mortgage brokers make money?
As is the case with many brokerages in Canada, Butler Mortgage brokers make money via commissions paid by loan providers, not borrowers.
START YOUR MORTGAGE JOURNEY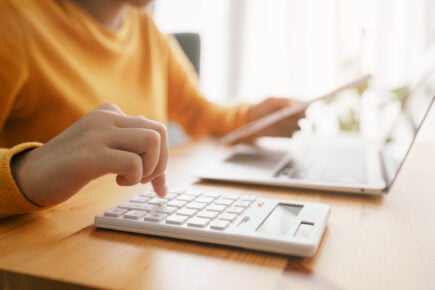 Use this free Canadian calculator to estimate your monthly mortgage payments, and see how rates and amortization affect total cost over time.
Compare customized 5-year fixed mortgage rates from Canada's best lenders and brokers for free. Find the lowest mortgage rate and apply for the home loan that best fits your needs.