Are you thinking of building a home instead of buying one? Maybe you have a dream home in mind that you want to bring to life, or perhaps you already have a plot of land that you are looking to build on. Either option is possible with the help of a construction mortgage.
What is a construction mortgage?
A construction mortgage, also commonly referred to as a builders mortgage in Canada, is a type of mortgage that allows you to finance the purchase of a home that may not exist yet — whether you're designing it from the ground up or purchasing a pre-build in a planned development.
Some lenders may use the terms construction mortgage and builder's mortgage interchangeably, while others consider them distinct types of loans.
The main difference between a construction mortgage and a more traditional type of mortgage is the way the funds are paid out. Unlike a typical mortgage, which is paid in a lump sum to the home seller on closing day, a construction mortgage is paid out in smaller increments — sometimes called "draws" — as each phase of construction is completed.
How a construction mortgage works in Canada
A construction mortgage can be used by individuals who are looking to start from scratch and still need to purchase a property on which to build their dream home. Or, a construction mortgage can be used by an individual who already owns a piece of property and is ready to start hiring contractors to erect the building.
Construction mortgages require a down payment, come in fixed or variable-rate options, and in some cases, automatically convert to a traditional mortgage once building is complete and a certificate of occupancy has been obtained. While a construction loan is in the draw phase, some lenders may only require you to pay interest on the amount borrowed. Once construction is done, payments of both principal and interest will be required.
When financing a build with a construction mortgage, inspections are required at each step before the next draw will be approved. The borrower is generally responsible for the cost of these inspections, although some banks may deduct the progress and inspection fees from each draw. 
Sample draw schedule for a construction mortgage
| Draw | Required percentage of completion | Construction state | % of total mortgage amount advanced |
| --- | --- | --- | --- |
| #1 | 15% | Excavation and foundation completed. | 15% |
| #2 | 40% | Roof is on and the building is weather-protected with access secured. | 25% |
| #3 | 65% | Plumbing and wiring have been started. Drywall and plaster are completed. A furnace has been installed, exterior wall cladding has been completed. | 25% |
| #4 | 85% | Kitchen cupboards have been installed, bathrooms are completed, doors have been hung. | 20% |
| #5 | 100% | Ready for occupancy. Seasonal and exterior work have been completed. | 15% |
How to get a construction mortgage
Construction mortgages are not as widely available as mortgages to purchase an existing home. It may be harder to find a construction mortgage offered by smaller lenders, such as credit unions, or in certain provinces.
Progress draw construction mortgages are also more complicated and require a lot of steps and checks along the way. For this reason, it's wise to find a mortgage broker or bank that is familiar with this type of mortgage and can guide you through the process and explain all the steps. 
Since construction mortgages do come with more risk, you may have to meet stricter requirements to get approved. This goes beyond the typical minimum credit score and reliable income that is required for a traditional mortgage.
Lenders also need to be assured that the project will be completed within a certain time frame and that the builders are licensed and have a history of well-built homes, among other things. A larger down payment, like 25% to 30% of the total mortgage amount, may be required to be approved for a construction mortgage. 
DIVE EVEN DEEPER
Compare customized 5-year fixed mortgage rates from Canada's best lenders and brokers for free. Find the lowest mortgage rate and apply for the home loan that best fits your needs.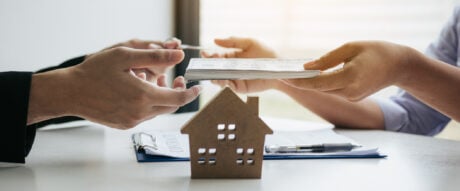 If you've never had a mortgage, or have traditionally turned to banks when needing a home loan, it's possible that you've never crossed paths with a mortgage broker. Mortgage brokers in Canada have unique relationships with lenders, including non-bank financial institutions, that can improve your chances of scoring a mortgage that fits your budget, lifestyle […]