Making a successful offer on a home is no easy task. Depending on where you're looking to buy, you may face low inventory or competing offers from other buyers — sometimes both.
Admittedly, the entire process of buying a home can be stressful, but if you come prepared and know what to expect, you can put your best offer forward. Here are things to consider when you and your real estate agent are deciding what that number should be.
» MORE: Steps to take before buying a house in Canada
What does it mean to put an offer on a house?
An offer is a legally binding contract that details price you're willing to pay for a piece of real estate and any conditions that must be met in order for the deal to go through, among other things.
Each offer is different and you might have to present multiple offers to secure the property you want.
When both the buyer and seller sign off on the terms of the offer, the agreement of purchase and sale is formally completed, and the closing process can begin.
Best Mortgage Rates in Canada
Compare Canada's top mortgage lenders and brokers side-by-side and find out the best mortgage rates that will meet your need
How to know if you're ready to make an offer
If possible, walk through several homes with your real estate agent to have a better understanding of what's available and what appeals to you.
You'll also want to know what the current market conditions are before you make an offer — your real estate agent can help with this too. If you can't afford the market value of the home you're interested in, then making an offer is a waste of time as it's unlikely to be accepted.
Alternatively, if there are multiple offers on the home and a bidding war is expected, you may increase your starting offer or choose to not make an offer at all.
Steps to putting an offer on a house
Putting an offer on an existing house is a fairly straightforward process that typically includes the following:
Your information. This includes the legal names of the buyers and the address of the property for sale.
The price. How much you're willing to pay for the house as well as how much you're putting down as a deposit.
Items to be included. If you want the seller to leave certain things, such as a chandelier or window coverings, they must be specified in the offer.
Land survey request. This step is optional, but is helpful in confirming the size of the property, and any easements or rights-of-way that could affect how you use it.
Closing date. This is the day when you want to take possession of the home, often 60-90 days after the offer.
The date the offer expires. The expiry date is often 24 to 48 hours from the time you put in the offer, but could be even less time in a hot market.
Any conditions. If you want certain stipulations met before the contract is finalised, such as a satisfactory home inspection report or for your current house to be under contract as well, they must be listed clearly in the offer.
Note that putting in an offer to buy a new-build or pre-construction house could involve different or additional steps.
Your real estate agent will include all of this information in the offer for you, and in most cases, they'll have you sign the document digitally. Then, your agent will present the offer to the seller's agent. There may be some back and forth negotiations, in which case your agent will make amendments and ask you to sign off on those changes.
Deciding on your conditions
Besides the purchase price, conditions are arguably the most essential part of any offer. That's because conditions give you, the buyer, a chance to back out of the agreement if they're not met.
Common conditions include:
Financing condition. This stipulates that the buyer must be able to obtain a mortgage for the amount they need and under terms they're happy with.
Subject to inspection. Many buyers will insist on a home inspection to finalise the offer. By doing this, they can find out if any major repairs are needed.
Subject to legal review. If buying a condo, you and your lawyer will want to review the legal documents to ensure the reserve fund, status certificate, budget and other legal documents are acceptable.
Home sale. This contingency allows buyers a certain amount of time to sell their current home, if applicable, before they're required to complete the purchase transaction.
Technically speaking, if any of the conditions aren't met, the buyer can pull out of the contract without fear of losing their deposit. At first glance, including conditions seems obvious since it gives the buyers an easy out.
However, sellers can always choose to reject offers that come with a lot of conditions. In a hot real estate market, it's common for buyers to limit their conditions or make an offer without any conditions at all. The choice of what conditions to include or waive should be made with input from your real estate agent to ensure a positive outcome.
» MORE: Home inspection checklist for buyers and sellers
Tips for making a strong offer
There are a few things you can do in advance to make your offer more attractive to the seller:
Get pre-approved for a mortgage so the seller will see a lender is willing to let you borrow the amount you've offered.
Have a strong down payment.
Review any legal documents connected to the property before you make an offer.
Consider a 'bully offer' where you make a bid before the formal offer date.
Limit the number of conditions.
Offer a fast closing.
» MORE: Use our mortgage affordability calculator to set your budget.
What to expect after making an offer
Once you make an offer, the seller can choose to accept it, make a counteroffer or decline it.
If your offer is accepted, congratulations, you just bought a home! Now you just need to get everything in place for closing.
Counteroffers are pretty common as the initial offer is typically the start of a negotiation. If you're the only bidder, you'll likely eventually come to terms with the seller. However, if you're in a multi-bidder situation, you need to decide if you want to increase your price based on what others have offered.
If your offer is declined, you could technically put in another offer, but you'll likely want to look into why your offer was rejected in the first place. It's possible that the seller is looking for a higher price, fewer conditions or faster closing.
DIVE EVEN DEEPER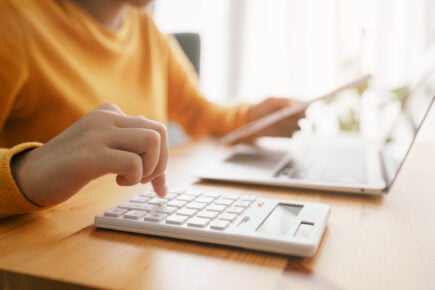 Use this free Canadian mortgage calculator to estimate your monthly mortgage payments, and see how rates and amortization affect total cost over time.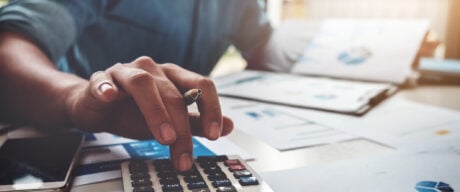 Create a more accurate home buying budget by estimating your closing costs — the one-time, upfront expenses you'll pay before receiving the keys.